LINPACK Benchmark
At first I wasn't going to include the results of the LINPACK benchmark, but I figured there's no reason for them to go to waste as they were used for stability testing. The LINPACK benchmark is a measurement of a system's floating-point computing power. Today, it's widely used by enthusiasts for testing the stability of their overclocked systems. The later versions of LINPACK include support for Intel's AVX instruction set, which stress the CPU and RAM even more than before. We'll be using a front end to the LINPACK benchmark called LinX.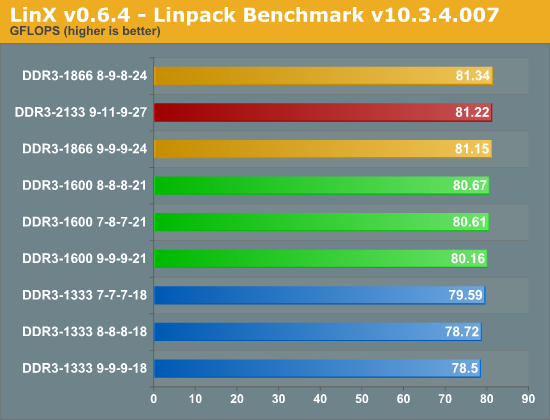 Now we begin to see how that extra ~36% of bandwidth really affects system performance. As you can see, there's not exactly a ~36% advantage in LINPACK from the fastest to the slowest. Here, we're barely seeing a ~3% advantage for the faster memory. Once we get to DDR3-1600, there's not much of a difference at all.
PCMark 7
We'll measure overall system performance using the PCMark suite. This will perform a broad range of tests including video playback, video transcoding (downscaling), system storage (gaming), graphics (DX9), image manipulation, system storage (importing pictures), web browsing, data decrypting, and system storage (Windows Defender).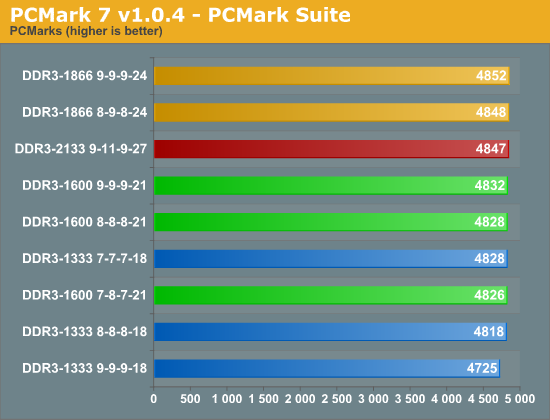 If you take a step back and look at performance from an overall perspective, you can see that faster memory doesn't really have much of an effect. Every speed tested shows a ~2% performance increase over the slowest memory. Outside of CAS 9 DDR3-1333, then, you can pretty much use any DDR3 memory and get close to optimal performance in general applications.