Left4Dead2
Left4Dead2 is a classic Steam FPS DirectX 9 shooter. It changes very quickly from GPU to CPU bound over a certain limit - our test is a timedemo taken from a run through of the first level.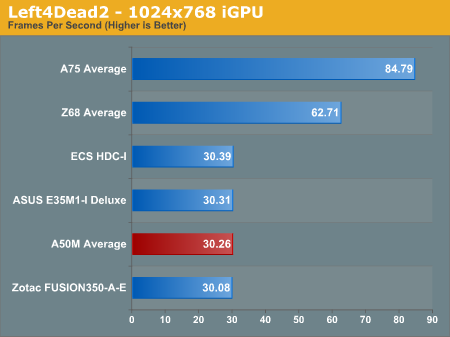 Not much separates the boards here.
Dirt 2
Dirt 2 came to the PC in December 2009, developed by Codemasters with the EGO Engine. Resulting in favorable reviews, we use Dirt 2's inbuilt benchmark under DirectX 11 to test the hardware. We test two different resolutions at two different quality settings using a discrete GPU, and an appropriate integrated GPU setting.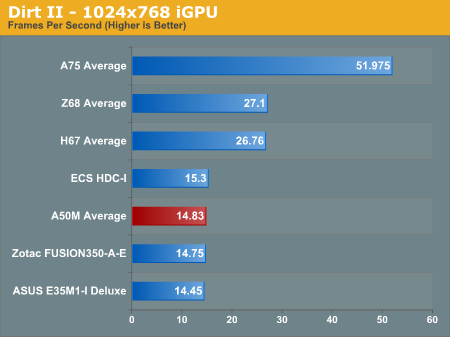 The ECS board has a small advantage, but barely noticeable.
Metro 2033
Metro 2033 is the Crysis of the DirectX 11 world (or at least until Crysis 2 is released), challenging every system that tries to run it at any high-end settings. Developed by 4A Games and released in March 2010, we use the inbuilt DirectX 11 Frontline benchmark to test the hardware.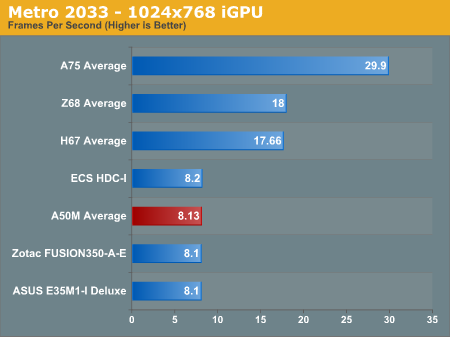 Again, not much difference here, but the ECS comes top again.