Present day consumers use their PCs for multimedia intensive tasks such as HD video playback. These HTPC tasks are not very power efficient when done using the x86 processor alone. Gamers have remained the main focus of the GPU developers. However, the GPU architecture (coupled with a dedicated video decoder on the same silicon) is quite useful for video playback and post processing also. This lightens the load on the x86 processor, and so, even consumers who rarely game opt to go for a discrete HTPC graphics card.

Intel used to integrate the GPU into the chipset till the GMA X4500. In Clarkdale, the integrated GPU became a part of the processor package itself, and eventually became a part of the main die in Sandy Bridge. The GMA X4500 and later models have a very efficient decoder, and renders a discrete HTPC graphics card redundant for most entry level users. AMD, unfortunately, had support for integrated graphics in only some of their chipset models. That is set to change today, as Lynx (the desktop version of the Llano) makes its way into the market. Ever since AMD acquired ATI, a processor with AMD's x86 CPU and ATI's GPU on the same die was hotly expected. The Lynx integrates a number of AMD Stars cores and also an updated Redwood class GPU (called Sumo) into the same die.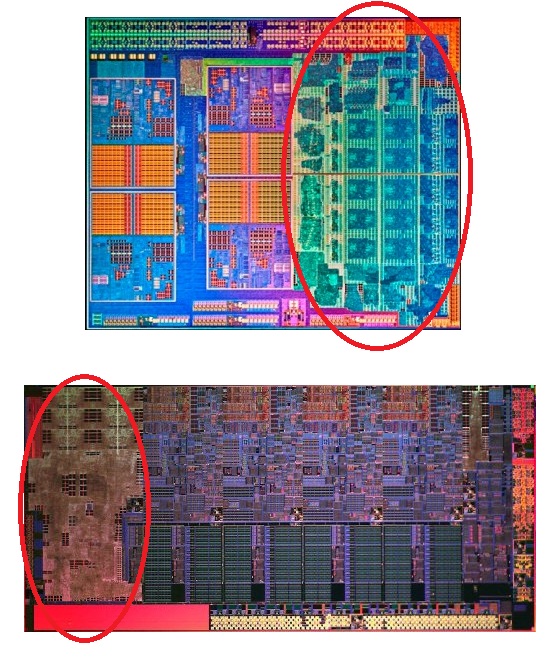 GPU Area in the Llano vs. GPU Area in Sandy Bridge (Die shots approximately to scale)
GPU support for basic HD video decoding and the 3D fad (Blu-rays) is provided by all the current platforms from Intel, AMD and NVIDIA. From an HTPC perspective, mainstream consumers have started feeling the need for good, flexible video post processing capabilities also. Discrete AMD GPUs are well respected in the HTPC community, and the Redwood class GPUs have been used to override the Clarkdale's IGP in many a setup. Can the Sumo wrestle the spot away from Intel HD3000 Graphics in HTPCs?