Toshiba Thrives in the Tablet Market
We had an opportunity to meet with representatives from Toshiba this afternoon to talk about their upcoming consumer hardware, but while the majority of it is still under NDA (including some very exciting notebook refreshes), one of the biggest announcements is ready to go today: the Toshiba Thrive, their entry into the tablet market.
The Thrive may seem like an also-ran alongside many of the other Tegra 2-based tablets on the market, but Toshiba has some very special sauce they've liberally applied to this release. The Thrive is a 10.1" tablet sporting what appears to be an IPS panel (it passes the viewing angle tests) and Android 3.1, and while it's a little on the chunky side, there are some very good reasons for that. Toshiba's reps stressed that they were gunning more for a better bridge from their notebook business and wanted a tablet that was as user-friendly as possible.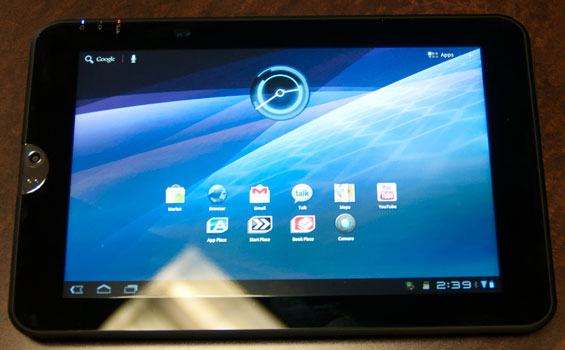 For starters, they're keeping Android largely stock with three notable inclusions. The first is Toshiba's own file manager, which I found to be very easy to use and understand. If you're at all used to Windows 7's file manager, Toshiba's will be an easy transition. Another inclusion is a single application for handling media playback: photos, videos, and music are all available here, making it easy to get to your media. Finally, coupled with their playback software is their "Resolution Plus" software which dynamically upscales video to high definition, tweaking color balance and contrast. Purists may or may not like it, but I found it did improve the viewing experience.

The rest of the Thrive is marked by a desire to make it as easy to use and personalize as possible. The back panel has a comfortable, slightly-rubberized texture to it, but it's also removable and swappable with differently-colored aftermarket panels. What's under it is a user-removable and replaceable battery. Along the sides of the tablet are volume and power controls along with a lock switch that prevents the display from rotating. There's a combination microphone/headphone jack, but Toshiba made it a point to go full-sized wherever possible with ports to ease the transition to tablet computing, and as a result they include a full-sized SD card reader, USB 2.0 port, and HDMI port. There's also a mini-USB port. Finally, the face of the Thrive features a 2-megapixel camera while the back has a 5-megapixel camera.
Toshiba expects retail availability in the next few weeks. MSRP is $429 for the 8GB version, $479 for the 16GB model, and $579 for the 32GB. That's a lot less than the Motorola Xoom and similar to the Acer Iconia A500; while all offer the same level of performance (thanks to Tegra 2 hardware), differences in the industrial design and pricing will play a major role. Toshiba will also be offering docking stations, including one with USB and HDMI connectivity for external keyboard, mouse, and display use.