The ECS booth at Computex was fairly extravagant this year, in terms of piling in most of the current and new product range but also the eye candy used to pose next to them. Most people know that ECS make motherboards and graphics cards – also on display were All-in-One solutions, net/notebooks, HTPCs and eBook readers.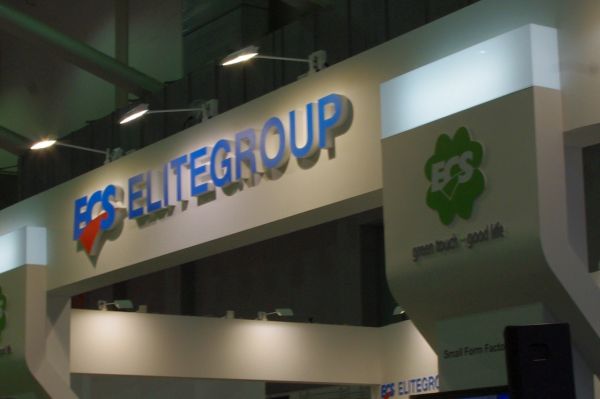 In the tour, it was explained that ECS actually make a lot of products that do not retail with the ECS name but are branded through other companies. The eBook readers are a typical example of this – I picket one up but found it very sluggish with large delays between turning pages. One model on display was using Android 2.2 with a Wondermedia 8650 CPU, 8" color TFT at 800x600, 256/512MB memory, internal storage up to 32GB, external storage expandable through microSD card and weighing in at 450g. However ECS were keen to stress that these were mostly engineering samples – on display to entice OEMs for future sales rather than consumers directly.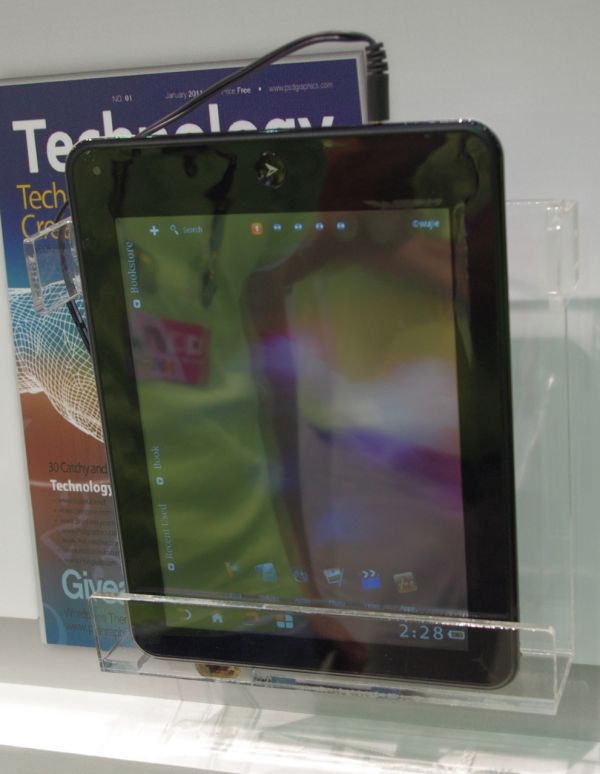 The All-in-one solutions are also an example of products that will not bear the ECS name when coming to market. They were all happily showcasing Angry Birds (as was almost every AIO at Computex I should add), but based on the thin mini-ITX platform. The G11-21ERS can use a 65W Sandy Bridge processor (maximum), support for up to 8 GB DDR3, 1.3MP camera with microphone, multi-card reader, USB 2.0, HDMI in, and all using a 150W power adaptor. Personally I think USB 3.0 support wouldn't be too much to ask, but the system does come with 10-finger input recognition.
In terms of VGAs, there was not much new, and if any where, it would all be reference design – motherboards were more interesting. Anand showed you the X79R-A and A75 preview boards, which by the look of things at ECS HQ represents a more-or-less finalised layout and design. The CDC-I is ECS' product in the world of Cedar View, whereas the HDC-I and HDC-I2 are from the E350/Hudson M1 Fusion range – I should be getting the HDC-I in for review to compare to some other E350 products shortly.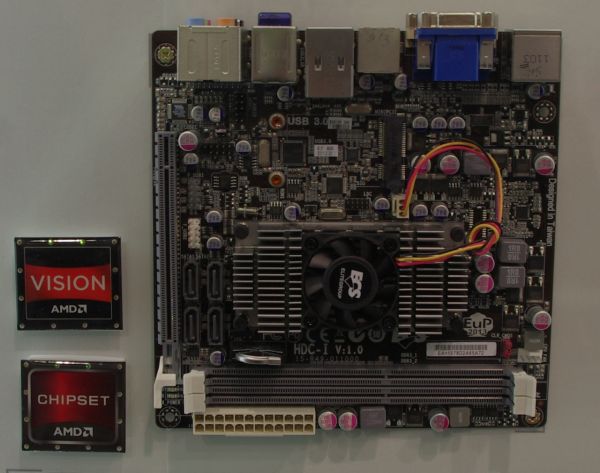 The A990FXM-A motherboard was also on show, which is debuting ECS' CoolTech II technology. Apart from a redesigned power and chipset cooling design, the PCH also has a heat-sensitive logo on it, changing from black to orange (40ºC) to red (60ºC) as the temperature increases. It's quite a gimmicky addition to a motherboard, in my opinion.
For HTPC, three models were there: to start, the DS110 using an E350, space for a full 3.5" HDD, USB 3.0, VGA, HDMI, gigabit Ethernet and two mini-PCIe for a TV Tuner and WLAN, all in a 65W power envelope. Though unfortunately while it was running the latest Harry Potter film, it was incredibly choppy, around 10-15 frames per second. Also present were the MS150 and MS300, using 65W under Cedar View and 120W under H61 respectively with similar connectivity.