Metro 2033
The next game on our list is 4A Games' tunnel shooter, Metro 2033. Metro is quite a resource intensive game, and if Crysis is a tropical GPU killer, then Metro would be its underground counterpart.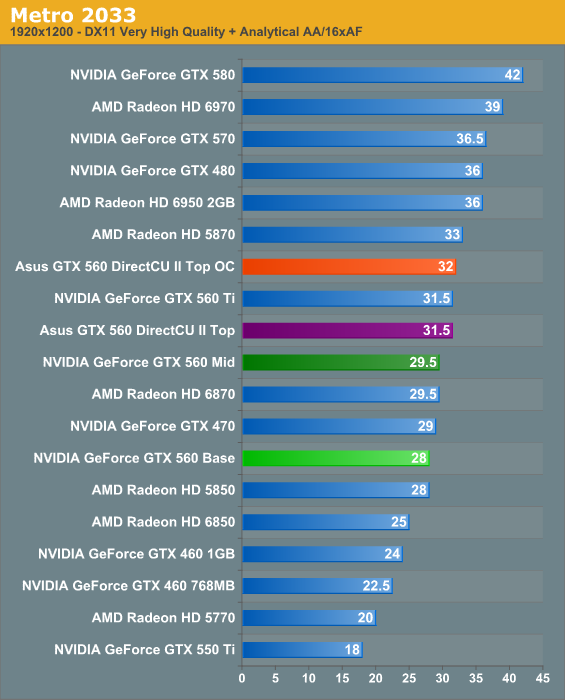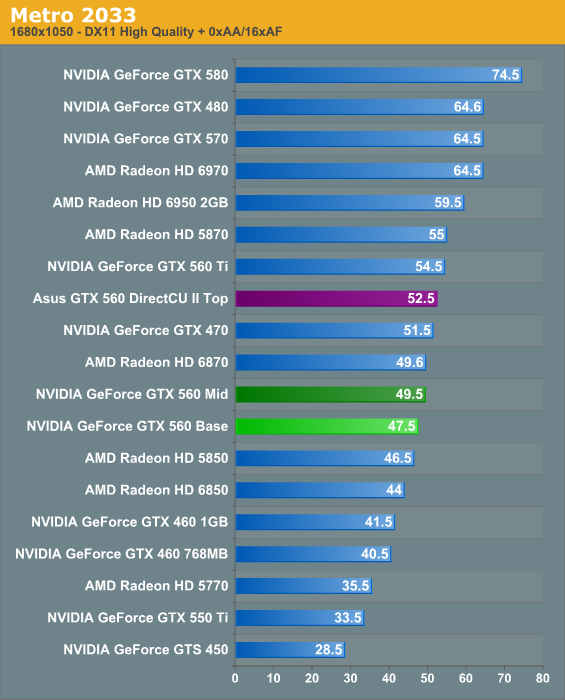 With Metro the GTX 560 Mid has finally caught up to the 6870, with the two tying at 29.5fps at 1920. The 6900 series does quite well at this game though, leading to the 6950 taking a solid lead over even our overclocked ASUS GTX 560.
Meanwhile as compared to NVIDIA's lineup, this is another game where the GTX 560 Mid does well relative to a number of NVIDIA cards. The lead over the GTX 460 is at 22%, while the GTX 560 Ti only has a 7% lead of its own. As for the ASUS GTX 560, it ends up in an interesting situation of its own: it beats the GTX 560 Ti, and this is without any additional overclocking on our part. On paper it takes a 940MHz GTX 560 Mid (7 SMs) to beat a GTX 560 Ti (8 SMs), and in this case Metro is shader bound enough to make it happen. This really may be the biggest threat that these factory overclocked GTX 560s pose to anyone: making the GTX 560 Ti redundant.