Conclusion
Performance and RAS features took a giant leap forwared when Intel replaced the Xeon 7400 with the Xeon 7500. The memory subsystem went from a high latency, totally bandwidth choked loser (hardly 10GB/s for 24 cores) to a low latency and very high bandwidth champion (up to 70GB/s). The Xeon E7 builds further on that excellent platform, and adds up to 35% higher performance.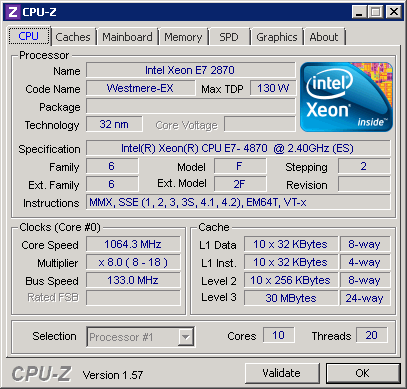 We now have a proven platform with excellent RAS features that needs slightly less power now while it provides a decent performance boost. That's excellent, but the Xeon E7 still has a few weakness. One weakness is the relatively high power consumption at idle load. Compared to the high-end Power 7 servers, this kind of power consumption is probably very reasonable. The Power 7 CPUs are in the 100 to 170W TDP range, while the Xeon E7s are in the 95 to 130W TDP range. A quad 3.3GHz Power 755 with (256GB RAM) server consumes 1650W according to IBM (slide 24), while our first measurements show that our 2.4GHz E7-4870 server will consume about 1300W in those circumstances.
Considering that the 3.3GHz Power 7 and 2.4GHz E7-4870 perform at the same level, we'll go out on a limb and assume that the new Xeon wins in the performance/watt race. AMD might take advantage of this "weakness", but availablility of quad 16-core "Bulldozer" servers is still months away and we don't know what the power use will be yet.
The 10-core Xeons are pretty expensive ($3000-4600 per CPU), but many of these systems are bought to run software that will cost 10 times more. In a nutshell, Intel's Xeon E7 moves up the server CPU food chain. The Xeon E7 closes the performance gap with the best RISC CPUs (see the SAP benchmarks), offers lower power and cost, and the rest of the x86 competition is relegated to the low-end of the quad x86 market.
For those looking for a virtualization platform, there is no x86 server that is able to offer such low response times at such high consolidation ratios. However, in order to get a good performance/watt ratio, you need to make sure that your quad Xeon E7 servers are working under high CPU loads. The quad Xeon E7 server is a good platform for consolidating CPU intensive applications. For less intensive VMs, it makes a lot more sense to check out the dual Xeon and quad Opteron offerings.
I would also like to thank to Tijl Deneut for his invaluable assistance.