Battery Life
With no native email client we had to modify our general use battery life test a bit for use on the PlayBook. Here we're just playing MP3s and going through our (non-Flash) web browser battery life test, there's no active email checking in the background (which is present on both the iPads and Xoom in this chart).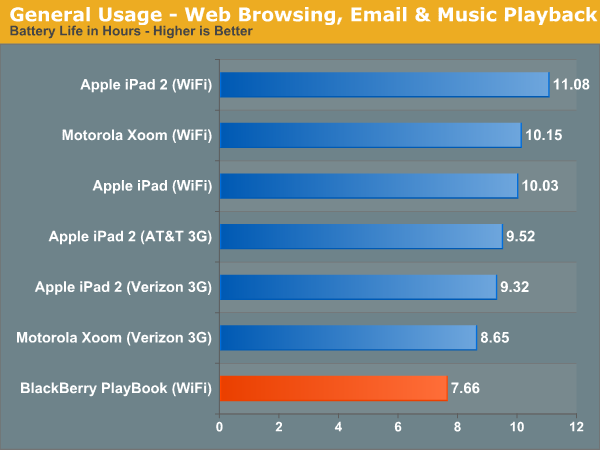 General usage battery life, at least today, appears to mirror that of the Motorola Xoom. At 7.66 hours of battery life the PlayBook is noticeably worse than the competition, and that's without checking emails in the background as well. Over 7 hours is still enough to get you through the majority of the work day, but heavy users should plan on charging the PlayBook at least once a day.
Video playback is a bit better. Running the same 720p base profile test as the rest of our tablets, the PlayBook managed 9 hours of video playback - comparable to the Xoom.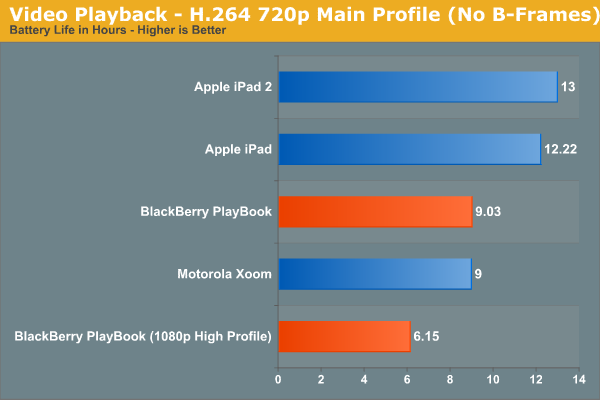 I also threw in battery life when running a 1080p main profile clip, something the other tablets can't do. There is definitely a negative impact on battery life for more complex videos, so keep that in mind if you plan on taking advantage of the OMAP 4430's flexible video playback support.