Crysis: Warhead
Kicking things off as always is Crysis: Warhead, still one of the toughest games in our benchmark suite. Even three years since the release of the original Crysis, "but can it run Crysis?" is still an important question, and for three years the answer was "no." Dual-GPU halo cards can now play it at Enthusiast settings at high resolutions, but for low-end cards even Mainstream/Medium quality is nearly out of reach.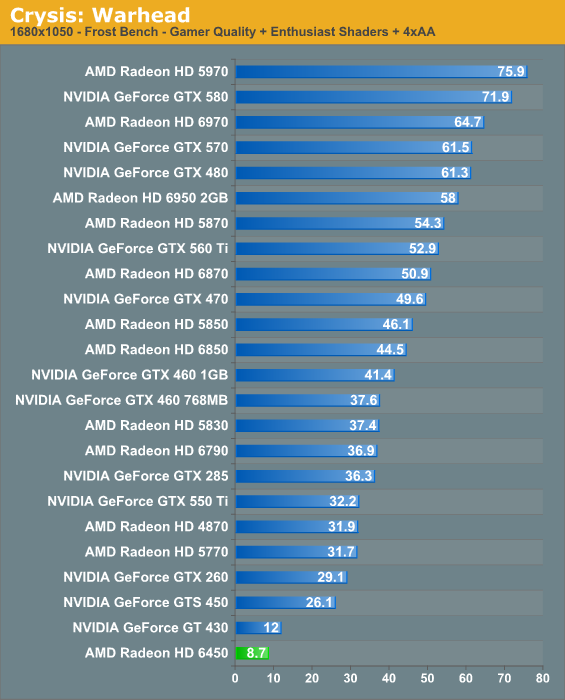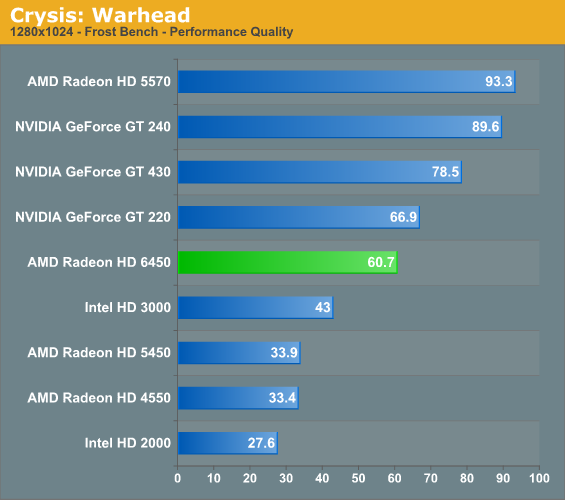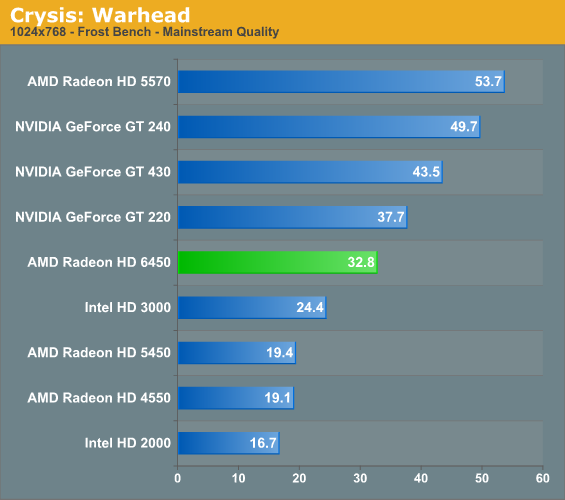 We're throwing in a 1680 chart now and then just to showcase where the Radeon HD 6450 and GT 430 stack up compared to our usual bulk of cards. It takes a lot of cutting to make a $50 card, and the end result is a fraction the performance of a $100 card.
Moving on to more playable settings, we first look at 1280x1024 at the lowest quality setting: Performance. The drop in quality between Performance and Mainstream is quite severe, so once we get to 1024 at Mainstream you'll understand why we're using Performance here. In any case the Radeon HD 6450 is actually very playable at this resolution in exchange for the limited graphical quality. Crysis can be quite easy to run, you just have to give up the fancy graphics to get there. Compared to the 5450 the performance jump is quite remarkable; even though the 6450 only has an equal number of ROPs, the jump nearly matches the twofold increase in SPs. So for Crysis we're definitely shader and/or bandwidth limited.
At 1024x768 mainstream quality, the performance drops across the board in spite of the lower resolution. The 6450 is the first card to crack 30fps, and at 32.9fps it's only barely playable. The performance gains versus the 5450 are still over 50%, but it's not quite the large gap we saw at 1280. As for the 5570, here it's ahead of the 6450 by 20fps. And this is the main problem the 6450 is going to face in the performance race: cheap 5570 cards with more than twice the horsepower are going to easily overpower it. The 6450's advantage is in power consumption and all that follows.