Conclusion: Good Performance and Value
It's not easy to find fair closing words for this power supply. On the one hand the Antec HCG-750 is a non-modular PSU with a moderately high price--we're within $12 of 80 Plus Silver 750W and with rebates you can get other 750W 80 Plus Bronze PSUs for just $80. On the other hand, the efficiency is decent for an 80 Plus Bronze model, the voltage regulation and ripple are good, and overall we really don't have any complaints. This PSU seems to be good for gamers with overclocked PCs and one or two high-end GPUs, who may not care to spend the extra $50 to reach the next echelon of features, quality, and performance.
The HCG-750 uses Japanese capacitors from Rubycon and Nippon Chemi-Con, there's a lot of space for cooling and airflow, and the result is reasonably quiet operation at most loads. The PCB material could be better and there is no MOV. Apart from that the EMI filtering is well equipped and most transistors are from well known brands like Infineon. The 135mm ADDA fan is a good choice for cooling.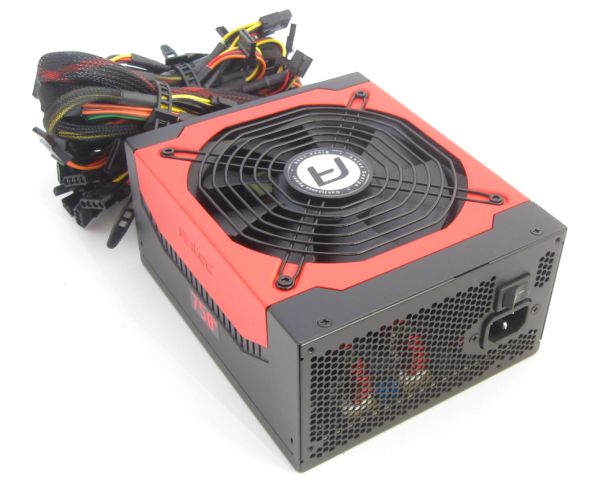 The HCG-750 generates just 25dB at loads up to 80%, which is where most users will run such a power supply. At 100% load you definitely hear the PSU, and while 38 dBA isn't the worst result we have ever seen it's still very high. The important thing is that the PSU is almost silent below 50% load.
In terms of voltage stability, the worst +12V rail measures 11.96V during our overload scenario. +5V and +3.3V are also close to their optimal values, and even +5VSB is always above 5.02V. The ripple and noise results with no more than 50mV on +12V are well within ATX limits. Power factor could be higher with 230VAC input but up to 88% efficiency with this voltage is satisfying. At 115VAC this PSU reached up to 86%, so it meets the requirements for an 80 Plus Bronze product.
The cables are nice and long, with a 65cm ATX/EPS12V CPU cable and a 55cm long 24-pin cable. There are four 6/8-pin PCIe connectors on two cables and nine SATA connectors on three cables. In addition this PSU has six Molex and one mini-Molex (i.e. FDD drive connector), so there are plenty of connections for most PCs. Perhaps the cable sleeving could be better since "Gamers" might care about appearances a bit more, but if you're not using a windowed case it won't matter. The coating and thickness of the case are excellent, providing a very robust feel, and the 5-year warranty and support are welcome.
Most of us prefer PSUs similar to this, only with at least 80 Plus Silver rating and modular cables. You can get that with the Enermax Revoltion85+, but Enermax pricing on that PSU continues to be quite high and you have to move up to 920W. The lower price, moderate wattage, stable rails, and overall performance are good reasons to prefer Antec's HCG-750. Antec may not be putting any real innovation into this particular product, but it doesn't have any serious flaws either and would make a great choice for your next high-end PC. And if you're planning something less extreme, you can stick with PSUs rated at less than 500W.