Another major addition is Personal Hotspot WiFi tethering for the AT&T iPhone 4, a feature introduced in iOS 4.2.5 with the Verizon iPhone 4. The AT&T phone can share its 3G connection with any 3 WiFi devices (down from 5 in the Verizon version, though this is almost definitely a carrier choice rather than a hardware limitation), but in order to use it you'll need to shell out for the "DataPro" data plan that offers 4GB of bandwidth a month for $45. Sorry, iPhone 3GS users, but this feature won't be available for you.
iTunes streaming also comes with the 4.3 release – once everything is properly configured, you can stream music or movies from your computer directly to your iDevice from your computer's iTunes library. This is an extension of the Home Sharing feature that debuted with iTunes 9 (though iTunes 10.2 is required for this particular implementation).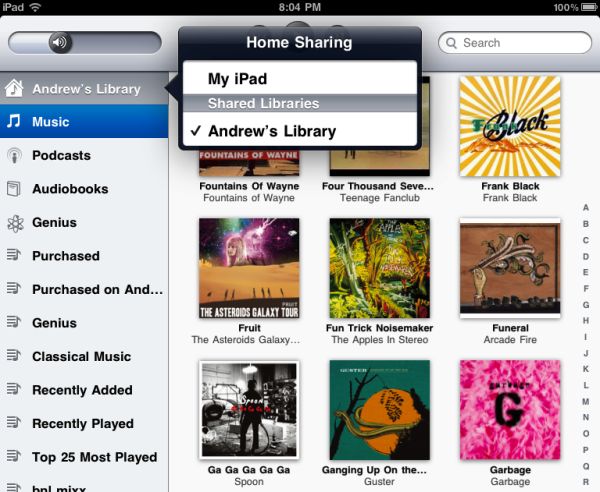 If you haven't already, you'll first have to setup Home Sharing in iTunes using your Apple ID – this Apple ID will have to be the same as the one you use for your iOS device. Then, on your iOS device, you can find the Home Sharing settings in the settings for the iPod app.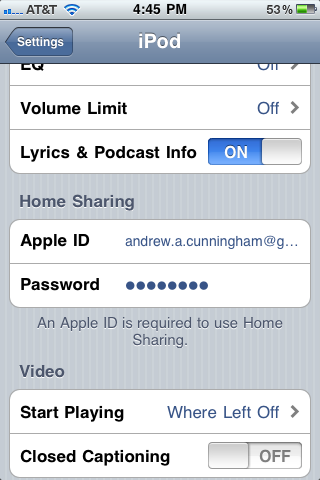 Once you're setup there, you should be able to stream from any Home Sharing-enabled computer on your network. In my admittedly limited experience with the feature, I had no problem sharing my iTunes library with either my iPhone or my iPad over my wireless network. It gives my 16GB devices the ability to see everything in my much-bigger-than-16GB iTunes library, which means I can finally have full access to all the music on my desktop by hooking my iPhone to the speakers in the kitchen.