Camera Analysis
The 2X has a 1.3 MP front facing camera and 8 MP rear camera, unfortunately I haven't been able to determine the camera source, but pixels on the rear camera are 1.4 µm square, and 1.75 µm on the front facing camera. That pixel size would make the 2X's CMOS sensor most likely 1/3.2" in size.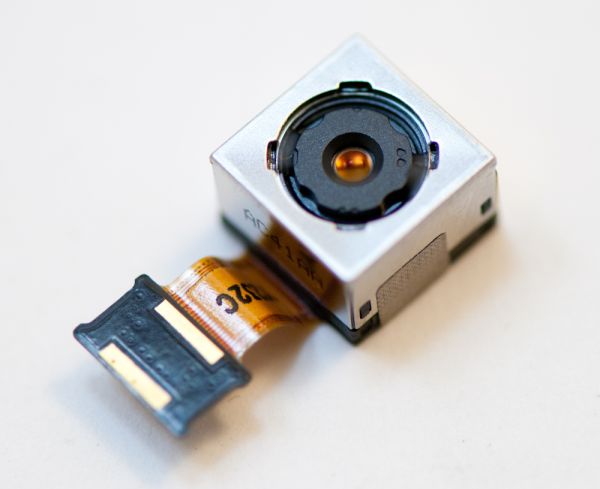 The LG Optimus 2X's 8 MP rear facing camera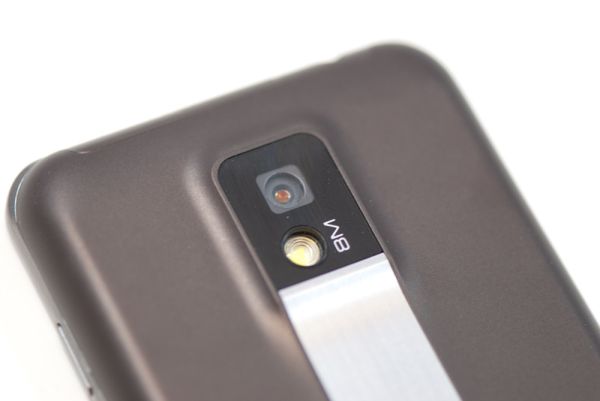 LG's camera app is familiar territory coming from other LG Android phones. We've still got the LG Optimus One, which has almost the exact same layout and design camera application. Honestly, I think LG's got the best menus I've seen yet for a smartphone. There are image size settings for 8 MP (3264x2488), 5 MP, 3 MP, 2 MP, 1 MP, VGA and QVGA, three compression settings (Super Fine, Fine, and Normal), some optional focus controls (Auto, Macro, Face Tracking, and Manual Focus), ISO (Auto, 100, 200, 400, 800), scene modes, effects, ability to disable the shutter sound, and the shot mode. There's the option of recording images either on the "internal SD card" (which is really that eMMC) or an external SD card if you've got one inserted. I noticed that writing to internal storage enabled a bit faster cycling between images compared to my SD card. There's a full overview of all the camera and video capture settings in the gallery below.
Shot mode is interesting because under it is a setting called "continuous shot" which enables 6 photos to be captured in rapid succession, which you can see in action in our overview video. When switching to that mode, image size drops from 8 MP to a maximum of 2 MP, and a couple of other options grey out. Tapping the capture button immediately takes those 6 images in rapid-fire succession and saves them. It's cool that you can take a bunch of images quickly, but what would be more useful is being able to mash the capture button in the normal shooting mode and capture as quickly as you would on a decent DSLR. That still isn't possible, but we're clearly getting there. NVIDIA advertises that its image signal processor (ISP) is capable of doing 12 MP at 11 FPS, and JPEG encoding at 80 MP/s, which would mean that (negating integration time on the camera sensor) 10 FPS shooting should be possible. That's obviously a bit ambitious, and isn't what we see here—maybe someday though.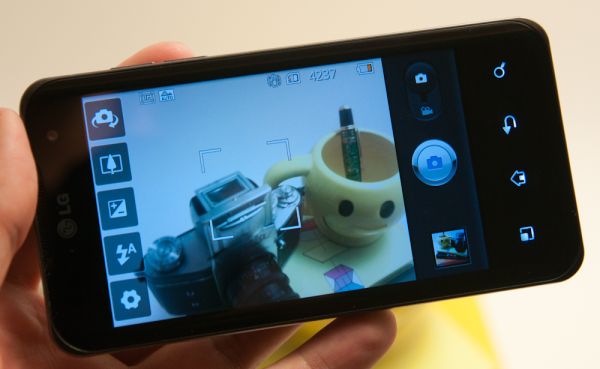 The OSD LG has put together for the camera is again probably the best I've seen on any Android—heck smartphone in general—yet. Icons rotate between landscape and portrait orientation modes, up at the top are shots remaining, image size, and other iconography for modes that have been set elsewhere in settings. Tapping or waiting a few seconds eliminates everything save the live preview to give a less cluttered view for image composure. The 2X lacks tap to focus and expose, instead it's always center-weighted. There's also no dedicated capture button on the 2X, so the on-screen button is the only option.
Image quality from photos taken with the rear facing camera is actually pretty good. There's a lot of spatial detail in our test images with surprisingly little noise. I'd say that the 2X actually takes some of the best 8 MP smartphone images I've seen to date. The problem, however, is saturation. Colors are almost universally under-saturated by default—compare almost any of the shots we took at our bench location to other devices, and it's readily apparent. It's still outclassed by phones like the Nokia N8, but not bad.
With the lights off, the 2X runs autofocus with the LED lit up, which is awesome. Unfortunately, the flash exposure over illuminates our test scene and creates a very overexposed image. Otherwise the LED flash is nice and powerful, yet more proof that having two isn't necessarily better.
Interestingly enough the other strong suit of the 2X is that the preview image is one of the most fluid and high framerate we've come across. In situations with adequate light, the rear facing camera preview is easily higher framerate than the iPhone 4. Oddly enough, the front sensor preview framerate is quite low unless you're imaging something extremely well-lit. The limitation on the front-facing camera framerate is one of integration time on the sensor rather than ISP bandwidth, however.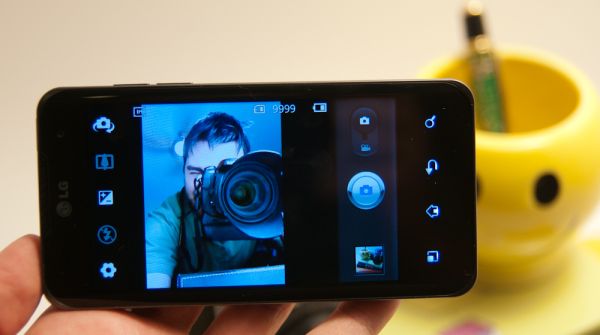 Tapping the top left button switches to the front facing camera. What's odd however is that the front facing camera is actually rotated 90 degrees. That's not to say that the image is rotated 90 degrees, but rather that the longer side of the sensor is parallel to the shorter axis of the phone. The result is that there are black bars on both sides of the preview. It's as if the sensor was aligned with the intention of being used with the phone primarily in portrait—instead of orienting the sensor to match the aspect ratio of the phone. It's just an odd choice considering all the other smartphones we've looked at thus far are the other way around.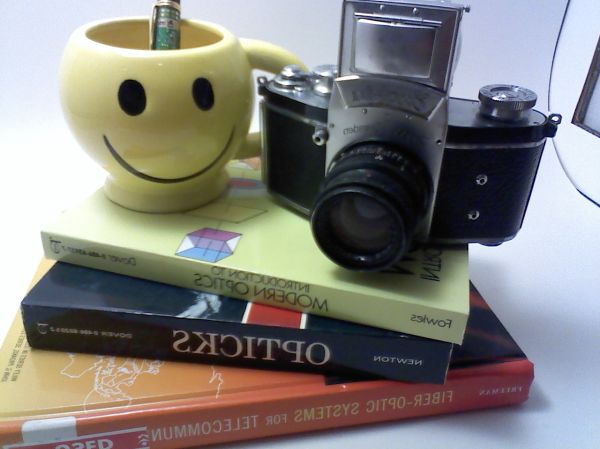 The 1.3 MP front facing camera can capture at 1280x960, VGA, and QVGA resolution. Quality isn't too good—there's noticeable lack of detail and blurring in our test image. It's likely more than enough quality for a video chat that's going to crop and decimate image size to a much smaller size. The 2X also mirrors images horizontally on the front facing camera.