Power Consumption
Power consumption is very low thanks to core power gating and Intel's 32nm process. Also, when the integrated GPU is not in use it is completely power gated as to not waste any power either. The end result is lower power consumption than virtually any other platform out there under load.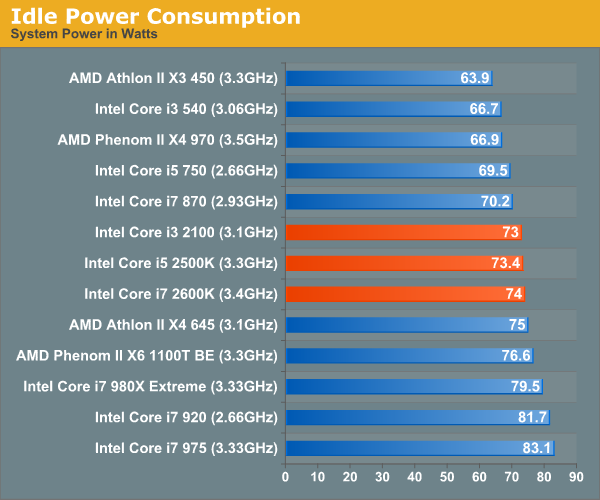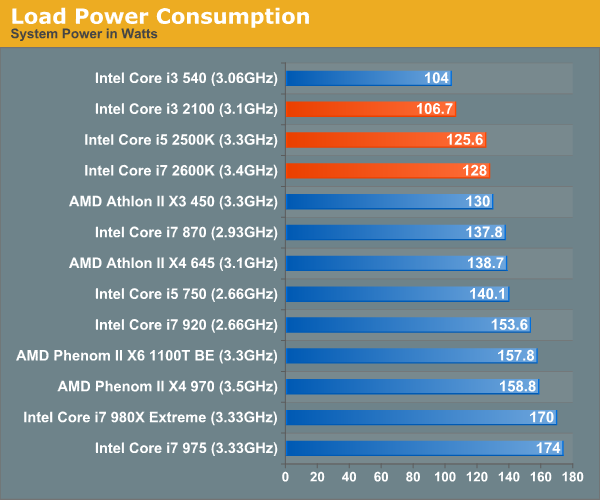 I also measured power at the ATX12V connector to give you an idea of what actual CPU power consumption is like (excluding the motherboard, PSU loss, etc...):
| | | |
| --- | --- | --- |
| Processor | Idle | Load (Cinebench R11.5) |
| Intel Core i7 2600K @ 4.4GHz | 5W | 111W |
| Intel Core i7 2600K (3.4GHz) | 5W | 86W |
| AMD Phenom II X4 975 BE (3.6GHz) | 14W | 96W |
| AMD Phenom II X6 1100T (3.3GHz) | 20W | 109W |
| Intel Core i5 661 (3.33GHz) | 4W | 33W |
| Intel Core i7 880 (3.06GHz) | 3W | 106W |
Idle power is a strength of Intel's as the cores are fully power gated when idle resulting in these great single digit power levels. Under load, there's actually not too much difference between an i7 2600K and a 3.6GHz Phenom II (only 10W). There's obviously a big difference in performance however (7.45 vs. 4.23 for the Phenom II in Cinebench R11.5), thus giving Intel better performance per watt. The fact that AMD is able to add two more cores at only a 13W load and 300MHz frequency penalty is pretty impressive as well.