Next year is looking to be a very important year for smartphone and tablet performance. Just as we saw widespread migration to the ARM Cortex A8 and Qualcomm Scorpion CPU cores in smartphones in 2010, in the next 12 months we will see the first tablets and smartphones based on dual-core SoCs from TI, Qualcomm and NVIDIA. The long awaited Tegra 2 will start shipping in smartphones and tablets in early 2011, and Qualcomm will have its own 45nm dual-core Snapdragon SoCs featured in devices as well. Today TI is announcing more details on its OMAP 4440, a high performance dual-core Cortex A9 SoC slated for production in the second half of 2011.
The OMAP 4430 is a 45nm SoC expected to replace the current 3630 and 3430 used in high end smartphones today. The 3630 will move further downstream and exist within more mainstream smartphones.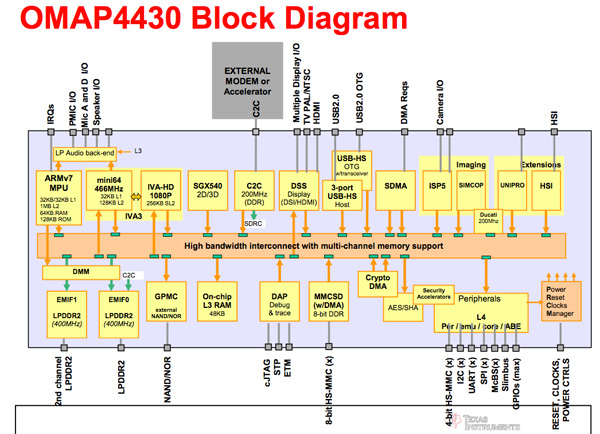 The 4430 features a pair of ARM Cortex A9s running at 1GHz with a PowerVR SGX 540 GPU from Imagination Technologies. The Cortex A9 features a shorter pipeline than the current A8 and Scorpion cores and thus should boast a higher IPC. It also enables some amount of out-of-order execution.
The A9 cores share a 1MB L2 cache and are paired with two 32-bit LPDDR2 memory controllers. The memory bus can support LPDDR2 devices at data rates up to 400MHz. This gives the OMAP 4430 the potential to offer 4x the memory bandwidth of the 3630, which means better CPU and GPU performance as well as more flexibility with video.
The architectural improvements should result in significant performance gains in everything from OS interaction to web browsing. We've already seen real world improvements as high as 50% vs. existing A8/Snapdragon platforms.
The PowerVR SGX 540 GPU is used in Samsung's Hummingbird SoC, which we've seen in the Galaxy S line of smartphones. This is already the fastest ultra mobile GPU we've tested, so its well suited for use in the 4430.
Today's announcement isn't about the 4430 however, it's about the 4440. A higher performance OMAP4 variant, the 4440 is still built on a 45nm process, it still features a pair of Cortex A9s and a PowerVR SGX 540 GPU - but it just runs faster.
OMAP 4440 vs. 4430 Feature List - Provided by TI
Feature
Benefit
Two ARM Cortex A9 MPCores @ 1.5GHz each
50% increase in overall performance, 33% reduction in webpage load time
End-to-end graphics acceleration enhancement (triangles per second, fill rate and shaders)
25% increase in overall graphics performance
Support for HDMI v1.4 3D modes
Full 1080p HD S3D playback to 3D TV
1080p60 video format support
2x higher performance video playback
Support for up to two 12-megapixel cameras in parallel
Higher stereoscopic resolution encode enabling stereo photography, which meets the same resolution previously experienced only with 2D photography
IVA 3 multimedia hardware accelerator
Industry's highest quality video playback at low bit rates
Complete pin-to-pin hardware and software compatibility
Easy migration from the OMAP4430 processors
The A9s run at 1.5GHz and although TI isn't announcing the SGX 540's clock speed, it promises a 25% increase in overall graphics performance (triangle rate, fill rate). Presumably the GPU is clocked 25% higher than in the 4430 (which could be as high as 400MHz).
There are more video features on the 4440 as well. You get 60 fps 1080p decode support (bitrate limitations aren't completely fleshed out, but TI has some details in a whitepaper- PDF link), and the SoC supports up to two 12-megapixel camera sensors (potentially for use in high resolution stereoscopic 3D photography). HDMI 1.4 and stereoscopic 3D are also supported by the SoC.
OMAP 4440 Mobile Video Teleconferencing Features - Provided by TI
Mobile video teleconferencing component
OMAP4440 processor-enabled feature
High-quality mobile video conferencing
Improved video quality in low-light conditions; video stabilization
Chat software (i.e., Skype or Google Talk)
Video codec support includes H.264, VP7, H.263, SVC, and more
Peer-to-peer (1 local user with one other user) chat functionality
1080p mobile video conferencing
Multi-chat (1 local user with up to 4 other users) functionality
720p resolution with stereo audio support
Cloud access for simultaneous application support (e.g., browsing the web while chatting or document sharing)
Optimized symmetric multiprocessing architecture to deliver low latency and high bandwidth support
The OMAP4440 is pin compatible with the OMAP4430 and thus can be dropped into existing OMAP4 designs if need be. The SoC will be sampling in Q1 2011 and be in production in 2H 2011. I'd expect the 4440 to be used in tablets while the 4430 seems more like a smartphone SKU.