Final Words
The only data I haven't displayed here is estimated write amplification and estimated drive longevity. I'm still fine tuning the process before I present the data but I can give you, at a high level, what I've seen. As I mentioned in the comments to the V+100 article the three leaders in write amplification (and thus drive longevity) over the long run are: SandForce, Crucial and Intel. Indilinx doesn't do as good of a job of keeping write amplification low over the long haul. The Barefoot+Martini platform addresses the performance issues we've had with the original Barefoot, but it doesn't seem to address worst case write amplification. Thankfully, Barefoot+Martini aren't Indilinx's next-generation SSD platform. The 6Gbps Jet Stream controller is still in development and is designed to go after the high end, Martini simply modernizes Indilinx drives.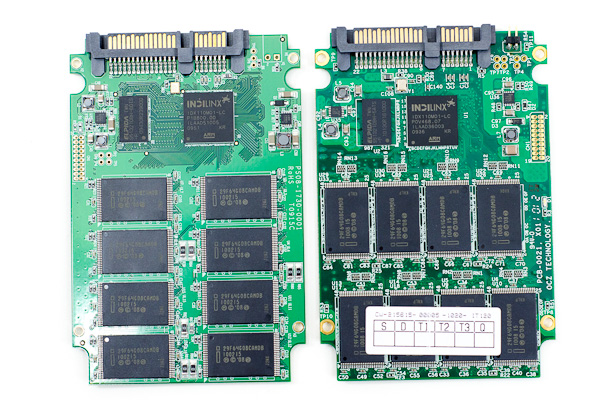 Indilinx Barefoot (left) vs. Indilinx Martini (right)
The question ultimately boils down to price. You can already get a 128GB SandForce based drive for $229, and if you're mostly filling your drive with a lot of incompressible data (photos, videos) there's always the C300 for a bit more money. Both options will give you better performance and lower write amplification than what Indilinx offers. What we need is a good value alternative to SandForce. The SF-1200 controller isn't cheap at all, and this is where Indilinx's Barefoot+Martini could come in.
Assuming it's devoid of any typical new SSD teething problems, the Barefoot+Martini based Vertex Plus could be a good way to squeeze an SSD into a budget constrained performance system. I'd still like to see greater than $35 savings compared to SandForce though. We're still a few weeks away from release candidate firmware so I'll reserve final judgment until then. It never hurts to have more competition in the market.