While Anand played with AT&T's other launch device - the Samsung Focus - and later on the LG Optimus 7, I got to play with the HTC Surround. HTC's entry into the fray stands out on AT&T. Ok, that was a terrible pun.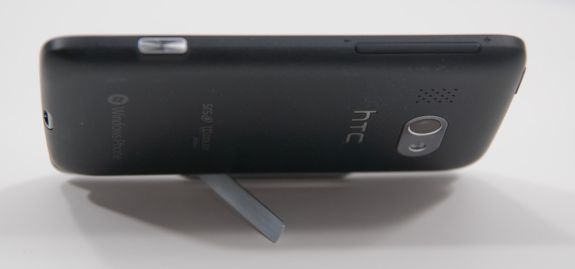 It's an interesting form factor, let's just say that. The Surround is put together like a landscape slider, except instead of a keyboard, you get a speaker that runs the entire length of the device. The speaker only slides out a mere 1.25 cm. As a result, the slider mechanism itself feels very sturdy, and there's very little space between the display and main base, not enough to slide a fingernail into. There's no spring mechanism on this slider, it's just friction and two clicks that hold it in place.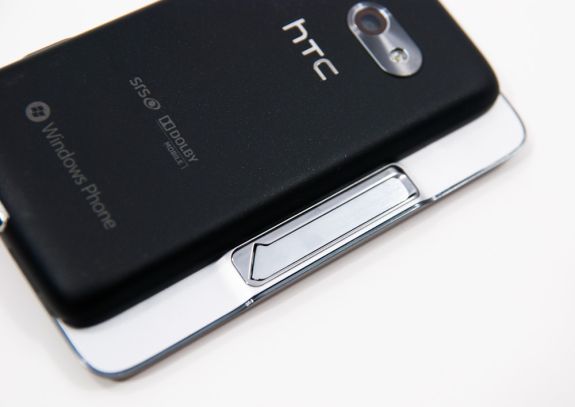 In case it isn't readily apparent yet, the HTC Surround's primary differentiator is audio playback. There's a small button at the top of the device which cycles through SRS surround emulation and some Dolby audio enhancements. The speaker is actually impressively loud when you're playing back music, as long as you remember to slide the thing open.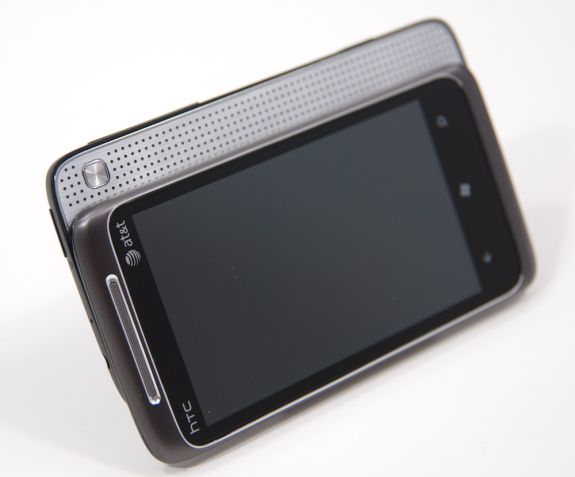 The speaker grille feels like brushed aluminum, and looks reasonably classy. On the back, when the speaker is slid out, you get a pop up kickstand. It's different from the EVO's kickstand - this one is narrower and rests differently. Where the EVO's is like a leg, the Surround's is like a small base that slides out. It's just as sturdy honestly and does a great job propping the device up.
The Surround makes a tradeoff - on one hand, you get the increased thickness of a slider, but none of the keyboard goodness. Honestly, I haven't found myself want for a keyboard on WP7 yet, especially considering lack of landscape homepage support. There's definitely a market out there for devices that have good audio and emphasis on music playback. If that describes you, the Surround is perfect. It's loud, pumps out undeniably the best sound quality from that big speaker of any smartphone I've ever used, and even has a kickstand so you can prop it up anywhere. Of course, the Surround also doubles as a loud alarm clock too.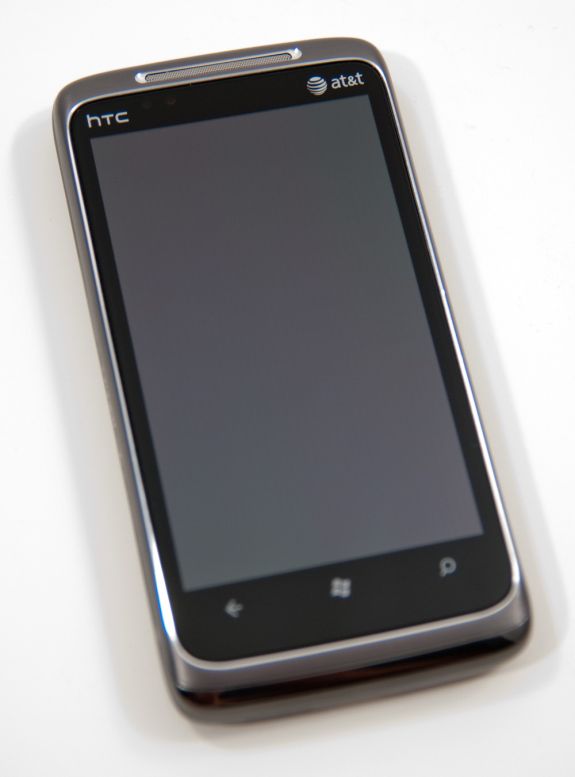 Battery life is middle of the road for the WP7 devices we've tested thus far, but much better than the other AT&T launch device. Oh, and the HTC Surround charges very quickly as well. As we noted before, we're going to have longer more comprehensive reviews of these devices up when they're ready.