GTX 480M SLI Takes on Desktop SLI and CrossFire
This is a desktop replacement, so what better way to show performance than to compare it with actual desktops? We don't really have any other notebook results at High 1080p settings, let alone our Ultra 1080p metric, so we'll compare the Clevo X7200 with our most recent desktop reviews. We've got the iBUYPOWER XLC (an i7-930 running at 3.5GHz and SLI GTX 470), a CyberPower Gamer Xtreme 8500 (i7-875K at 3.85GHz with EVGA Superclocked GTS 450 SLI), and an AVADirect Nano Cube (i5-750s at 3.0GHz with a single HD 5870 stuffed into a mini-ITX chassis). I've also added results for my own gaming system: an i7-920 (stock; still working on a CPU upgrade so I can actually overclock) with CrossFire HD 5850. Pricing for the systems is heavily against the X7200, obviously: the Nano Cube checks in at around $1600, the CyberPower costs close to $1700, and the iBUYPOWER (as well as my custom system, thanks to the two 120GB SSDs) will set you back roughly $2300.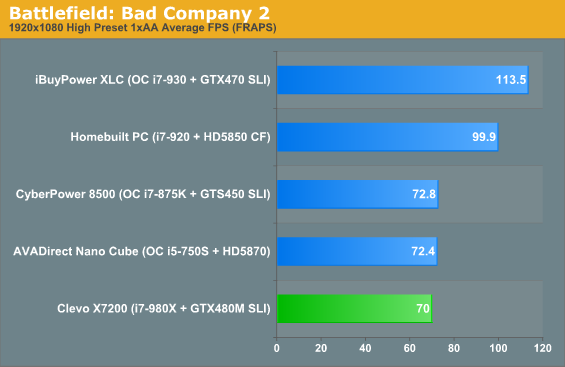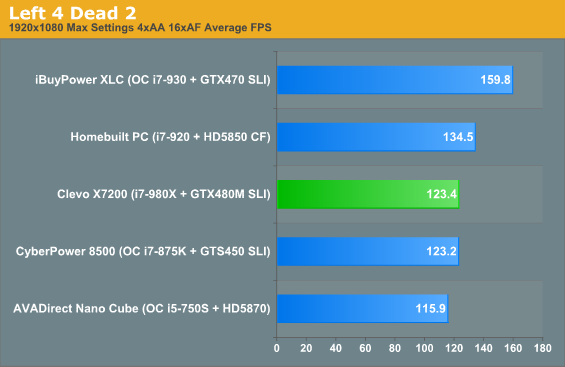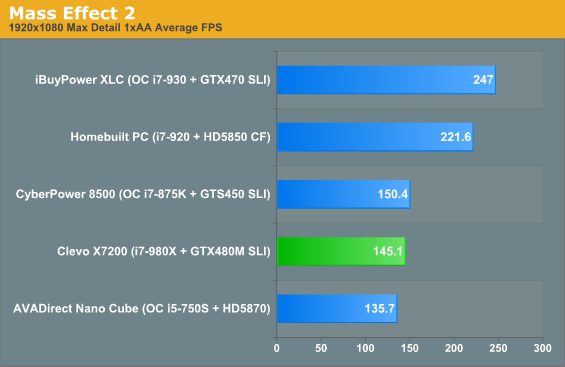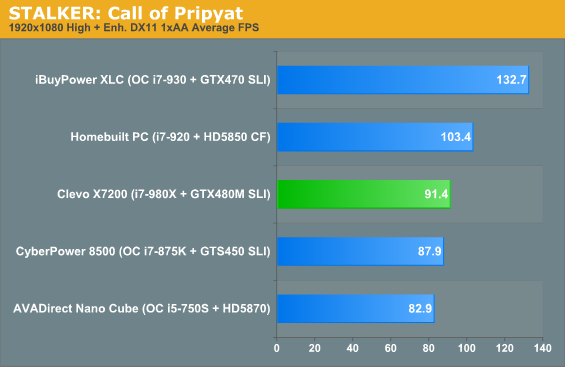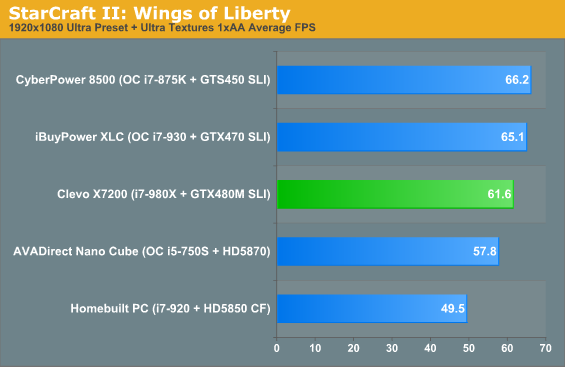 At our "High" settings, the Clevo X7200 falls just shy of the GTS 450 SLI results but manages to beat the single HD 5870. Considering the latter is easily able to churn out playable frame rates in nearly every game at maximum detail and a 1080p resolution, the X7200 is no slouch. However, look at higher end dual-GPU options and it's clear the GTX 480M is nowhere near the performance of the desktop GF100 cards.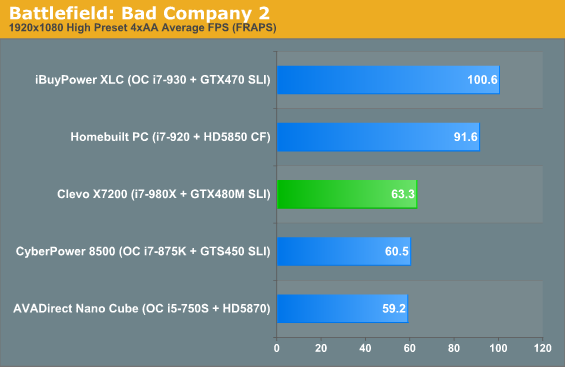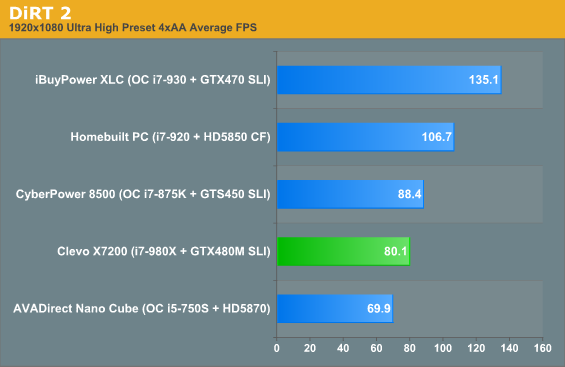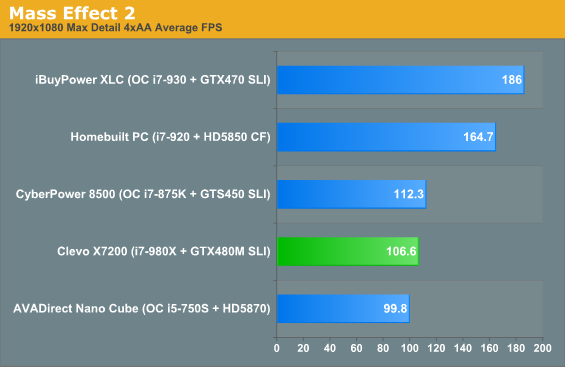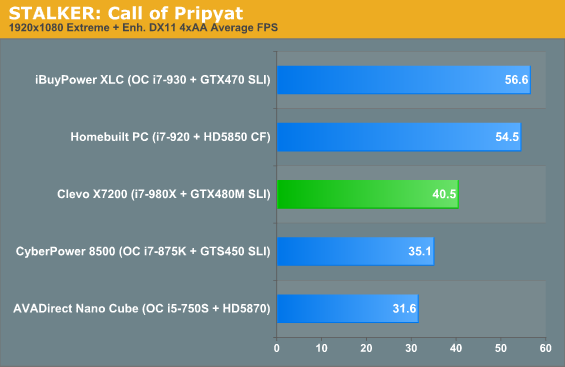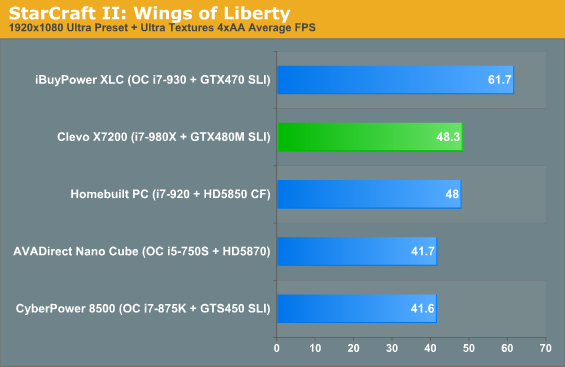 Moving up to "Ultra" detail, the X7200 manages to post a lead over SLI GTS 450 in several titles, while DiRT 2 and ME2 still give the lead to the desktop system. We don't normally test beyond 4xAA, but with Left 4 Dead 2 already at 4xAA and running smooth, we decided to max it out with 16xQAA and still pulled 105FPS! Anyway, back to the desktop comparison. Without identical CPUs, we can't say with certainty how much of the difference lies with the GPU and how much comes from the CPU. More likely than not we're GPU limited in the CyberPower, iBUYPOWER, and Clevo X7200; however, the stock i7-920 and 5850 CrossFire as well as the Nano Cube HD 5870 with an overclocked i5-750S appear to be hitting some CPU bottlenecks.
What that really means is that the best we can do in mobile graphics is still about one-half to two-thirds of the top-performing desktop solutions. You can get a rough idea of how the Clevo X7200 stacks up against desktops in our GPU Bench; we run the same test in BFBC2, DiRT 2, and almost the same in Mass Effect 2and STALKER: Call of Pripyat, though the desktops were tested at 1920x1200 instead of 1080p.