Clevo X7200: Breaking Application Performance Records
We're obviously running a substantially faster CPU than any other notebook, so we've decided it will be more meaningful to compare the Clevo X7200 with a few of our recent desktop reviews. We'll still have some high-end notebooks in the charts as well, including previous Clevo designs to put things in perspective. For application performance, though, there's no mobile chip that can touch a desktop i7 processor—especially not the hex-core models.
Incidentally, we've decided to ditch Peacekeeper because frankly the scores are just too unreliable. If you want an example, the X7200 managed 3667, which is lower than the i7-820QM and i7-920XM results despite a substantially higher clock speed. It could be that updates to Firefox 3.6 have reduced the score, or maybe it's in the GPU drivers; either way, the results don't seem to be that pertinent. If anyone has a better "internet benchmark" they'd like us to run, drop me line (jarred.walton@anandtech.com) or sound off in the comments!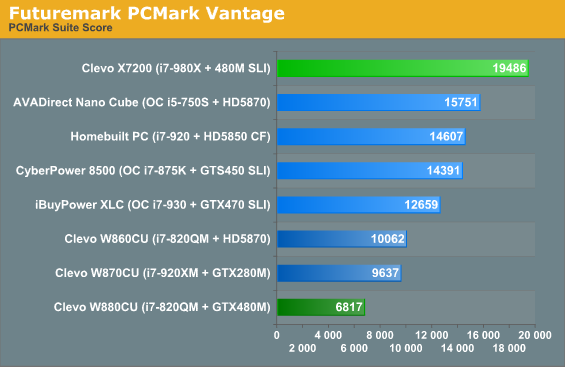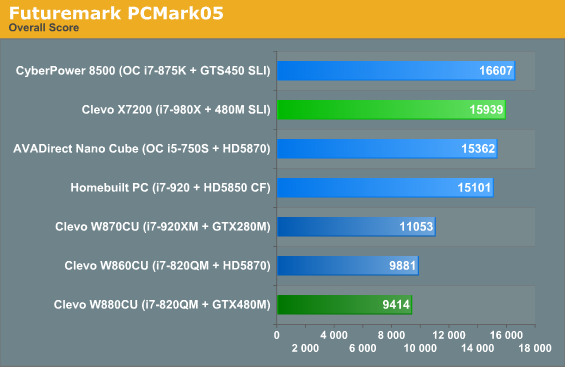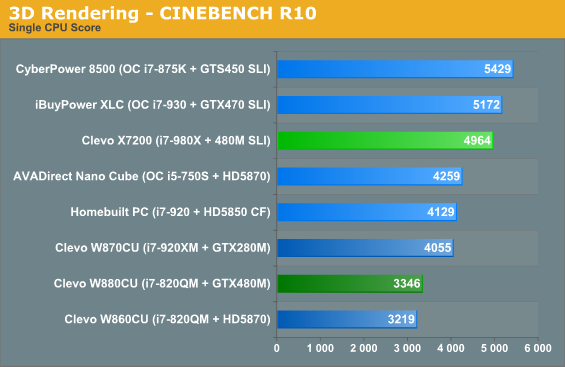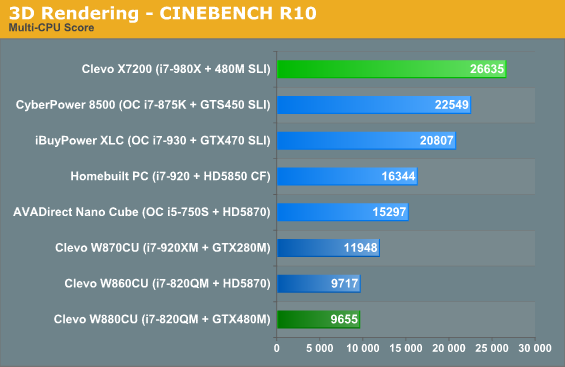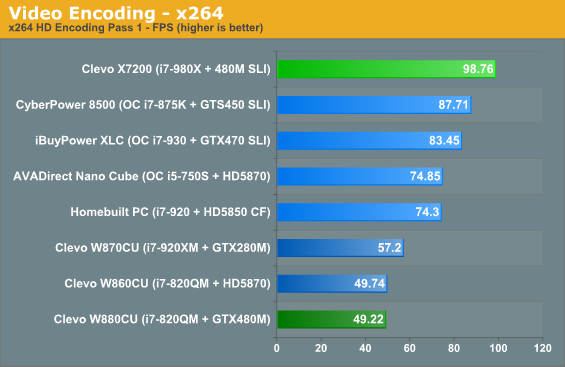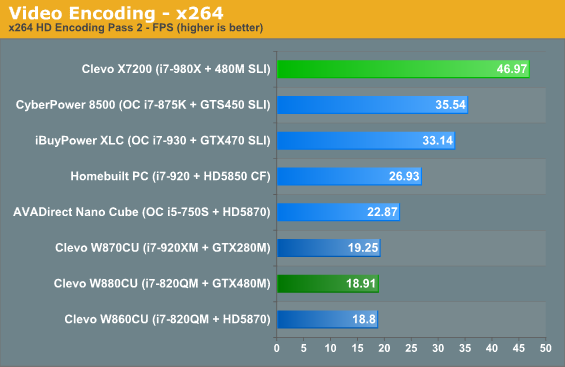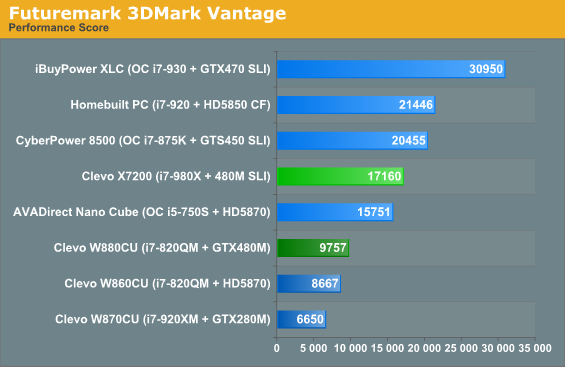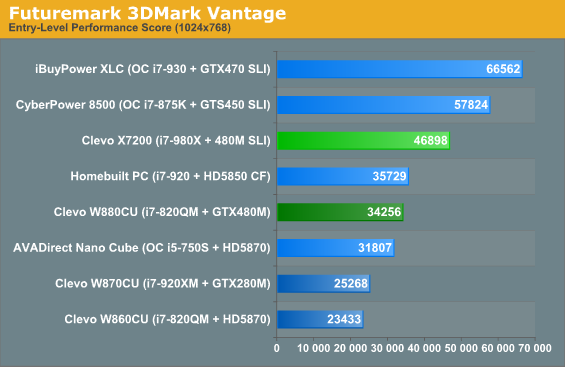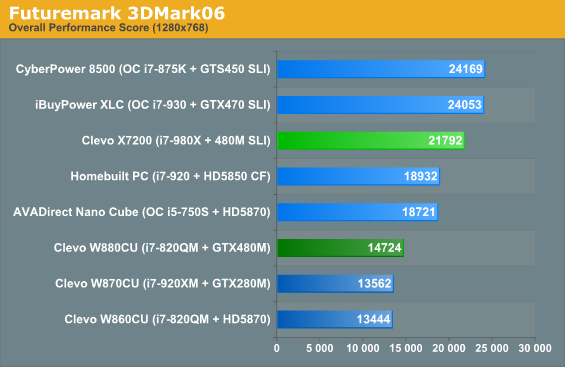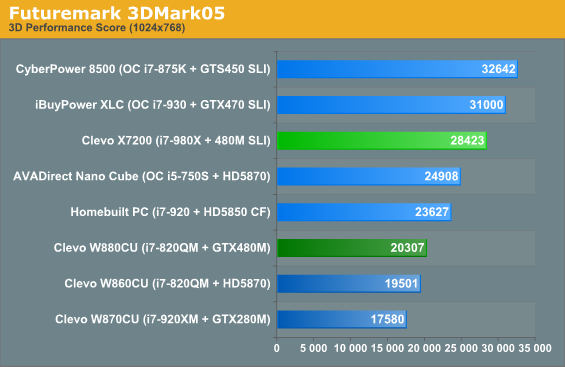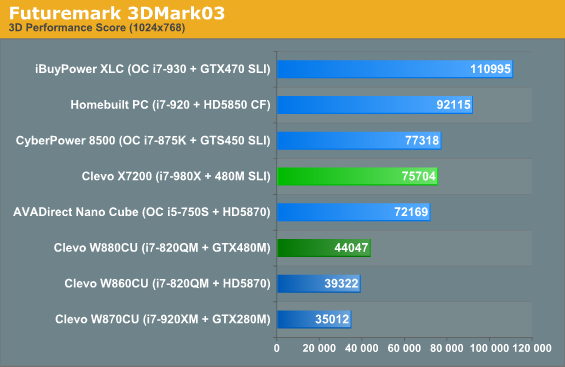 Starting with PCMark, we have commented in times past about how heavily an SSD can influence the result. Well, if a single fast SSD is able to boost scores by 50%, imagine what happens when we run two of the fastest SSDs in RAID 0—plus we're using a desktop CPU. The X7200 scores 24% higher than AVADirect's Nano Cube (another system with a fast SSD), and it's nearly twice the performance of the Clevo W860CU with a Corsair Nova (Indilinx Barefoot) SSD.
AVADirect reported an internal result of 20146, but by the time we installed our full test suite and ran PCMark (no fewer than eight times!) we "only" managed to get 19486. Incidentally, AVADirect reported a score of 19940 with RAID 0 OCZ Vertex 2 drives; I wonder if the 3.3% drop in performance might be to the degradation in the C300 SSD performance we discussed in the introduction? How much further will it drop as the drives fill up? It's difficult to say for certain, but I'd be inclined to stick with a SandForce 1200 SSD just to be sure, at least if you're planning on doing RAID. Anyway, PCMark Vantage is an SSD whore and shows huge gains with both SSDs and RAID 0. Depending on what you're doing, you may or may not see as big an improvement, but the overall experience with the X7200 and C300 RAID is blazingly fast—I measured sustained network transfer rates of up to 110MB/s, essentially maxing out my gigabit switch, which is something I haven't managed before.
PCMark05 is less disk intensive, so the RAID 0 SSDs don't manage to put the X7200 ahead of the heavily overclocked CyberPower system. The same goes for the single-core Cinebench result, with the iBUYPOWER overclock coming in ahead of the X7200 as well. Once we move into the multi-threaded benchmarks, though, none of the quad-core CPUs can come anywhere near the performance of the i7-980X. The X7200 is anywhere from 13 to 32% faster than the CyberPower system, 18 to 42% faster than the iBUYPOWER, and 72 to 144% faster than the i7-920XM equipped W870CU.