AVADirect Clevo X7200: Hail to the King, Baby!
About a week ago, I undertook a new exercise and fitness program. It's one of those high intensity workouts that can really burn through the calories, and in just one week I dropped 20 pounds! So what is this new wonder fitness regime and what does it have to do with computer hardware? Let me introduce you to my weight set...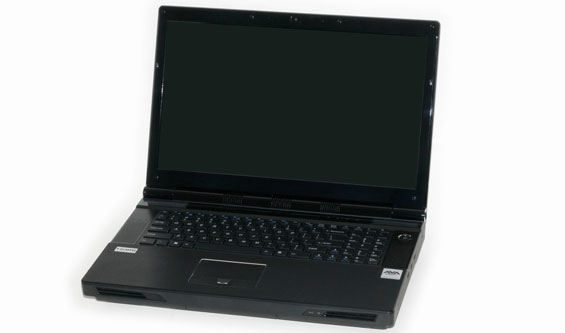 All kidding aside, let's get this out of the way: the Clevo X7200 is an absolute tank, weighing in at 12.1 pounds for a basic configuration with a single 480M GPU. We see little point in buying such a high-end product and only getting the basics, though, so AVADirect loaded us up with what is easily the fastest piece of portable kit this side of 2011. Dual GTX 480M is only the starting point; for the OS and performance-oriented applications, they RAIDed a couple of Crucial RealSSD C300 256GB SSDs together, then tacked on a Seagate Momentus XT 500GB drive for mass storage. All told, we'd put the weight of just the notebook and battery at close to 13 pounds, and then there's the power brick.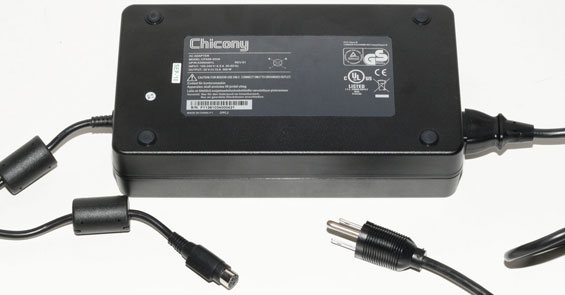 How's that for a monstrous power brick? Previously, the biggest notebook power adapters topped out at a "measly" 250W output. This bad boy can put out a full 300W (and perhaps a bit more peak power). It's also heavier than a typical netbook, quite a bit thicker, and brings the total package weight to around 16 pounds. Thankfully, you don't have to worry about finding an appropriate notebook bag, since AVADirect/Clevo is kind enough to include one. It's an inexpensive cloth case, but it will get the job done until you shell out for something nicer.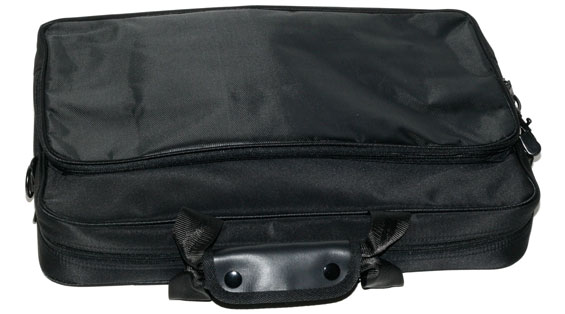 None of this is surprising, since we're dealing with the new flagship product from Clevo. But some things have changed—and definitely for the better—like the aluminum surfaces replacing the (typically glossy) plastic we've seen in previous models (M98NU, D900F, X8100...). The X7200 manages to pack more performance potential than the previous generation X8100 into a slightly smaller chassis, and it upgrades the build quality and aesthetic at the same time. It's still big, heavy, noisy, and can run a bit hot under load, but this is without doubt the nicest looking Clevo notebook we've ever seen. Let's give a quick overview of AVADirect's test system before we continue.
AVADirect Clevo X7200 Gaming Notebook
Processor
Intel Core i7-980X
(6x3.33GHz + HTT, 3.60GHz Turbo, 32nm, 12MB L3, 130W)
Chipset
Intel X58 + ICH10R
Memory
3x4GB Crucial DDR3-1333 (Max 3x4GB for now)
Graphics
2 x NVIDIA GeForce GTX 480M 2GB(SLI)
Display
17.3" CCFL Glossy 16:9 1080p (1920x1080)
HannStar HSD173PUW1
Hard Drive(s)
OS: 2 x Crucial Real SSD C300 256GB in RAID 0
Data: 500GB Seagate Momentus XT 7200RPM Hybrid
Optical Drive
6x Blu-ray/8x DVDR Combo (HL-DT-ST CT21N)
Networking
JMicron JMC250 Gigabit Ethernet
Intel Ultimate-N Wifi Link 6300AGN
Bluetooth 2.1
Audio
Realtek ALC888 HD Audio
5.1 speakers
Four audio jacks
Battery
9-Cell, 14.8V, 5300mAh, 78.44Wh
Front Side
N/A (Speaker grilles)
Right Side
4 x audio jacks
3 x USB 2.0
Kensington lock
Left Side
9-in-1 Flash reader
(Optional HDMI In)
Optical drive
Mini 1394
eSATA/USB combo port
2 x USB 3.0
HDMI Out
Ethernet jack
CATV
Dual-link DVI
Back Side
AC jack
4 x Exhaust Ports
Operating System
Windows 7 Home Premium 64-bit
Dimensions
16.5" x 11.3" x 2.22-2.4" (WxDxH)
Weight
~13.0 lbs
Extras
3MP Webcam
98-key keyboard with 10-key
Flash reader (MMC, SD/Mini SD, MS/Duo/Pro/Pro Duo, xD)
Warranty
1-year standard warranty
2-year and 3-year extended warranties available
Pricing
Starting at $2680 Online
Price as configured: $5781

Like we were saying, this is the highest of the high-end for desktop replacements. The CPU is the fastest option around on a desktop; sadly, there's no overclocking support from AVADirect just yet, but that might come later. Even without it, the 980X is easily 50% faster than the top mobile CPU. The i7-940XM is a quad-core Clarksfield clocked at a base 2.13GHz and can turbo up to 3.33GHz; the i7-980X in contrast is hex-core with a base 3.33GHz clock and turbo up to 3.6GHz. If you're after multi-core number-crunching power, this is as good as it gets.
The dual GPUs pack a whopping 4GB of combined GDDR5 memory, with 352 CUDA cores clocked at 850MHz. If you're after a comparison to the desktop world, we'll have that later, but the sad news is we're still substantially slower than the top desktop GPUs. GTX 465 comes with the same 352 cores but clocks them 43% higher; likewise the GPU core is clocked at 607MHz versus 450MHz on the 480M. Finally, memory bandwidth is 102.7GB/s on the GTX 465 compared to just 76.8GB/s on the 480M. The net result is that 480M performance looks to be faster than desktop GTS 450, but slower than GTX 460 and above. And there's the price to consider as well: while desktop GTX 460 starts at around $170, AVADirect charges $756 to add the second GTX 480M. Yes, it's mobile and has been binned for lower power, plus it comes with 2GB of RAM instead of the 768MB on the GTX 460. However, lots of video RAM goes largely unused unless you have the GPU core processing power to back it, and 480M simply doesn't. And we're still looking at a TDP of 100W per GPU...yeah, it's a bit curious to have a 130W TDP processor and two 100W TDP GPUs—plus various other components—all running off a 300W power brick. We'll look at this more in a bit.
So $1000 for the CPU, $1500 for the GPU, and since we want the best of the best, we've got RAID 0 SSDs. Honestly, the Crucial C300 isn't our first choice for SSDs; that honor goes to the SandForce SF-1200 controller SSDs, as they've shown themselves to be more resilient and slightly faster overall. In RAID 0, there's no TRIM support so you're left to depend on idle garbage collection by the SSD. Anand's tests indicate that the Crucial C300could be a lot more aggressive here. Compare that to the SF-1200 garbage collection and you'll see why we prefer the latter. AVADirect tells us the C300 RAID 0 scored slightly higher in their testing than the SF-1200 in RAID 0, but long-term we'd still recommend anyone looking at RAID 0 go with a more resilient drive. The performance drop may not come immediately (we bombard the SSDs with a lot of random writes to get to the degraded performance level), but eventually all SSDs will have enough random writes that we expect them to run like the torture tested "degraded" SSDs. As for cost, Crucial C300 does have an advantage there: 2 x 256GB adds around $1072 to the total price, whereas 2 x 240GB SF-1200 (OCZ Vertex 2) would bump the total price up $1194. But do you really need to save $120 on a $5000 piece of kit?
The sundry extras consist of the usual suspects of networking options, webcam, audio, fingerprint scanner, a decent quality 1080p LCD, and a Blu-ray combo drive. There are also some features we don't see quite as often, like the two USB 3.0 ports on the left side. AVADirect also maxed out the current RAM configuration at 3x4GB for 12GB total DDR3 memory. (They're working to get 8GB SO-DIMMs in the future, though we'd only recommend such an upgrade if you're interested in a mobile server/workstation.) As configured, the system we're reviewing with a 1-year warranty comes to a total price of just under $5800. Again, that's $1000 for the CPU, $1500 for the GPUs, and $1100 for the SSDs. The basic setup with a single 480M, i7-930, 3x1GB RAM, and a 500GB 5400RPM Samsung drive starts at $2700, while if you go for a "reasonable" SLI configuration with a 500GB Momentus XT, Blu-ray reader, and 3x2GB DDR3 you're looking at $3700.