3dsmax 9 - SPECapc 3dsmax CPU Rendering Test
Today's desktop processors are more than fast enough to do professional level 3D rendering at home. To look at performance under 3dsmax we ran the SPECapc 3dsmax 8 benchmark (only the CPU rendering tests) under 3dsmax 9 SP1. The results reported are the rendering composite scores.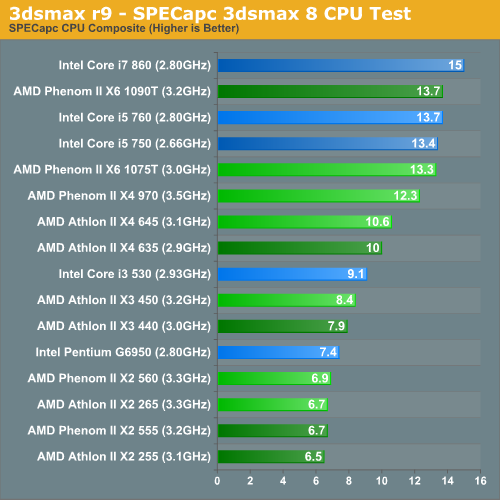 The 1075T comes close to its competitors in the 3dsmax test, while the Phenom II X4 970 definitely falls short.
The quad-core Athlon II X4 645 does much better than the dual-core i3 530 (and by extension the 540). The same holds true for the Athlon II X3 450 vs. the Pentium G6950.
Cinebench R10
Created by the Cinema 4D folks we have Cinebench, a popular 3D rendering benchmark that gives us both single and multi-threaded 3D rendering results.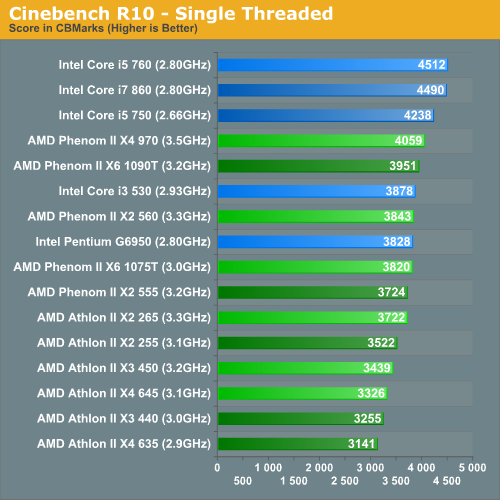 Single threaded performance is AMD's weakest point. Even at 3.5GHz the Phenom II X4 970 can't keep up with a turboed Core i5 750. If you run a predominantly single threaded workload, Intel will typically offer you better performance than AMD.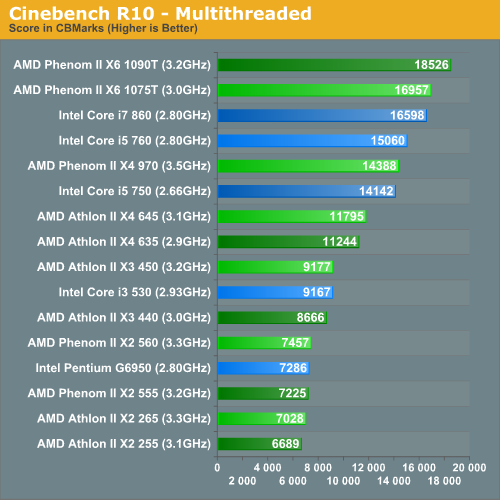 Turn up the thread count however and the value proposition shifts to AMD. The Phenom II X6 1075T gives you more for your money in a heavily threaded app than the Core i7 860, and the Phenom II X4 970 is a smidge ahead of the i5 750. The Athlon II X4 645 and Athlon II X3 450 both do very well.
I've started running Cinebench 11.5 in preparation for an update to Bench, some of the initial results are below: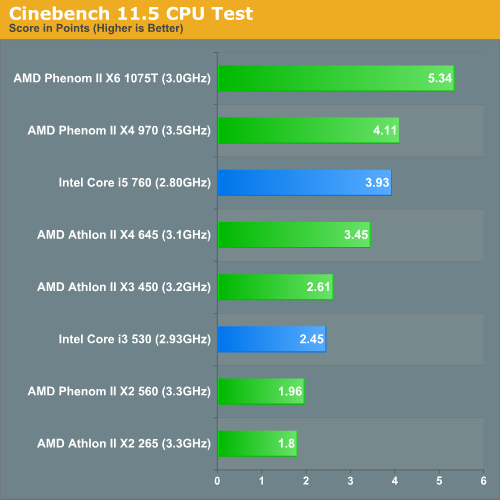 The default benchmark is heavily threaded. As a result the scores echo what we just saw.