Earlier this year Intel unveiled its Moorestown architecture, branded as the Atom Z600 series for smartphones and handhelds. Moorestown focused on a significant reduction in idle and active power, the former enabled by completely ditching the PCI bus. While this well for getting Atom into smartphones, the missing PCI bus means that you can't use Moorestown in Windows.
Intel made an alternate version of Moorestown to address this shortcoming. Oak Trail takes the Lincroft SoC (CPU + GPU + memory controller) and pairs it with a new PCH, codenamed Whitney Point. Whitney Point adds PCI support, enabling Windows support.
Just a few minutes ago Intel demonstrated its first Oak Trail platforms, both shipping in 2011. The first was a conventional looking tablet: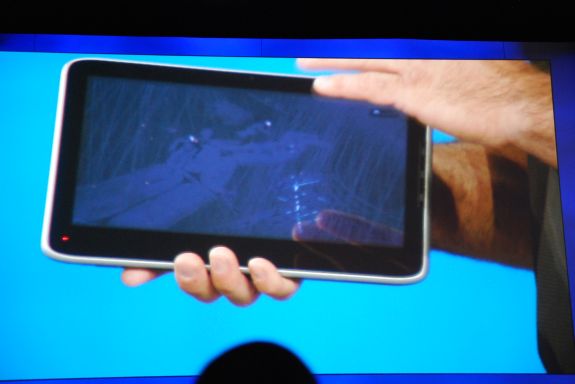 But the second was the OCS1 handheld Windows gaming device running Oaktrail. Intel didn't tell us much about the system but it has a sliding keyboard and a pair of d-pads.