Final Words
With each new iteration of Android smartphone we get closer to the perfect device. Samsung took some pretty big steps toward that ideal 'droid but regressed in others.
The move to Super AMOLED is key. With Super AMOLED the Epic 4G improves outdoor usability significantly. It's a large enough jump to make the Nexus One's display feel old. While Apple can tout the benefits of higher resolution, contrast is very important on these devices - especially for content consumption. I would have liked to have a brighter display on the Epic 4G, but the contrast ratio is great.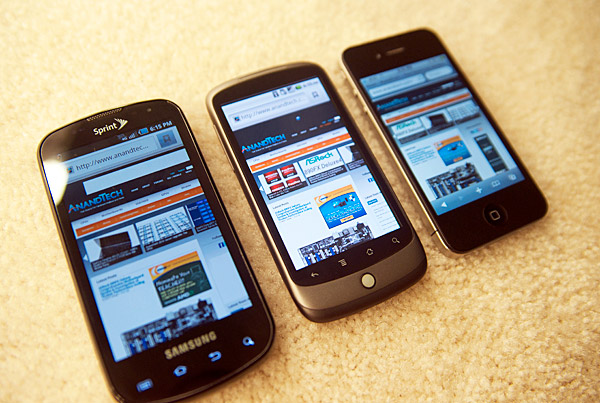 Samsung got the performance of the Epic 4G right. The OS feels snappy and relatively smooth. There are still some hiccups but its 1GHz Hummingbird SoC does a better job than anything else I've seen running Android. I suspect that after we get Gingerbread and dual-core Cortex A9 SoCs that these little performance quibbles will be a thing of the past. Unfortunately that doesn't help those trying to make a decision today.
Build quality could use some work but that's probably more of a function of the sliding mechanism on the phone than anything else. The physical keyboard is nice for those who want it, but that's really a personal preference. I applaud Samsung for shipping Swype enabled by default on the Epic 4G. Not only does Swype offer a unique take on text input, but its virtual keyboard is the best I've used on Android to date.
On the software side, Samsung's TouchWiz is one of the most polished custom Android UIs I've seen. Everything from the app launcher down to the dialer is well done. Samsung does take the simplicity a little too far in some areas (e.g. not showing battery percentage, only the visualization), but overall it's nice. You don't get as much of the PC-feel as you do on other Android phones, which again boils down to personal preference.
I love how Samsung integrated turning off Bluetooth/WiFi/4G/GPS into the notifications pulldown menu, and some of Samsung's widgets are nice (e.g. task manager). However, the seven home screens are overwhelming and counterproductive in my opinion.
For all the praise I shower on the Epic 4G, it has two real problems: battery life and GPS reception. They are both pretty simple to explain: the Epic 4G won't last longer than 4 hours of use, and it has a hard time pinpointing your location via GPS. There's nothing more to it.
What does four hours of use translate to? I'd say less than a day's worth of use taking into account idle time. If you pick your phone up at 8AM and use it periodically throughout the day, I'd expect it to be dead by 5PM. Quite possibly sooner.
The GPS issue makes the Epic 4G a pain to use as a navigational device. If you use Google Maps a lot for calculating directions, prepare for a frustrating experience with the Epic.
We're closer and Samsung did very well, but we're not quite perfect.