Apple MacBook Pro 13—Surprisingly Powerful 320M
Ah yes, the NVIDIA GeForce 320M, a.k.a. the excuse given for why the MBP13 is still running Core 2. It's an integrated chip, with 256MB of system memory allocated to the IGP. As I said before, it's got 48 CUDA cores clocked at 450 MHz, compared to the G 310M (in most of ASUS' ultraportables) which has 16 CUDA cores at 625 MHz. It's based on NVIDIA's GT216 core and is basically an integrated version of the GeForce GT 325M. Interestingly, NVIDIA also has a similarly (and rather confusingly) named GT 320M (found in the HP dv6/7t) but that is a dedicated card with a stripped version of the GT216 core and has 24 pixel pipelines clocked at 500 MHz.

So, there's your NVIDIA mobile GPU lesson for the day. But here's the basics—the 320M is the replacement for the old 9400M and is basically a GT 325M integrated into the chipset. We expect it to run squarely in between the ASUS ultraportables and the N83Jv/Alienware M11x (GT 335M), slightly slower than the GT 325M, and somewhere around the ATI HD 5470. Here's how gaming performance stacks up.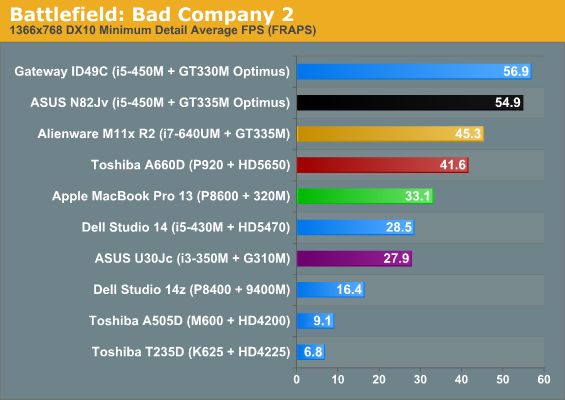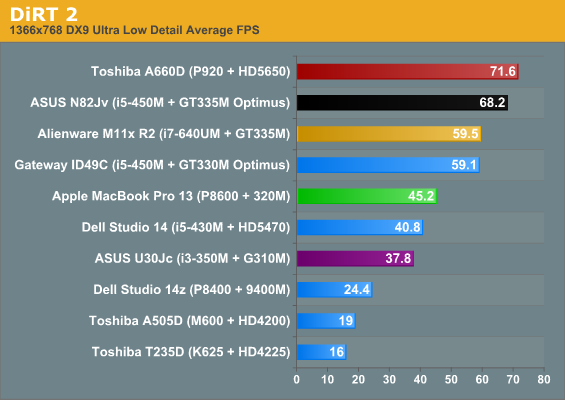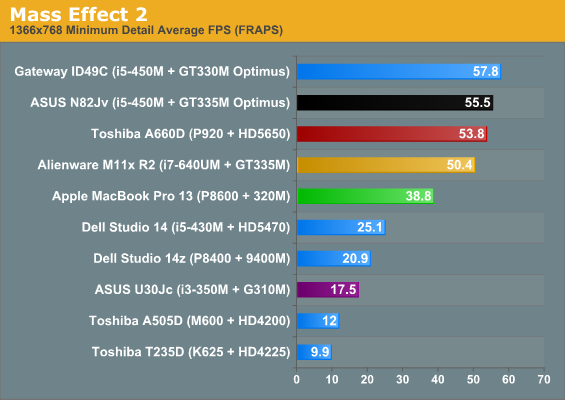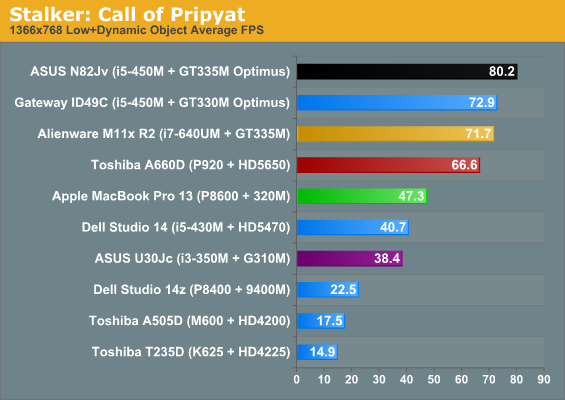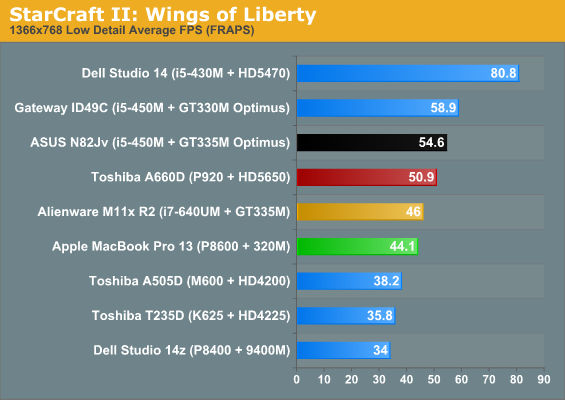 Under low settings, the MBP ended up around 10% faster overall than the Dell Studio 14, which has the HD 5470 (excluding the StarCraft II number). The Alienware M11x, ASUS N82Jv, and Gateway ID49C remain quite a bit faster, as expected, while the ASUS U-series end up significantly slower. The other integrated solutions (9400M, HD 4200/4225) are comparatively woeful. With the G 310M, you can play basically everything in our benchmark suite (except Mass Effect 2) at native res, lowest detail settings. With the other integrated graphics solutions, you need to take the resolution down a few notches to get anything even resembling a playable frame rate.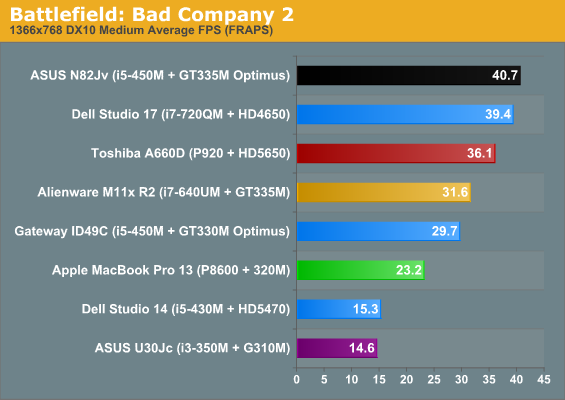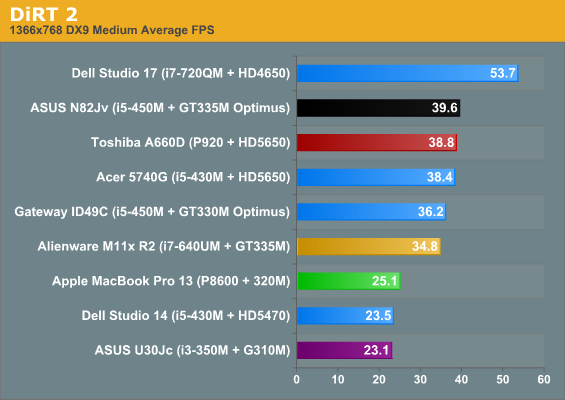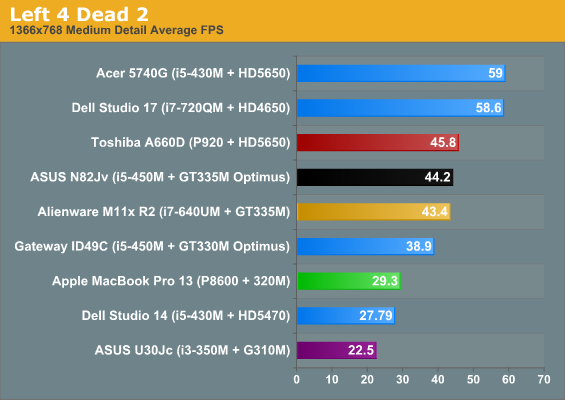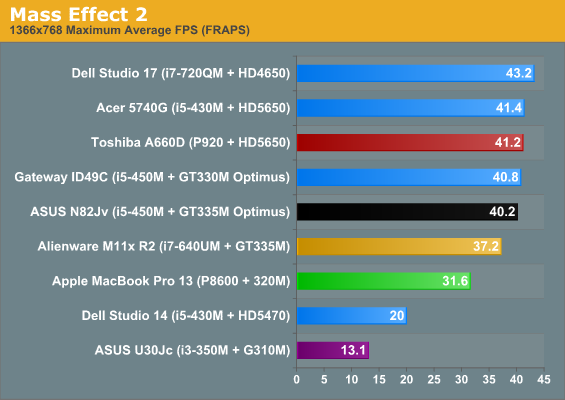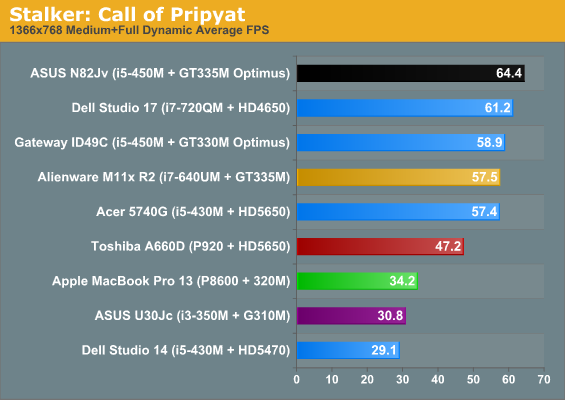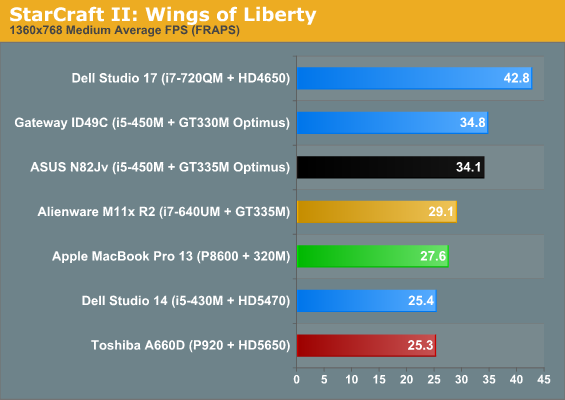 At medium detail settings, I expected the 320M to falter, but it surprised me by staying playable in all of our benchmarks. Bad Company 2 is a bit low, but if you really want to play it at Medium it's possible, unlike with the G 310M and other low end dedicated graphics units. Frame rates in the mid-20 to low-30 range are awesome by mobile IGP standards. Things that aren't playable on the G 310M, like Mass Effect 2 and Left 4 Dead 2, hit the magical 30 fps mark with the 320M. The 320M performs more like a midrange mobile GPU than any shape or form of integrated graphics; this is understandable given it's roots as an integrated GT 325M, but it's still pretty awesome.