What about Graphics Performance?
If there's a downside to Nile, it's graphics performance. Yes, the HD4225 is better than Intel's old GMA 4500MHD, but that's not the target anymore. The new Intel HD Graphics in Arrandale fixed a lot of flaws, including more attention to drivers and compatibility. AMD still has the edge overall in the driver department, but Intel is now able to run the vast majority of our games without barfing.
In fact, the only compatibility issue we encountered with Intel's HD Graphics is a failure to work with FRAPS in Battlefield: Bad Company 2 in DX10 mode; DX9 mode works, though frankly BFBC2 doesn't belong on any IGP right now. There's also a long delay between loading a mission in DX10 mode that's not present in DX9 on Intel's IGP—about 70 seconds on the M11x R2. Anyway, let's look at the results, starting with the games and wrapping up with 3DMark results for the interested.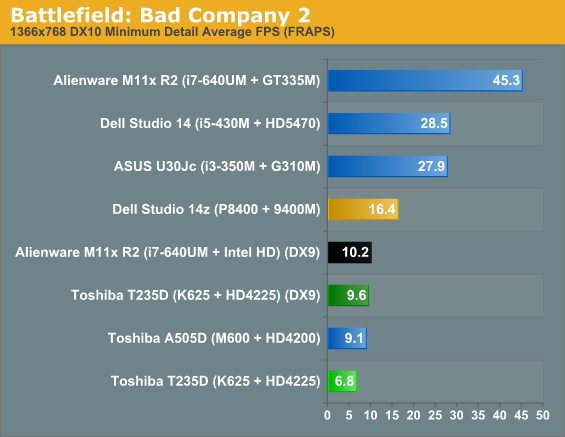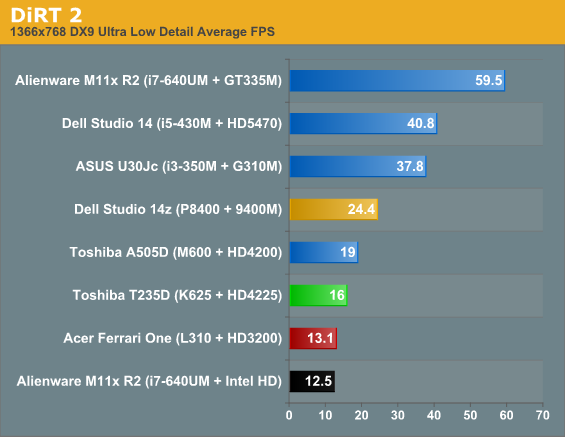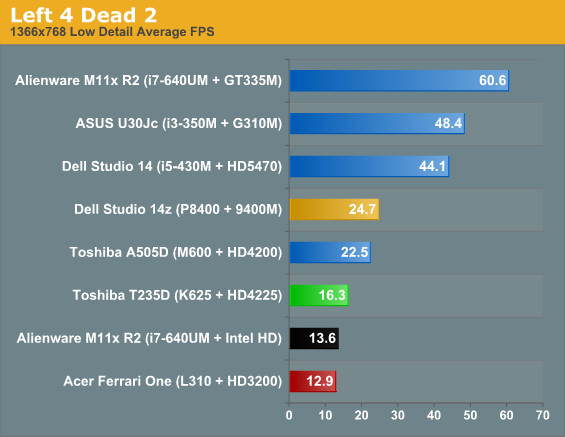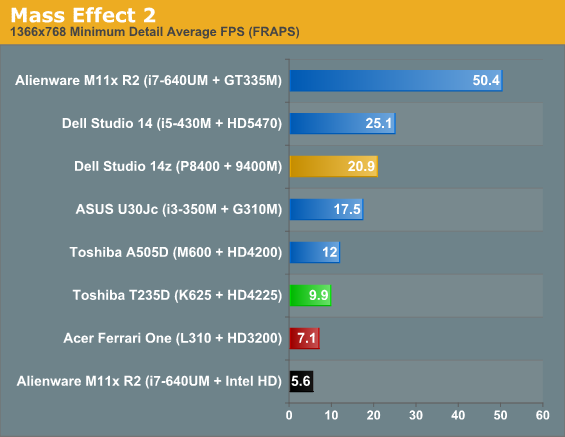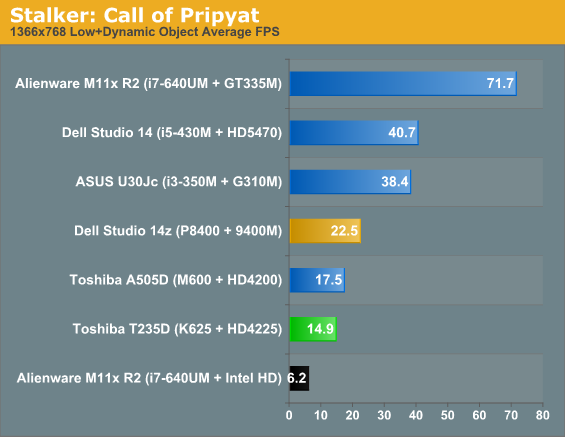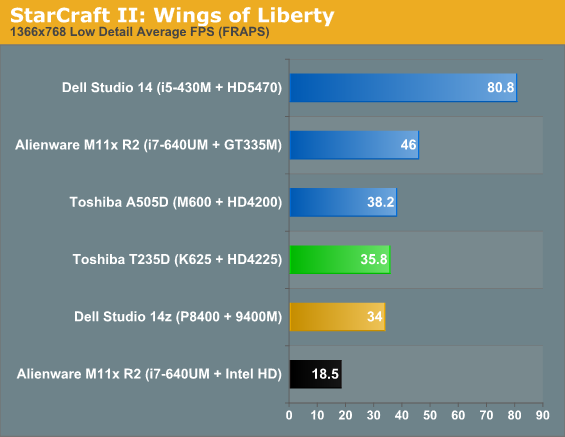 Sadly, gaming performance is poor at best. Compared to last year's NVIDIA 9400M, the 4225 offers anywhere from about half to two-thirds the performance. The HD 4200 is the same chip with a higher clock (500MHz vs. 380MHz), and it typically outperforms the 4225 by 20 to 30 percent as well. The best-case test for the T235D right now as a gaming option is actually StarCraft II, where the Studio 14z (9400M) and the T235D are basically tied. Our test sequence is a typical Zerg rush against a fortified Terran base, though we have seen much lower frame rates in heavy combat scenarios (i.e. the single-player mission "In Utter Darkness" will often drop into the low teens on many laptops).
Looking at the Intel side of the map doesn't radically alter our perceptions of the HD 4225. In DX9 mode, Intel manages slightly higher performance with Battlefield: Bad Company 2, but none of the IGPs reach anything close to acceptable performance. The remaining games all favor the ATI solution by anywhere from ~25% up to as much as 140%, and at 1366x768 the i7-640UM IGP is incapable of acceptable performance on any of the games we tested. So score one for ATI over Intel with the current graphics solutions, but here's hoping Bobcat, Fusion, and Sandy Bridge can give us integrated graphics that look more like NVIDIA's G 320M instead—or to put it in concrete terms, at least double the number of stream processors/graphics pipelines from the current IGPs.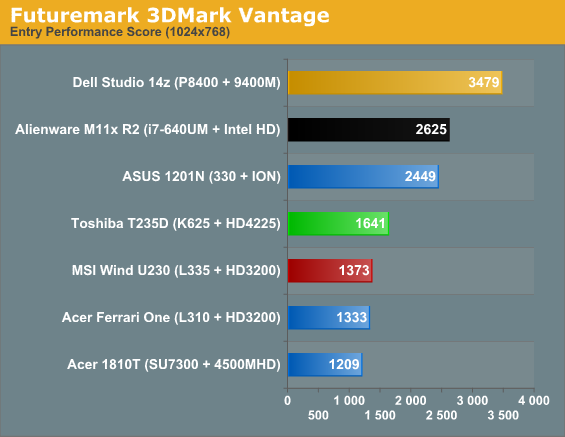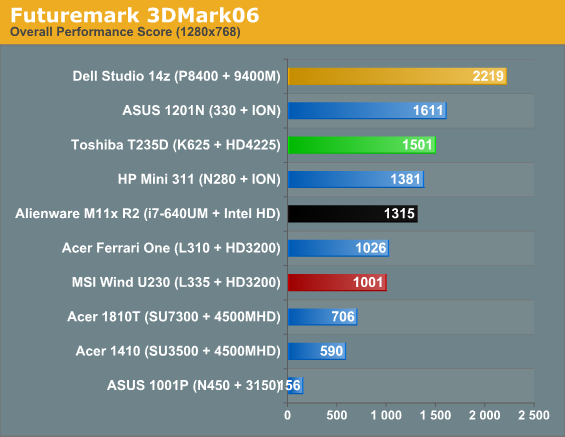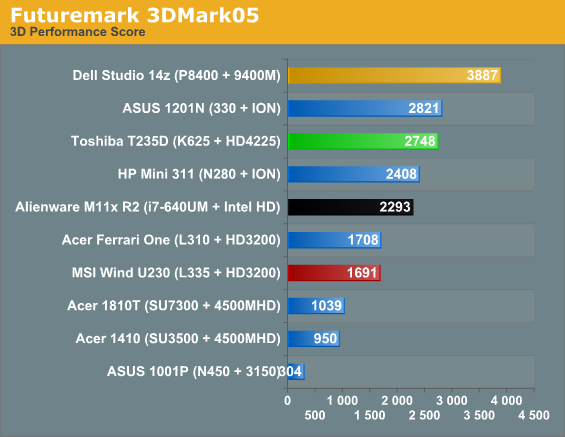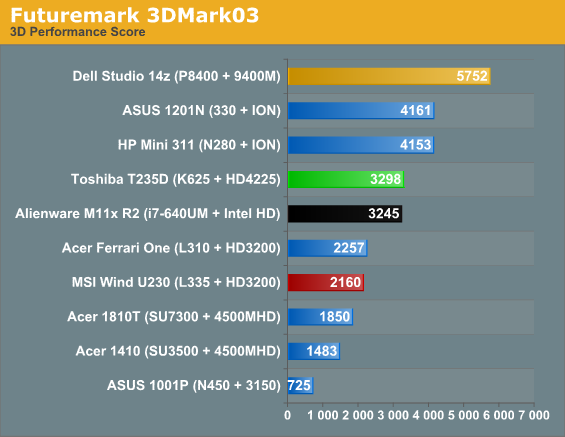 3DMark doesn't really add anything to the above gaming summary, though Intel's HD Graphics/platform obviously score a lot higher in Vantage than seems reasonable. The old 9400M is up to twice as fast as HD 4225, and that's a 16 core part compared to the new G 320M with 48 cores. Also something to note is that the new HD 4225 does consistently outperform the old HD 3200 in Congo by a sizeable margin, but then 25 to 65 percent faster than "really slow" is still too slow.