Testbed Setup
Overclocking / Benchmark Testbed
Processor
Intel i7-980X ES - 3.33GHz, 6 cores, 12 threads. 12MB L3 Cache
Intel i7-980X Retail - 3.33GHz, 6 cores, 12 threads. 12MB L3 Cache
CPU Voltage
Various
Cooling
Intel air cooler, Heatkiller 3.0 waterblock, 2 x PA120.2 radiators and 2 x DDC ultra pumps (with Petra top) in series, 1/2 ID tubing for watercooling.
Power Supply
Corsair HX950, PCP Turbo Cool 1200W
Memory
Corsair Dominator GT 8-8-8-24 2200MHz 4GB kit
G.Skill Perfect Storm 8-8-8-24 2200MHz 4GB kit.
Memory Settings
Various
Video Cards
MSI N275 Lightning
Video Drivers
nVidia 197.45 WHQL
Hard Drive
Western Digital 7200RPM 1TB SATA 3/Gbps 32MB Buffer
OCZ Vertex 120GB SSD
Optical Drives
Plextor PX-B900A, Toshiba SD-H802A
Case
Open Test Bed - Dimastech Benching Station
Lian-Li V2110
Operating System
Windows 7 64 bit
.
We utilized memory kits from Corsair and G.Skill to verify memory compatibility on our test boards. Our OS and primary applications are loaded on the OCZ Vertex 120GB SSD drive and our games operate off the WD Caviar Black 1TB drive. We did a clean install of the OS and applications for each motherboard. For graphics duty, MSI's GTX N275 GPUs are used to provide performance comparisons between boards during gaming benchmarks.
For our test results we set up each board as closely as possible in regards to memory timings, Uncore, QPI frequency and also match up C-state parameters. The X58 boards utilized 6GB of memory throughout the course of benchmarking compares. Memory timings are set to 7-7-7-20 1T @ DDR3-1333 for the stock benchmarks and 8-8-8-24 1T DDR3-1600 for the 4GHz processor overclock compares.
We've recently updated our graphics drivers to nVidia's WHQL 197.45 so are a little thin on platform compare results. However, there are a few reviews where gaming performance of X58, P55 and AMD platform compares have been made here and here.
Power Consumption
Our power consumption testing utilizes the same batch of components under similar circumstances in a bid to monitor variances between idle and CPU load conditions. We install the vendor supplied power saving utilities on each board and enable power saving modes that don't involve any kind of underclocking or CPU core frequency modulation in order to run an apples to apples comparison.
ATX PSU switching losses are absent from our figures because we monitor power consumption directly at the DC rails of the PSU. These figures measure only the CPU, motherboard, memory and GPU PCIe power draw via the motherboard and exclude any other peripherals, such as cooling fans and hard drives etc. Actual AC power consumption for the motherboard will be anywhere from 15~40% higher than these figures depending upon the efficiency of your power supply and choice of GPU.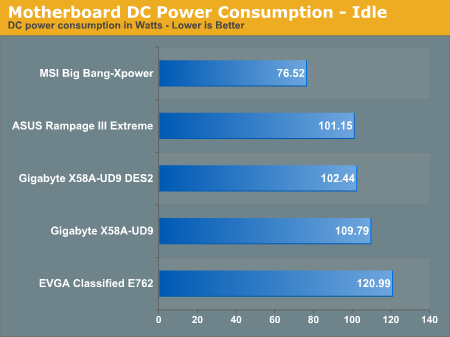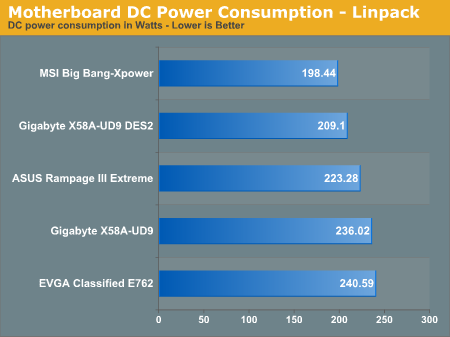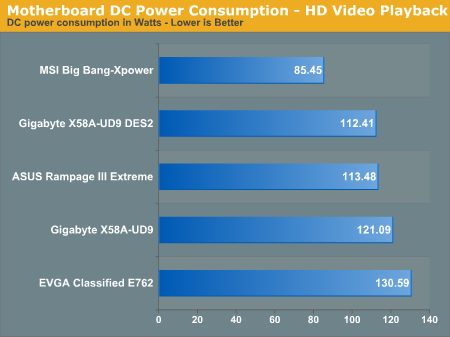 Unsurprising that the MSI board comes out on top in these tests. Gigabyte's UD9 fares well in comparison to the ASUS Rampage III Extreme with DES power saving modes engaged (considering it has two NF200 chips in tow). EVGA trails in all tests behind the UD9 for raw efficiency because the Volterra VRM used for CPU Vcore duty operates at a base switching frequency of 800KHz.