Sequential Read/Write Speed
Using the 6-22-2008 build of Iometer I ran a 3 minute long 2MB sequential test over the entire span of the drive. The results reported are in average MB/s over the entire test length.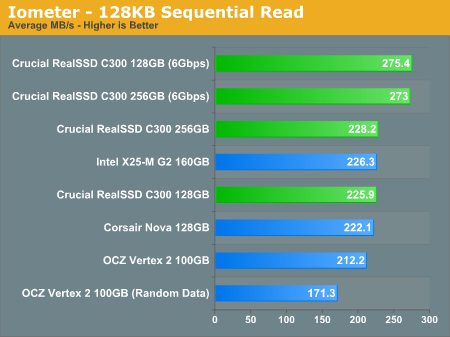 Sequential read performance is a virtual tie across the board, the exception being if you have totally random data on a SandForce drive. In that case the Vertex 2 is noticeably behind the competition. Pair the C300 with a 6Gbps controller and it has a clear advantage - you get a 20% increase in sequential read speed from the C300.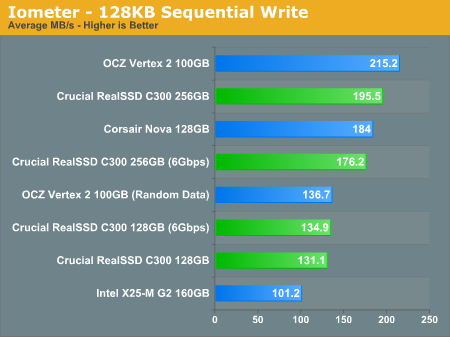 Sequential write speed is strong on the C300, but mostly if you look at the 256GB drive. The 128GB C300 is 30% faster than Intel's 160GB X25-M G2, but no where near the peak speed of OCZ's Vertex 2. The random data test has the Vertex 2 and C300 a lot closer, but in reality I'd expect the Vertex 2 to be a bit quicker than the 128GB C300 in sequential write speed. The 256GB C300 should be at least as fast as the Vertex 2 in practice, if not faster. Once again we see the odd situation where our 256GB C300 paired with a 6Gbps controller actually drops performance a bit here. There must be a driver optimization issue with 4K aligned, 128KB sequential writes because the same problem doesn't present itself with unaligned 2MB sequential writes. Unfortunately for Marvell/Crucial, this test is more representative of how modern OSes write sequential data.
Looking at our synthetic tests alone it seems that the C300 is very competitive with SandForce. It boils down to the workload more than anything else. The C300 is clearly in the run for first or second place.