Power, Temperature, & Noise
As we've discussed in previous articles, with the Fermi family GPUs no longer are binned for operation at a single voltage, rather they're assigned whatever level of voltage is required for them to operate at the desired clockspeeds. As a result any two otherwise identical cards can have a different core voltage, which muddies the situation some. All of our GTX 460 cards have an idle voltage of 0.875v, while their load voltage is listed as below.
GeForce GTX 460 Load Voltage
Ref 768MB
Ref 1GB
EVGA 768MB #1
EVGA 768MB #2
Asus 768MB
Zotac 1GB

0.987v

1.025v

0.987v

1.000v

0.987v

1.000v
Our cards end up ranging from 0.975v to 1.025v, a variance of 0.05v. The 1GB cards with additional functional units on average require more voltage to operate, with the lowest of our samples requiring 1.0v. Otherwise 3 of our 4 768MB cards require 0.975v.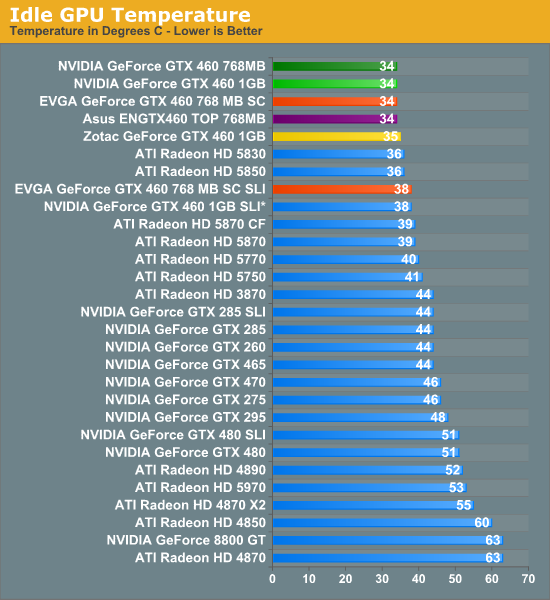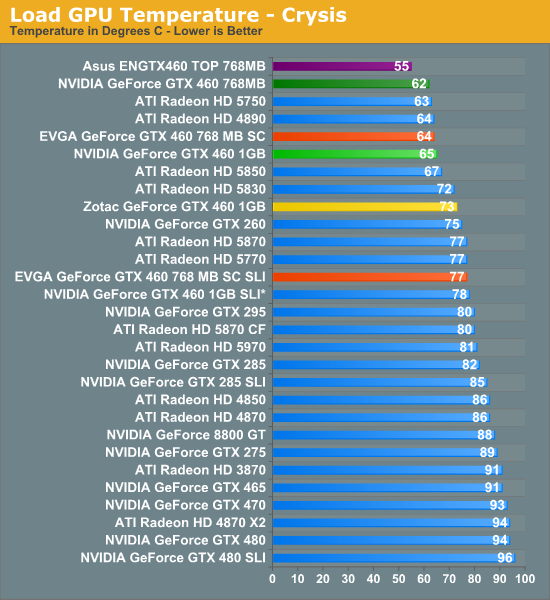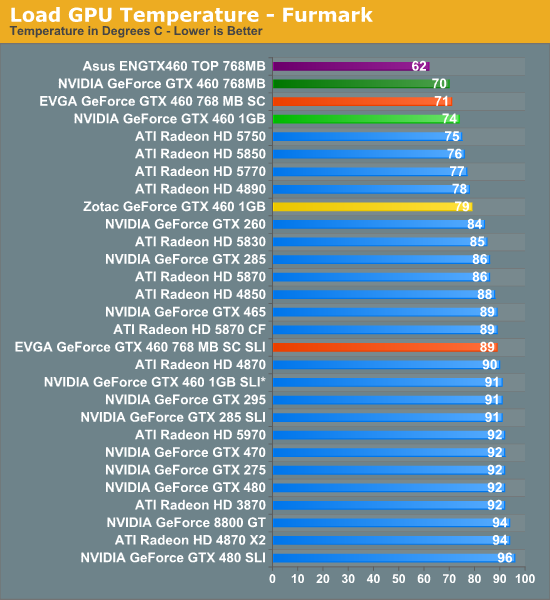 We'll start with idle temperatures. With an unofficial idle TDP in the 20W range, the GTX 460 series is fairly comparable to the Radeon 5850, but with a more breezy reference cooler. As a consequence we can see all of our GTX 460s edge out the rest of our cards here, with the EVGA and Asus cards coming in at 34C idle, while the blower-based Zotac card comes in a hair warmer at 35C. Even with a blower, these end up being the coolest mid-range or better cards we have ever tested, besting even the Radeon 5850.
As for load temperatures, we have a mixed bag depending on which card we're looking at. The reference-based EVGA cards do only slightly worse than 60C in Crysis, while Asus's non-reference card gets that even lower thanks to a more aggressive fan. Zotac's blower doesn't fare so well here though, coming in at a still respectable but nevertheless higher 73C.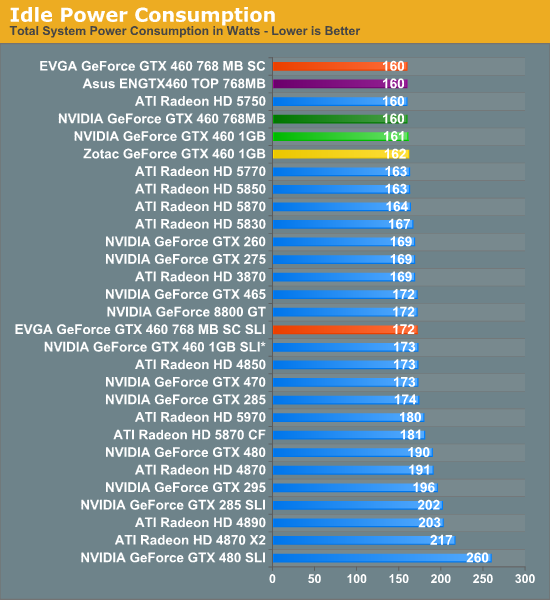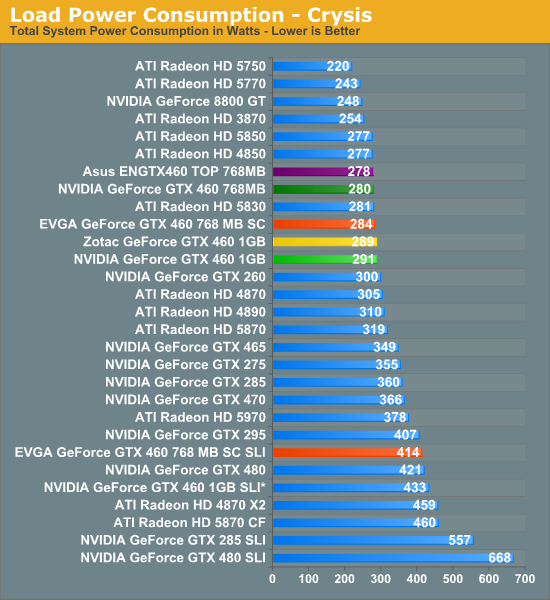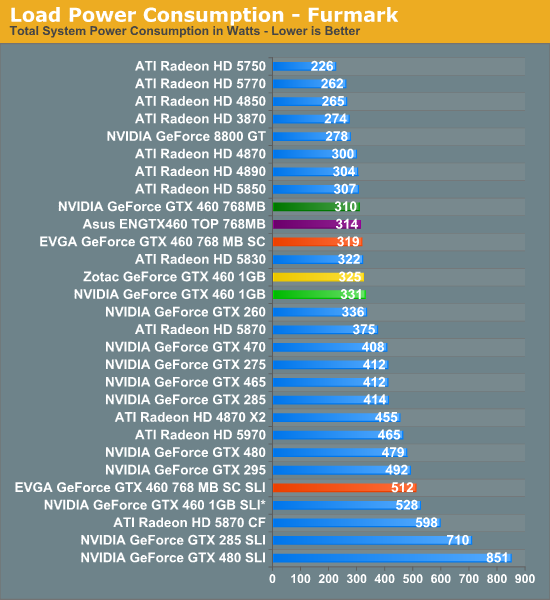 Our idle power numbers continue to lower the bar for GPUs of this performance class, although at this point we're hitting the efficiency limits of our PSU at low wattages. Our 768MB GTX 460s end up sharing the 160W mark with the Radeon HD 5750, while for 1W more you have the Zotac 1GB card.
Meanwhile when looking at load power consumption, we see the cards seperate some due to their differences in memory capacity and factory overclocks. The Asus card with its smallest overclock draws the least power under Crysis at 278W, while the EVGA card with its greater overclock comes in at 284W, and the 1GB Zotac follows at 289W. Under Furmark the same order is maintained, at 314W, 319W, and 325W respectively.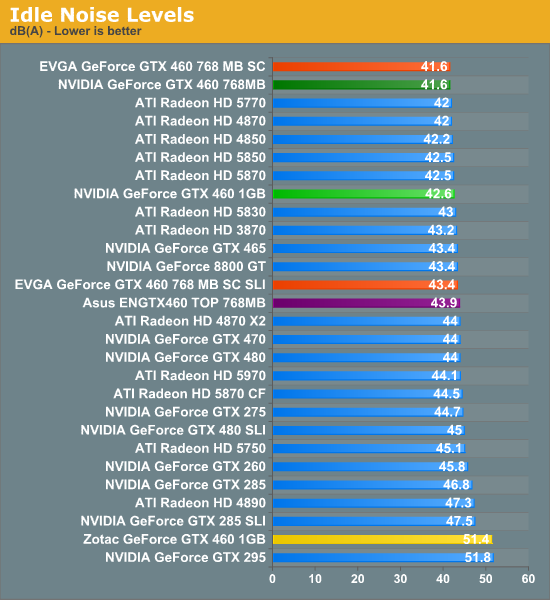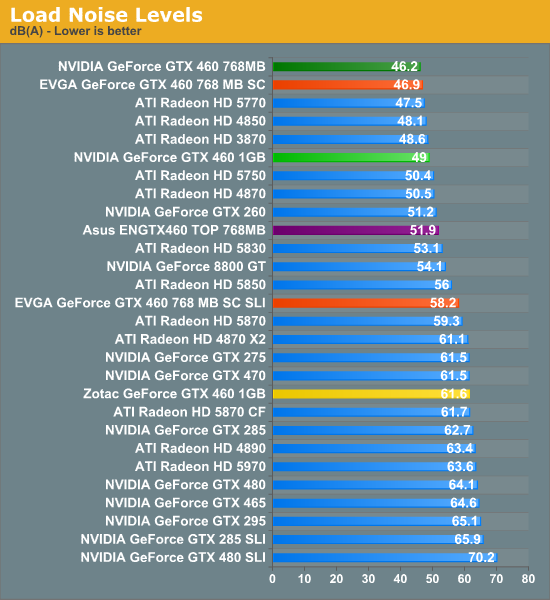 Finally we have our look at noise. With cool running cards we often have to look at fan noise to ensure that they aren't accomplishing that trick by sounding like a jet engine, with some interesting results to see. At idle both the EVGA and Asus cards are hugging the 42dB sound floor in our testing environment, with the Asus card coming in slightly louder by 2.3dB. Meanwhile the Zotac GTX 460 is at entirely the wrong end of our charts. Blowers can be quiet, but the Zotac's is not – at 51.4dB it's simply a loud card. Unfortunately this kind of an idle noise level is going to put the card out of the running for a lot of buyers.
Load noise is more or less like our idle noise results. The reference-based EVGA card comes in the quietest at 46.9dB, while Asus's card cracks 51dB as its tuned for cooling over noise. Unfortunately the Zotac card is once again the odd man out at 61dB, roughly as loud as our reference GTX 470 is. It's neither cooler than our reference cards nor quieter, which doesn't bode well for this stock-clocked card.