Apple's Bumper Case
The iPhone 4 is Apple's second product to launch with first party accessories. Like the iPad before it, the iPhone 4 is available with an Apple fabricated and sold case, dubbed the "bumper." At launch, this was the only case available. Most Apple stores (and online) only had black in inventory, though I'm told a few also had pink in stock. As of right now, the Apple store shows other colors shipping on July 16th - white, pink, orange, green, and blue eventually. I just went with black.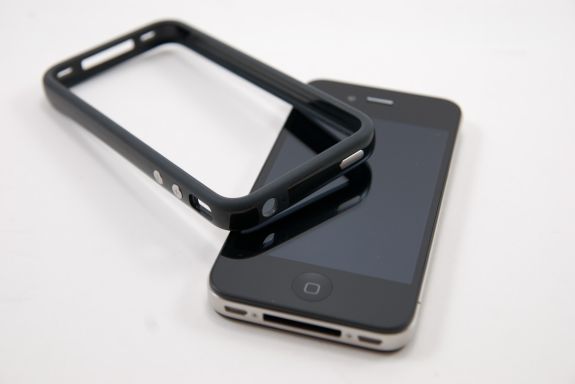 The bumper is an interesting beast. For $29.00, you get a hard plastic strip that runs atop the stainless steel antenna band, completely around the phone. On the outside of the hard plastic are two stiff rubber bands that seal over the side of the phone. If the Otterbox Defender is a bomb proof suit for iPhones, Apple's bumper is more like a slightly-scandalous bikini. It's literally just a continuous strip of material.
Apple brings the exterior metal volume and standby buttons out to the edge of the phone, and from what I can tell they're also metallic.
Inside the case, there's a felt-like mask which rests atop the buttons and aligns itself up. It works surprisingly well, and the buttons feel like those on the device itself. There's no gap inbetween - hey, the buttons just work.
Putting it on is a little bit of a struggle. I've found the best way is to insert the top, standby button side first (so you don't accidentally turn it on and off while inserting it), and then shove the bottom part in. After you've got it in, there's just a bit of massaging to get the rubber seats settled, and then you're good to go. It's very snug, there's no flexing.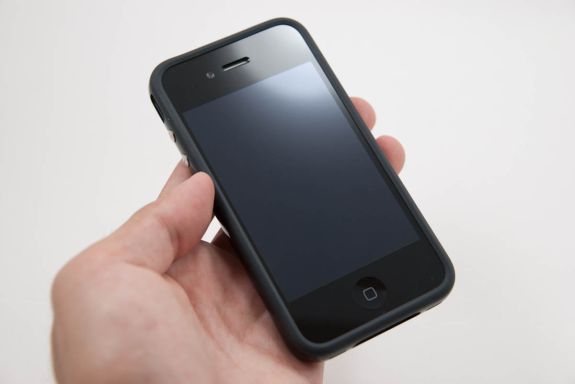 At the top, there's a break in the hard plastic for the headset jack. Instead, this is entirely rubber. No doubt this is to allow jacks that come out and have a 90 degree bend to be inserted, something we're all too familiar with being a problem on previous iDevices. There's a tiny hole next to it you want to be absolutely certain isn't blocked for the noise canceling microphone.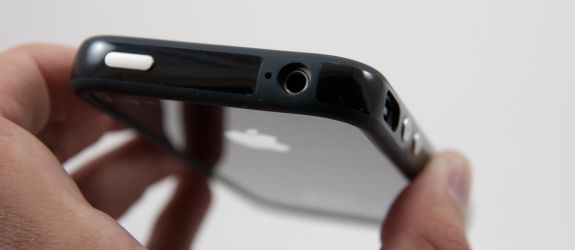 The nice thing about the rubberized strips is that you get a grippy surface to hold the phone with, and you raise the front and back glass panes about a millimeter off the surface you're resting it on when you lay it down flat.
The idea of having a glass back is fine and dandy until you lay the iPhone on another glass surface directly. The result (if both surfaces are very clean) is that the two will come in optical contact and become very hard to pry apart. It's the same sort of reason coasters aren't glass - the two seal together, and become difficult to separate. Not to mention any particulates underneath will make those hairline scratches (sleeks) I talked about before. Even the strongest of glasses will get micro scratches when rubbed in optical contact with other glasses. It's obvious that raising both the front and back were design objectives here.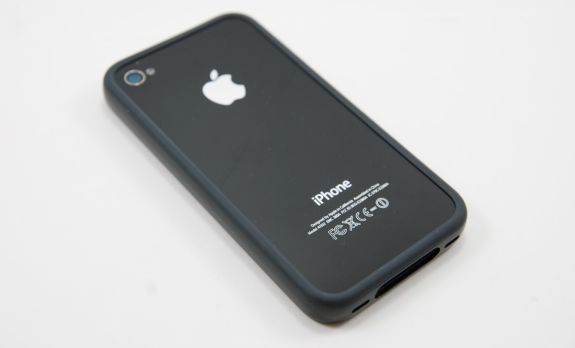 Look ma, I can rest the phone face down and not scratch it up!
Apple's bumper case is unique that it doesn't cover the back of the phone. At all. If you prefer a case that covers every square inch of the device and offers total protection, don't get the bumper and instead wait for something else. If you want to show off as much of the iPhone 4's design as possible, Apple has done it with the bumper. If you already purchased an iPhone 4, well, you know that outside of a plastic bag or a rubber band, the bumper is really the only option.
Like we talked about before, the other hugely notable benefit is that the bumper insulates the stainless steel band from being detuned by your meatbag extremities (read: hands). Instead of a 24 dB drop, you'll incur a 10 dB drop completely in line with every other cellular phone ever made.
The only problem with the bumper is the dock connector port. It's about a millimeter too small.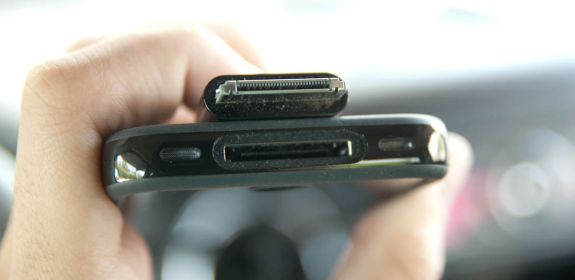 That doesn't fit inside. Frustrating? Yes.
The unfortunate result is that all of my third party accessories don't fit. My Alpine iDA-X001 head unit in the car, three different vehicle accessory port car chargers with dock connectors, all my third party cables, and not to mention docks all don't fit.
If you've rolled with other cases, this is an all too familiar story that seems to repeat every single release, but it's frustrating in this case because the connectors don't match up by seriously under a millimeter. You can jam the dock connector in, but it doesn't go far enough inside to snap into place, and comes right back out.
The result is that I drive around with the bumper case halfway off, like this: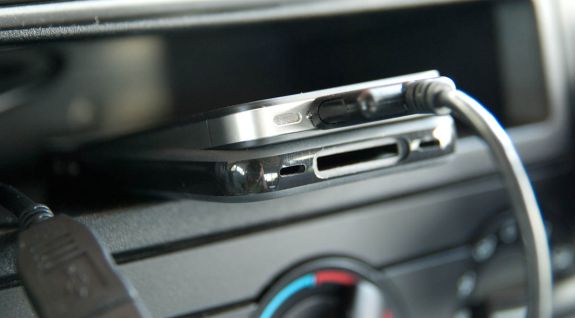 It's not the end of the world, but I would have to file down that edge a half millimeter on both sides to make my accessories work again. Considering just how much the bumper improves signal and protects against accidental scratching, it's arguably a must have accessory. One that should maybe be given away with every iPhone 4 purchase. But you already know our thoughts on that.
No doubt within a month or two the usual assortment of iPhone cases will pop up again, tweaked to meet the iPhone 4's slightly thinner dimensions. For now, however, the bumper is essential.