Final Words
Seagate's Momentus XT should become the standard hard drive in any notebook shipped. The biggest problem I have with using any brand new machine, regardless of how fast it is, is that it never feels fast because it usually has a HDD and not an SSD. While the Momentus XT isn't quite as fast as an SSD, it's a significant improvement over the mechanical drives found in notebooks today.
In many cases the Momentus XT performs like a VelociRaptor, but in a lower power, quieter package. The impact of adding just a small amount of SLC NAND is tremendous. I wonder what kept Western Digital from sticking some NAND on its VelociRaptor instead of giving us the lackluster upgrade we got earlier this year.
The potential for hybrid drives continues to be huge, what Seagate has shown here is that with a minimal amount of NAND you can achieve some tremendous performance gains. There's no reason for any performance oriented mechanical drive to ship without at least some small amount of NAND on board. There's also much room for Seagate to innovate. We could see drives with more NAND or truly hybrid drives that provide read and write caching in NAND.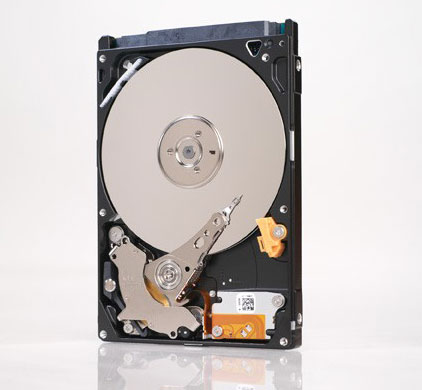 Compared standard 2.5" drives, the Momentus XT will set you back an additional $50 - 90 depending on the capacity point. The added cost is absolutely worth it. It's still a lot cheaper than an SSD since we're in the sub-$0.31 per GB area while SSDs sell in the range of $2 - $4 per GB.
If you're not going to buy an SSD for your notebook, then definitely go for the Momentus XT. I'd almost go as far as to say it's a great option for desktop users but unless you're on a budget you're probably better served by a small SSD + 3.5" drive on the desktop.