Spending Money Where it Counts: The Display
A blast from the past is the iPad's 1024 x 768 resolution. In a world that's almost fully transitioned to 16:9 or 16:10 panels, leave it to Apple to go back to a 4:3 CRT resolution for its latest product.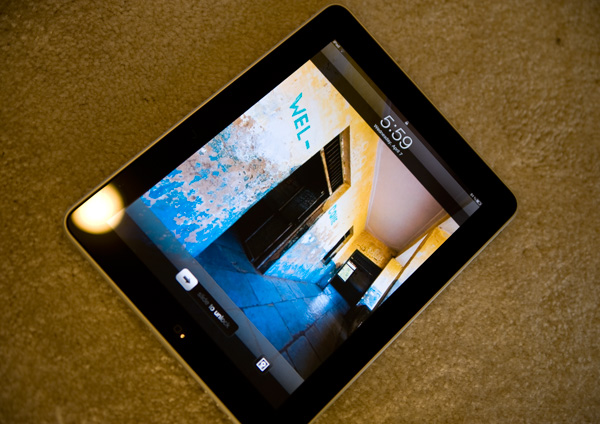 The aspect ratio actually works very well. You can comfortably view web pages in both portrait and landscape mode and get a reasonable amount of content on the screen without scrolling. Thanks to the great touchscreen, you almost want to scroll whenever possible.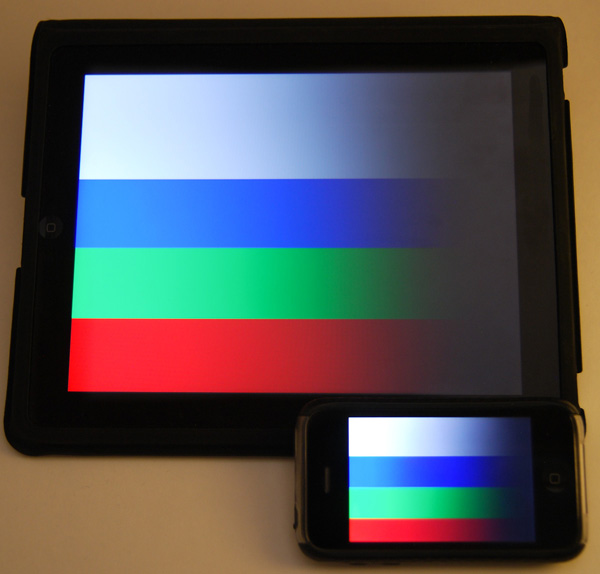 iPad and iPhone side by side
The problem with using the Nexus One for the past few weeks is that going to Apple's IPS (in-plane switching) LCD in the iPad just isn't that impressive. The colors aren't nearly as vibrant or panel nearly as contrasty as the AMOLED in the Nexus One. For an LCD, it looks great, it just lacks the punch of an OLED (as well as the pricetag such a large OLED display would carry).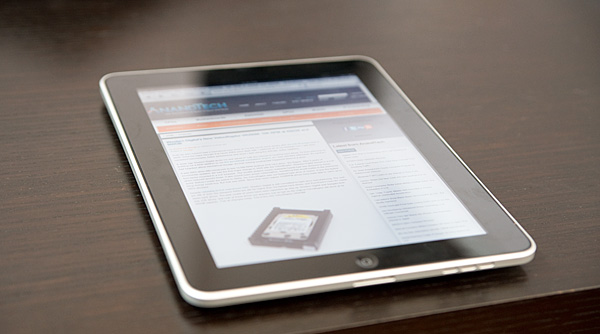 You quickly realize why Apple went with an expensive IPS panel for the iPad - viewing angle. When you're typing on the iPad it'll either be resting on a desk or angled slightly towards you. The iPad's display ensures that regardless of viewing angle, the display never looks washed out. In practice, the display performance was stellar for a device of this form factor - the viewing angle really does seem to be close to the advertise 178 degrees. There's little performance falloff or distortion even viewed at the most extreme angles. It's far more critical in an iPad than in a notebook simply because there are valid use cases where the display is totally flat. Apple spent money in the right place here, it usually does.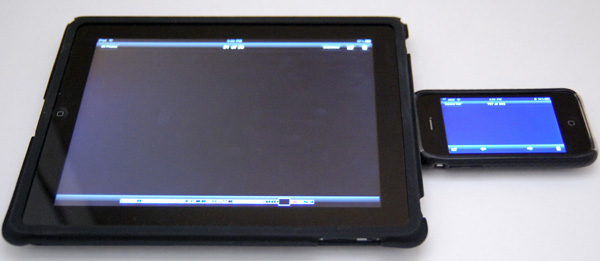 iPad vs. iPhone 3GS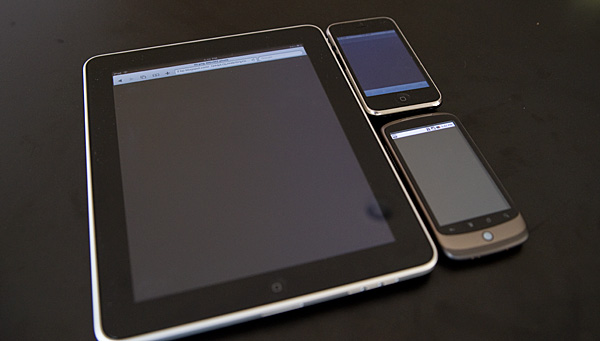 iPad vs. iPhone 3GS vs. Nexus One
In addition to viewing angle, IPS promises a larger color gamut and better contrast ratio compared to cheaper and more common LCD technologies. Qualitatively, the iPad goes far brighter than you'd need it to, and thankfully very low as well - a welcome feature for when you're reading in bed and don't want to distract. Indoors, the display is everything Apple promises, and it's clear side by side that blacks are far better on the iPad than on the iPhone. Brightness across the display is very uniform, and on the whole everything just looks great - indoors.
Indoors, the black levels between the iPad and iPhone 3GS are like night and day. In fact, several times while taking photos I thought the iPad's display had gone to sleep while displaying my black test image. It's that good. By comparison, the iPhone looks almost blue even when viewed at normal incidence.
Let's take it outside. Here's a bright sunny North Carolina day: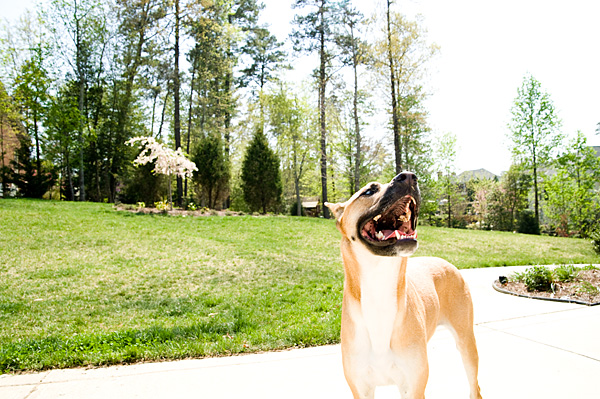 I stood in the sun and tried to use the iPad: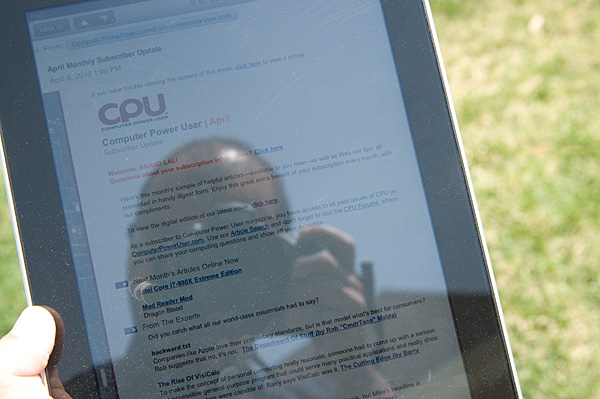 High contrast work scenarios where you're focusing primarily on black text atop a white background, like reading books, checking email, or reading the web, are definitely usable and readable outside. This is a testament to the brightness of the LCD panel. However, if you're using a particularly dark application, it's much harder to see anything comfortably.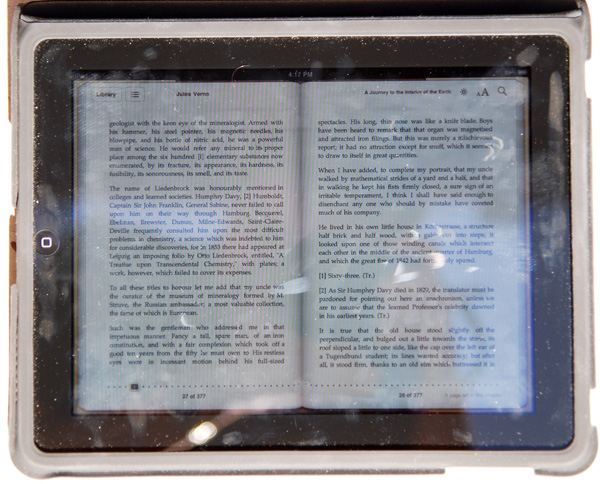 Finger prints in direct sunlight
In addition, the iPad's glassy surface doesn't have an oleophobic coating like the iPhone 3GS shipped with; the display is a fingerprint magnet. Just like the older iPhones, it always looks like you just finished eating a bag of cheetos right before you hand your iPad to anyone. Update: Apparently we're wrong and the iPad does have an oleophobic coat on it like the 3GS. Perhaps it's a different coating technique, or more likely that fingerprints are just more visible on the much larger screen.
Its glassy visage is also very reflective, as expected, and that can be distracting at times. Honestly, this is the kind of scenario where an anti-reflective coating can drastically reduce glare. There are really two scenarios to consider outside - under direct illumination from the sun, and shaded performance. Outdoors performance can be either just acceptable or perfectly miserable.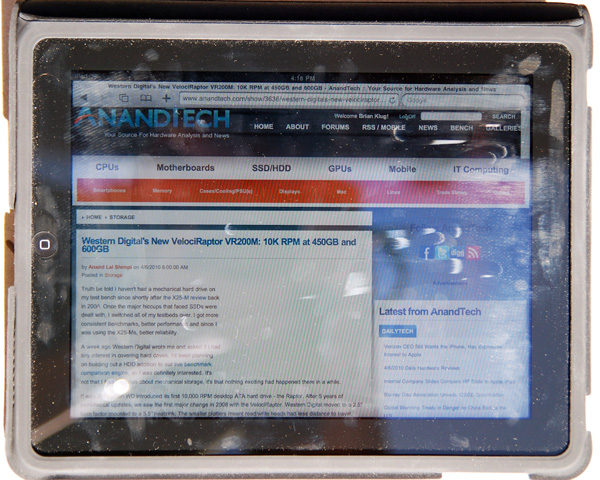 Safari in direct sunlight
After a hours of use (without eating any greasy food, I promise), in direct sunlight the iPad can get very difficult to read from all the fingerprints. However, performance in the shade outside is quite legible.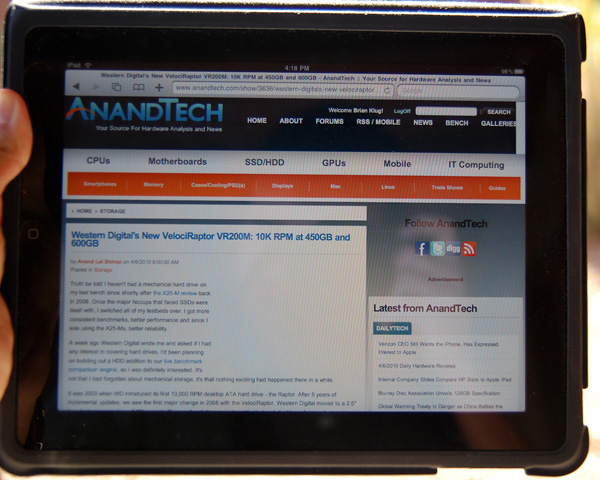 Safari outside in the shade
Clearly, the usage target Apple had in mind for the iPad was indoors, where its display is almost flawless.
But we weren't satisfied with making nebulous claims about the display performance, so we set out to verify them. After scratching our heads for a while, we settled on a shamelessly intuitive method - remote desktop. Using our X-Rite Eye-One Display 2, ColorEyes Display Pro, and some patience, we were able to measure and characterize the iPad's IPS display like any other.
Clearly, the IPS panel in the iPad offers drastically improved contrast and black levels - it's very obvious even in normal use that it blows away the iPhone.
| | | | |
| --- | --- | --- | --- |
| Display Comparison | Black Level (nits) | White Level (nits) | Contrast Ratio |
| Apple iPhone 3GS (100% Brightness) | 2.5 | 469.2 | 187.7 |
| Apple iPad (100% Brightness) | 0.4 | 373.7 | 934.3 |
| Apple iPad (50% Brightness) | 0.2 | 149.7 | 748.5 |
We also measured and were able to get color gamut volumes and uncalibrated Delta-E performance as well. However, we're not entirely convinced that these numbers are sound. The remote desktop software common to the iPad and iPhone 3GS we used offered 24 bit color depth at maximum, and the test results for both the iPhone 3GS and iPad turned out very similar. We're talking down to 0.01 Delta-E in some cases. For that reason, we're excluding the data we've obtained for color tracking until we're positive the numbers are right. Of course, the iPad itself remains 24-bit color, same as in previous versions of iPhone OS.
On the other hand, it's entirely possible that this is just the case, and color performance is the same between the two. In fact, an IPS panel was probably chosen in this context due to the very real viewing angle requirements for a handheld display of this size - anything else would be distracting. We're going to continue to investigate.
Whatever the numbers say, the display is beautiful in use and blows away most others. It's brilliant in use as a photo frame, for movies, reading books, and surfing the web. I watched a movie on it, spent a few hours reading online and a copy of HG-Wells' War of the Worlds and didn't experience any eye strain, though I'll admit I don't experience any fatigue with most LCDs. If you have a definite preference for E-Ink displays, you'll probably find reading less comfortable, but the added benefit of being able to browse the web and do everything else makes it a relatively minor trade-off. On the upside, you're reading on something that's backlit, so you don't need a book light for nighttime reading.
It's refreshing to finally see Apple taking mobile computing displays seriously with an IPS panel, instead of opting for far lower quality TN panels. Let's hope this same decision to not sacrifice display quality carries over to iPhone 4G.
Of course, the multitouch aspect of the display will be familiar to anyone who has used an iPhone or recent smartphone. We tested the iPad using all ten fingers, and they all registered properly. Even on the larger screen, using all 10 fingers is as clumsy as it is stupid looking, but clearly the iPad's screen is at least 10 point capacitive multitouch.