Power Consumption
Western Digital promised that the new VelociRaptor would use no more power than its predecessor. To find out we measured the current going to the drive across all voltage rails and determined total power consumption at the drive level in both idle and while performing our 2MB sequential write test: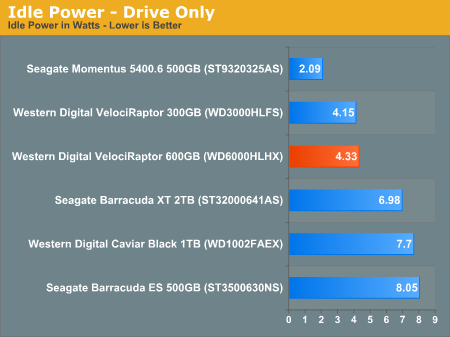 Power consumption did go up by 4.3% at idle, but hardly anything to complain about. More performance at roughly the same power isn't a bad thing. Do pay attention to how much more power the larger 3.5" drives consume. This isn't really an issue on the desktop, but in a server with tons of spindles it quickly adds up.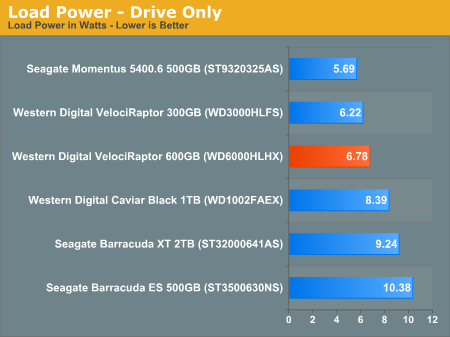 Load power is a similar story. The new drive uses a bit more than the old one, but still far less than any 7200 RPM 3.5" drive.
Noise
At 10,000 RPM these things are going to be louder than your standard 3.5" desktop hard drive. To find out how loud I put a sound meter 1" away from the front of the drive and measured pressure at both idle and while performing a torture 4K random write test. The torture test basically keeps the drive in constant seek mode so it's a good indication of how loud the drive will be when it's really crunching away.
Note that the system these drives are connected to is my standard SSD testbed, which is a fairly high end desktop that isn't optimized for noise. The decibel readings may be high (particularly because of the 1" distance they were taken at) but they will give you an accurate comparison of which drives will be the loudest.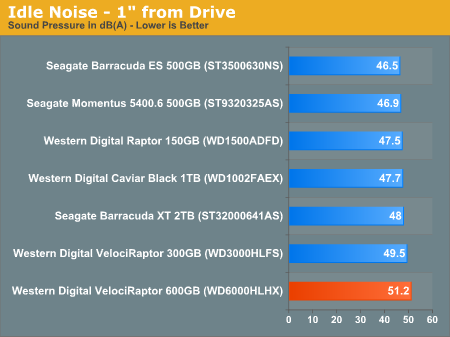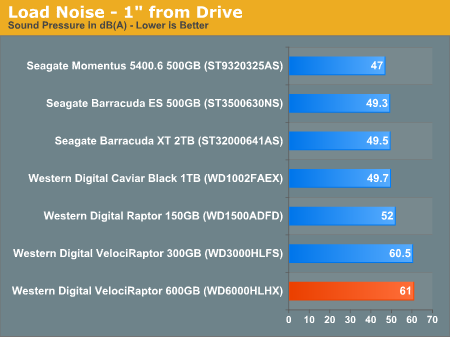 Obviously these 10K RPM drives are loud when they're accessed. The new VR is not much louder than the old one, but compared to a newer 7200 RPM drive they are noticeably louder when seeking. At idle or when performing sequential operations the gap is far narrower, but under load it's pronounced. These drives have never been for silent PCs.