Our usual battery of gaming tests weren't enough of a workout for the Mobility Radeon HD 5650, so we've added results with it running at higher – and even maximized – settings. We want to see it stretch its legs as we turn all the settings up in modern games on the Aspire's 1366x768 screen. We've done the same with other laptops recently, but the only ones worth mentioning are the Alienware M11x with a GT335M GPU and the ASUS N61Jv with a GT325M. We'll include apples-to-apples results on those two laptops and high detail settings along with the minimum detail results for other lesser laptops. The green results are for low detail settings while the red results are at comparable "high" settings (which varies by game); other results for the 5740G are in gold and orange.
We run built-in benchmarks on Batman: Arkham Asylum, Crysis: Warhead, DiRT 2, Far Cry 2, and S.T.A.L.K.E.R.: Call of Pripyat, while Empire: Total War and Mass Effect 2 are measured in FRAPS by repeating a section. In each case, the Aspire has produced playable if not downright exceptional performance for a mainstream laptop.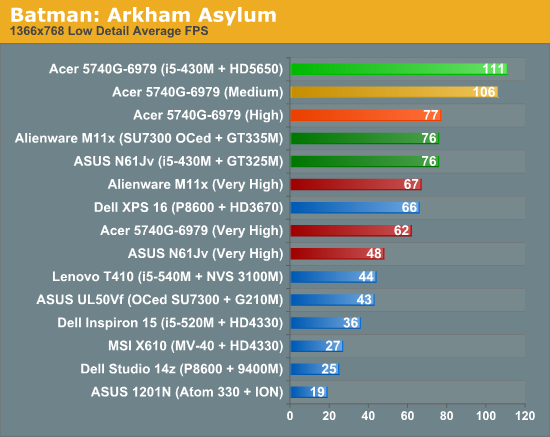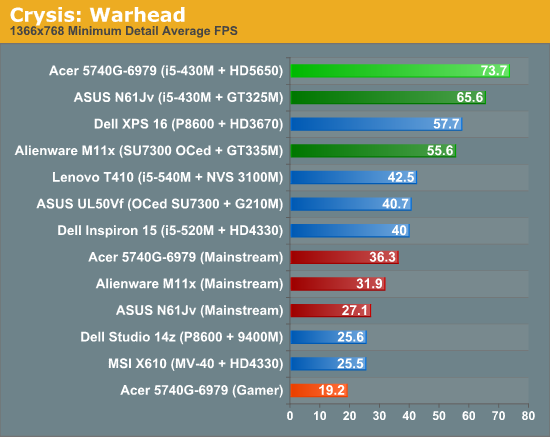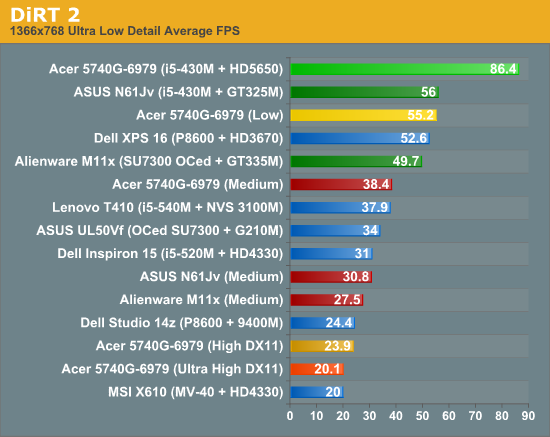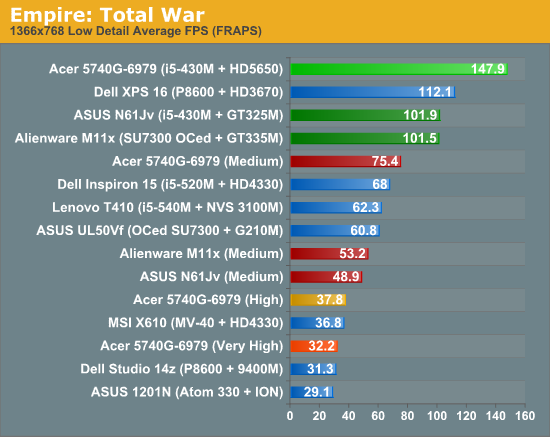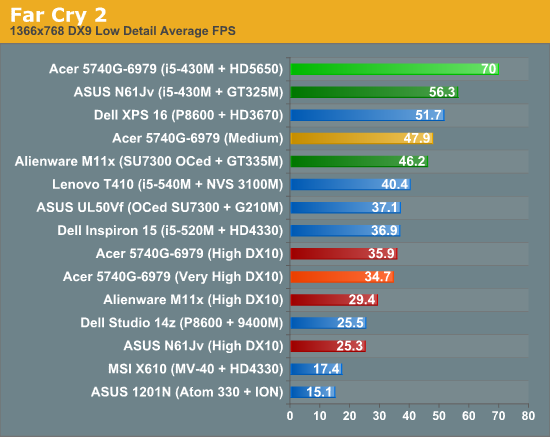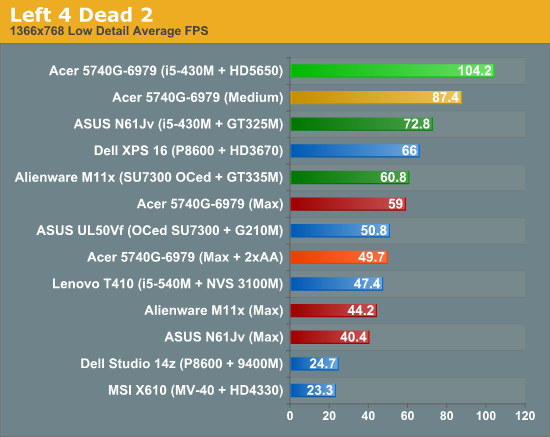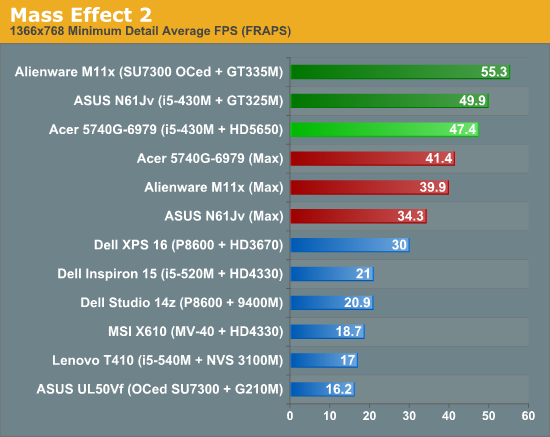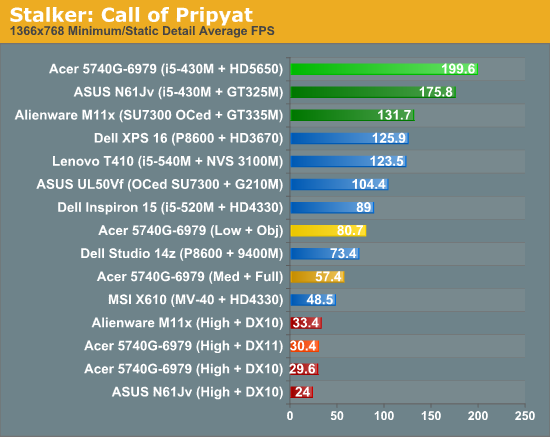 The minimum quality settings we normally compare at are largely academic for a system this fast. Nearly every game in our test suite was comfortably playable at maxed settings – without anti-aliasing – on the ATI Mobility Radeon HD 5650. The only outliers are the usual suspects: Crysis Warhead is still a monster on desktop cards, so getting it playable at even Mainstream settings across the board was impressive enough. Far Cry 2 can also be notoriously hard on mobile graphics, but bumping it up to DirectX 10 mode results in a reasonably enjoyable experience.
And then there's DiRT 2 and S.T.A.L.K.E.R.: Call of Pripyat bringing some DirectX 11 to the table. Other reviews of the Radeon HD 5000 series desktop hardware have proven DirectX 11-capability for anything under the 5700s is largely academic, and though Call of Pripyat is quite playable with some settings turned down, DirectX 11 at maximum detail just isn't in the cards. DiRT 2 is a similar story, with medium detail producing a very palatable 38FPS; bump the detail to High or Ultra High and performance takes a dive.
Compared to the closest competition, we do see a few titles where differences in drivers or other features plays a role. The M11x beats the 5740G—despite having a much slower CPU—in Batman and Stalker at high quality settings, as well as Mass Effect 2 at minimum settings. Mass Effect 2 also runs faster on the N61Jv at minimum settings, but since all three laptops can easily handle maxed out settings it's still a game that the 5740G wins. Looking at overall averages, at minimum detail the 5740G is 45% faster than the M11x and bumping the games to higher quality settings still leaves the Acer laptop with a 17% lead. Not surprisingly, the N61Jv is quite a bit slower at high details settings: the 5740G leads by 34% on average; low detail settings narrow the gap slightly with the N61J with the Acer lead shrinking to 29%.
With the mainstream GPU, there's an expected need for more robust cooling, which can bring about more noise. Thankfully, the fan in the Aspire 5740 isn't terribly loud. You may want headphones anyhow, but the speakers should be able to drown things out well enough to get you into the game without too much trouble.