More Games & Productivity
Seating distance is also an issue when you're working with such a large display. A single 30" monitor takes some adjusting for most people, but a wall of six 22" panels really requires a set of wireless input devices. I found that sliding my chair back a few feet from the screen and using a wireless Xbox 360 controller made the whole experience a lot better.
Unfortunately not all games work well with controllers, in which case you'd probably need a wireless keyboard/mouse. Either way, plan on being further away from your desk than you are now.
AMD's present solution to the crosshair problem is to create multiple display groups. For example, you could create two 3 x 1 groups and simply use one for gaming and use both when you're working. If you do the sort of work that requires a lot of real estate spread out over a physically large distance then this can work.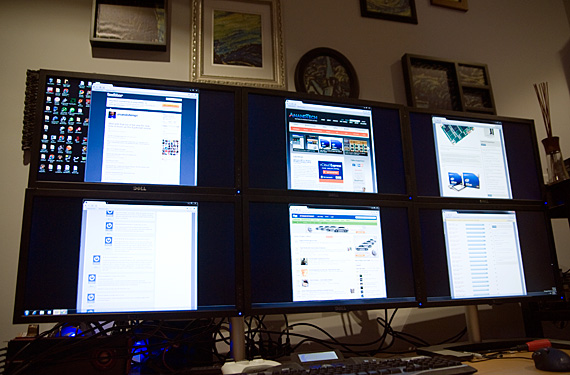 When you factor in the cost of stands we're still looking at around $1500 - $1700 for a 5760 x 1080 display, which is cheaper than a pair of 30" monitors. Personally I'd prefer the latter but they do cost another $1000 more than what we're talking about here.