Super Talent-
Super Talent is introducing a 512GB MLC based SSD drive at the low cost of $149.99. Oh wait, we are reflecting what the 2012 price is expected to reach. Let's back up a few years and do this over. Super Talent is first out of the gate with the MasterDrive RX 512GB Solid State Drive that is available today at a price of $1499.99.
The 512GB MasterDrive RX has top sequential transfer speed ratings of 230MB/s for reads and 160MB/s for writes. The MasterDrive RX line also includes the MLC based 128GB and 256GB drives with the same performance ratings. Super Talent is also releasing SLC based drives in 128GB and 256GB capacities with higher sequential write speeds up to 200MB/s according to their internal test results. Super Talent warranties the SLC MasterDrive RX series for three years and the MLC products for two years. The official press release is below.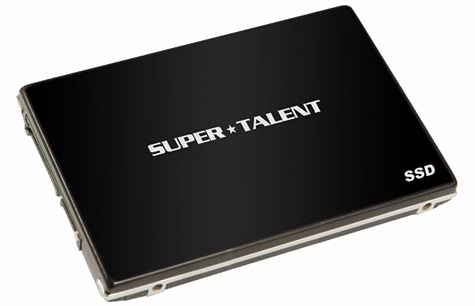 "Super Talent Technology, a leading manufacturer of Flash storage solutions and DRAM memory modules, today announced that it is now shipping the MasterDrive RX family of Solid State Drives (SSDs) in capacities up to 512GB.
The MasterDrive RX features Super Talent's proprietary RAIDSSD� Technology to enable extremely fast sequential read and write speeds. The MasterDrive RX with MLC NAND Flash comes in 128GB, 256GB and 512GB densities and is rated for a maximum sequential read speed of 230MB/sec and a maximum sequential write speed of 160MB/sec. The MasterDrive RX with SLC Flash comes in 128GB and 256GB densities and is rated for a maximum sequential read speed of 230MB/sec and a maximum sequential write speed of 200MB/sec.
Jeremy Werner, senior product marketing manager at Super Talent, stated "The MasterDrive RX is the latest product utilizing our patented RAIDSSD Technology. This product is great! From a performance standpoint it's like having two SSDs in the space of one, and it extends our standard 2.5" SATA-II product line to include a 512GB SSD." The 512GB MasterDrive RX retails for under $1500.
Model Information-

FTM28GE25H SX28B6E25H 128GB MasterDrive RX


2.5" SATA-II (MLC) 230/160 MB/sec




FTM56GE25H SX28B6E25H 256GB MasterDrive RX


2.5" SATA-II (MLC) 230/160 MB/sec




FTM12GE25H SX28B6E25H 512GB MasterDrive RX


2.5" SATA-II (MLC) 230/160 MB/sec




FTD28GE25H ST28A6E25H 128GB MasterDrive RX


2.5" SATA-II (SLC) 230/200 MB/sec




FTD56GE25H ST56A6E25H 256GB MasterDrive RX
2.5" SATA-II (SLC) 230/200 MB/sec

All these products are designed to be compatible with all known operating systems including Windows, Linux, and OSX. Super Talent backs the SLC versions with a 3-year warranty and the MLC versions with a 2-year warranty."
HighPoint Technologies-
After dropping the price of the RocketRAID 4320 controller to $329 a couple of weeks ago, HighPoint is back with another deal this week on their RocketRAID 4310 4-port SAS RAID controller. Their press release is listed below.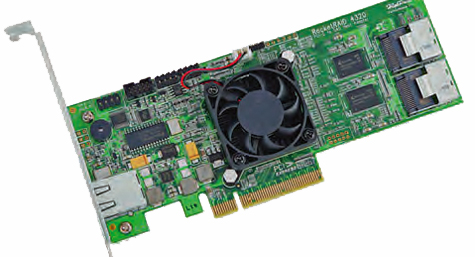 "HighPoint Technologies is partnering with NewEgg.com to offer the RocketRAID 4310 with Intel Inside. This 4 port SAS RAID Controller with the Intel IOP348 is offered at the industry low price of $229. The RocketRAID 4310 with Intel Inside is the fastest and most reliable I/O Engine in the SAS RAID controller industry.
HighPoint has recognized that the struggling economy has forced many businesses to offer lower costing products to entice customer spending. By offering the RocketRAID 4310 at $229, customers will get the highest value for their purchase with the industry's highest performing and most robust SAS Hardware RAID controller.
The RocketAID 4310 supports the fastest bus speed with PCI-Express x8 and features one internal mini-SAS connector to connect 4 SAS or SATA hard drives. Support for a battery back up unit (BBU) maximizes data protection without sacrificing performance.
SAS scalability fulfills the ever increasing need for adding more storage capacity. Scaling to higher capacities enable customers to pay only for the storage they need. Scalability is ideal for file server and content intensive storage platforms requiring the best combination of cost and capacity storage solution.
Backward compatibility to SATA hard drives fulfills the need for storage hungry applications. The lower cost and higher capacity SATA drives are ideal for setting back-ups, archiving and storing detail media files.
The higher performing 15K RPM SAS hard drives offer the highest sustained transfer rates for performance hungry applications. Streaming I/O involves digital video and requires high sustained read and write throughput. The RocketRAID 4310 with 15K RPM SAS drives can achieve 1GB/s of sustained throughput for these streaming I/O environments.
Don't miss out on the huge savings for your storage needs. Purchase the RocketRAID 4310 for $229 exclusively through NewEgg.com.

General Specifications -

Host Adapter Architecture Intel IOP348 (800 MHz)
Up to 256MB DDR-II Memory
PCI-Express x8
1 internal mini-SAS/SATA Device Port Up to 4 SAS/SATA Hard Drives 128 max hard drives via SAS expanders
NCQ (Native Command Queuing)
NVRAM Battery Backup Unit Ready (BBU-03) Low Profile Supported
RAID Features-
RAID Levels 0, 1, 3, 5, 6, 10 and JBOD
Multiple RAID Support
Online Array Roaming
Automatic RAID Rebuild
Automatic Drive Insertion
Quick Initialization
Online Capacity Expansion / Online RAID Level Migration
Hot Spare - (global)
Configurable stripe size
Staggered Drive Spin-up
Bad Sector Repair and Remapping BIOS Booting Support
HighPoint RAID Management (HRM) Suite-
Web GUI management utility
CLI (Command Line Interface)
Firmware / BIOS Management
Independent RAID Module Onboard
Monitor, Alert & Indicators-
SMTP (Email Notification) (Hard drive activity and failure) LED SAF-TE chassis environment monitoring
Package Contents-
RocketRAID 4310 Series SAS/SATA Hardware RAID Controller, RocketRAID SAS/SATA user manual, Software CD with (Drivers and Manual), Low profile bracket, 1 internal mini-SAS to internal mini-SA. "