We received numerous emails and forum messages after our last X58 articles requesting that we take a different look at this platform. One that is not consumer/gaming oriented and instead focuses on the workstation capabilities of Intel's latest platform featuring the i7/X58. With that in mind we have been working diligently on a new test suite oriented towards the workstation crowd. The problem we discovered is that one could end trying to procure and test so many various programs that the review never gets done.
Believe me, that is one bad habit of mine after reviewing my initial rough draft for our first user experience article. After melding a few spreadsheets, pasting together all of the test notes, and looking at the results, it hit me that we had tested 83 different components, 22 games, and 37 different applications, not too mention a dizzying combination of hardware combinations for the memory and overclock results. The outcome is that this article is now under the editor's knife for obvious reasons. Probably the primary reason is to keep the reader awake and focused on the actual motherboard being reviewed, which happens to be the Gigabyte GA-EP45-UD3P before we move on the 790GX/GF9300 products.
So, for those readers who are passionate about viewing workstation results, we would like to hear from you again. Mainly, what are your top three to five programs that you would like to see tested on this platform. While we have procured several video/audio content creation applications along with other business centric programs, we fully realize there is diversity in the workstation market. With that in mind, we want to focus our efforts on providing relevant coverage and results for the top applications where possible. We use the word possible, as procuring a $40K seat license for a particular CAD/CAM package will probably be outside our current scope as one example. Also, we want to tailor the test suite to the hardware received for review.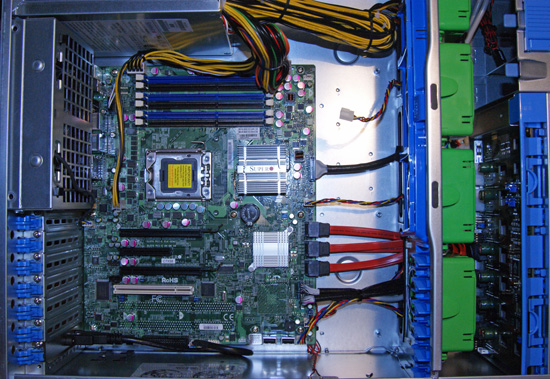 That said, the wizards over at Super Micro Computer, Inc. sent us their new 5046A-XB bare bones workstation. This kit features the C7X58 motherboard, a high quality 865W power supply, custom designed cooling system, pre-configured Hot-Swappable drive setup, and a Tower case that feels as if it were built out of granite. The base bare bone 5046A-XB MSRP is around $900 and will vary depending upon the options chosen. Based on current test results, this Supermicro solution is a bargain to us.
We are still wrestling with our first 24GB memory kits (not a board problem), but all of our initial tests indicate that Supermicro has done a wonderful job with this platform. We have not needed or required multiple BIOS releases for stable operation, the custom cooling system is very quiet, the case is easy to work with and the internal wiring is impeccable. As an added bonus, the hot-swappable bays are a breeze to use, especially considering the number of times we installed and removed some firmware challenged Seagate drives. We are still working on 24GB memory results and some additional digital content creation tests, but performance has been flawless so far.
To say we are pleased at this point would be a serious understatement. Besides a meticulous design, customer service and technical support has been superb to date. We will be back with a full review, but this product already has our blessing. In the meantime, drop us a note and let us know your opinions on workstation benchmarks.