We are rapidly approaching the i7 Core and X58 launch date. With that in mind, we are starting to receive final production motherboards from a variety of manufacturers. The latest board in the labs is the MSI Eclipse featuring the X58 and ICH10R chipsets. Let's take a quick look at it.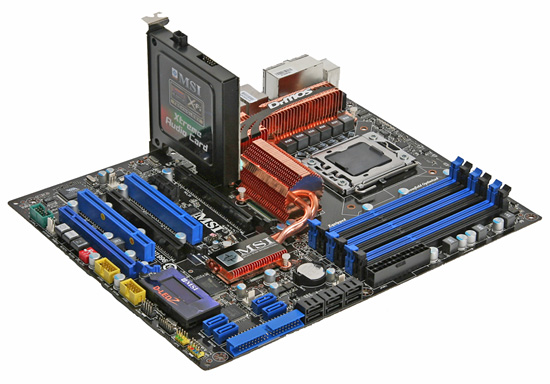 MSI has dropped the circu-pipe (roller coaster theme) heatsink design and Crayola colors for a more traditional cooling system complimented by a very sharp looking blue/black color palette. In fact, the layout of the X58 Eclipse is one of the best we have seen in a long time with all ports and slots easily accessed.
We are not crazy about the X58 heatsink design as it resembles a small coffin when viewed up close. MSI is not going to change the design this late in the game but we should see a nice black plate attached to the top of it to match the ICH10R and MOSFET heatsinks before retail shipment. At least we hope...
The board features MSI's DrMOS MOSFET + Driver IC 6-phase power source design. In addition to DrMOS, there is a healthy smattering of solid aluminum capped capacitors, Hi-C capacitors around the CPU area, sealed ferrite chokes, and the PMWs are powered by the Intersil ISL6336.
Audio is provided by a PCIe x1 based Creative X-FI audio controller on a breakout card. While not the latest X-FI chipset from Creative, this one still supports EAX 5.0, provides 8-channel output, is spec'd at 100dB SNR with 24-bit / 96KHz capability. A welcome change from the Realtek ALC-888/885 product family.
Also included is power, reset, and DLED2 on/off switches. MSI is providing a dip-switch for changing the base clock speeds to 133, 166, or 200 MHz at POST time. The board also features several LED status indicators for everything from standby mode to QPI phase status.
MSI has provided a very good PCI/PCI Express slot layout. The Eclipse features three PCIe 2.0 x16 slots (two x16 and one x4 electrical), two PCIe x1 slots and two PCI slots.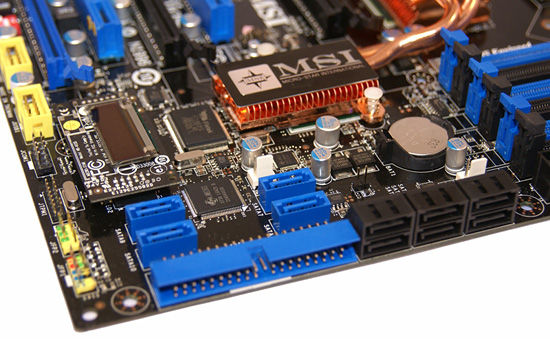 This board features extensive storage options. We get a total of ten SATA and two eSATA ports. The SATA ports are provided by the Intel ICH10R (six - black - RAID 0,1,5,10) and a pair of JMicron JMB322 chipsets (four - blue - RAID 0,1, JBOD). A JMicron JMB363 provides IDE support and the two eSATA (RAID 0,1) ports. IEEE 1394a support is provided by the VIA VT6308P.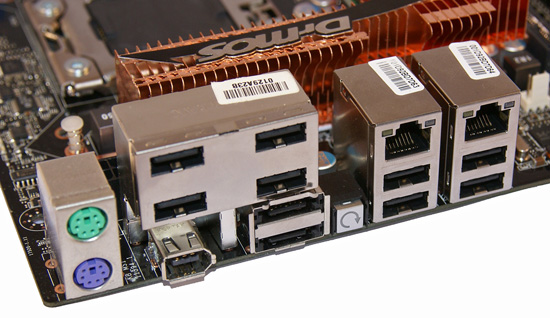 The I/O panel features eight of the available twelve USB 2.0 ports, an IEEE 1394a port, two eSATA ports, two RJ-45 (Realtek 8111C) PCIe Gigabit ports, PS/2 keyboard/mouse ports, and a long overdue clear CMOS button.
That is our quick look for today, we will be back shortly with additional component details, a BIOS guide, and performance results.