Last year, we did a roundup of some of the fastest laptops available at the time. The three laptops came from different sources, but all used Clevo chassis as the base for the build. Clevo is known for making high-end gaming laptop designs, but the build quality and materials can often leave us wanting. Glossy LCDs have some adherents, but the glossy—often mirror-like—surfaces used on the chassis are hard to get past. They're also very bulky designs, and it's hard to fathom spending thousands of dollars on a laptop chassis only to end up with a standard injection-molded plastic box. There has to be a better alternative, right? Of course there is, and as an example of a high quality design we have the Dell Precision M6500.
Right from the start, there's a lot to separate the M6500 from the previously mentioned Clevo designs. For one, users get the choice of glossy or anti-glare LCDs, and what's more they can also elect to pay for an RGBLED model that will provide a high color gamut. It's not just the LCD that's better: Dell delivers a chassis that has aluminum covers on most of the outside surfaces—available in standard silver or an eye-catching orange anodized aluminum. The M6500 is still a large notebook, true, but compared to many of the other desktop replacements we've looked at over the years, the industrial design is robust and reasonably attracted; it doesn't need to scream for attention, unlike other offerings.
Let's get this out of the way: the Precision M6500 doesn't come cheap. It packs a quad-core Core i7 Mobile CPU (i7-720QM to i7-920XM), four DDR3 SO-DIMM slots, two HDDs/SDDs, workstation graphics, a slot-load DVD/Blu-ray drive, and a standard 3-year warranty. Dell also includes the typical WiFi and Ethernet, along with optional Bluetooth and mobile broadband. An optional fingerprint scanner is available—standard "swipe" or FIPS certified for $70 more—as well as an optional contactless smart card reader. The latter is not something home users need, but it's a feature some enterprise customers want. And "Enterprise" is definitely the name of the game here, with a price to match. The basic configuration starts at $2750 $1800 (now that Core i5 CPUs are supported), and our test system maxes out everything but the storage options for a final price tag of over $5000!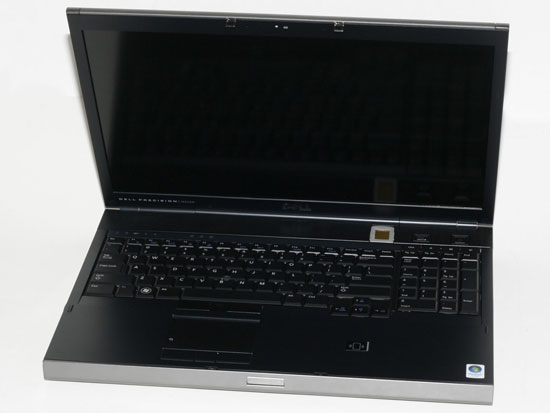 Shocked by the sticker price? Besides the R&D efforts and high quality industrial design, part of the price also comes from the ISV certifications. The M6500 is certified to run over 100 professional applications from 30 different ISVs. Sample applications include AutoDesk Inventor, SolidWorks, PPC Pro Engineer, and WindChill to name just a few. To give you an idea of pricing, the typical cost for a basic installation of many of these applications will run at least as much as our test laptop (i.e. $5000), and some of the packages can apparently run up to $100K per installation. Obviously, if you're buying a software package that can cost that much, having certified hardware is a must and the cost of the hardware is secondary to the cost of the software. As for performance in the various software packages, the only way you could get a faster laptop would be to use a desktop processor—not the ideal solution in most cases.
Before we get to the rest of the review, it's useful to discuss quickly why "mobile workstations" are useful. If you're after maximum performance you can get a desktop workstation with far more power than any notebook. With a clock speed of 2.0GHz on the i7-920XM as the maximum we'll see from mobile CPUs, i7 Xeon CPUs like the 3.33GHz W5590 are over 50% faster; pair a couple of W5590s and you're looking at over three times the performance in heavily threaded scenarios. Then there's the matter or maximum RAM support, GPU support, etc. Obviously, there's no way to get performance equal to a desktop workstation that can use 500W+ of power out of a <200W notebook chassis. The problem is that such workstations are difficult to move, so consultants and employees that have to work away from the home office need an alternative. They can save time by avoiding the need to travel back and forth between the office/datacenter, not to mention avoiding travel costs. Remote (i.e. VPN) solutions can provide more computational power still, but the latency of such solutions is a different problem. Thus, the target market for notebooks like the Precision M6500 is professionals that regularly need to be able to take their work on the road.
Technically, the M6500 can also play games, but that's not the target market… unless you happen to be a game developer working on the road, I suppose. While we wouldn't recommend the M6500 for mobile gamers, we would love to see some aspects of the styling and build quality make their way into such offerings. Dell's own XPS and Alienware notebooks could learn a thing or two about construction and features from the M6500, and we'd love to see Clevo give their whitebook customers a high quality chassis—and an anti-glare LCD would be icing on the cake. As we'll see in a moment, the M6500 is not without flaws; ultimately, it's going to come down to priorities and personal taste. If you happen to like glossy LCDs and bling, you probably won't like the M6500.