The Controller
Like Seagate, Western Digital didn't make the controller inside their SSD. The SiliconEdge Blue uses a 3rd party controller but despite my prodding, WD wouldn't tell me who made it. As SandForce has proven, the actually manufacturer of the controller is not as important as the firmware itself. That being said, I still wanted to know.
Despite having Western Digital's logo printed on the controller, WD didn't opt for a custom PCB on its drive: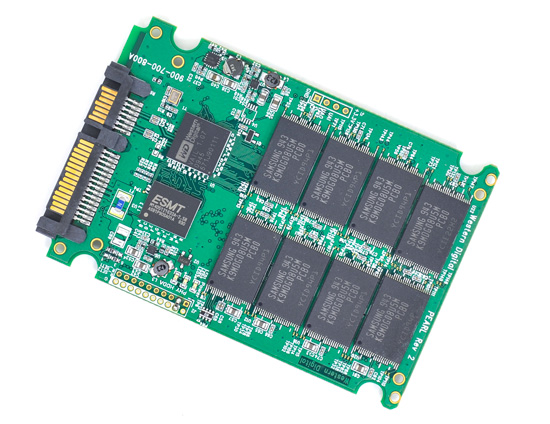 I've seen this PCB somewhere before. Ah yes, PC Perspective's review of the JMicron JMF618 based Kingston V Series SSD. Based on JMicron internals and manufactured by Toshiba, this is the latest from the company that was responsible for my obsession with weeding out SSDs in 2008. Update: Allyn tells me that the JMF618's unique feature is its support for Toshiba NAND. If you use Samsung NAND that makes the controller a JMF612.
The JMF618/612 are allegedly a lot better than the JMF602 that everyone was trying to push a couple of years ago, but this is my first experience with it. The good news is that Kingston sells its JMF618 based drive for less than $2.20 per GB. This means that we might see etailer pricing on the SiliconEdge Blue at roughly half of its MSRP.
Like most other consumer SSDs, Western Digital sets aside roughly 7% of the NAND flash on board for spare area to be used for cleaning and bad block allocation.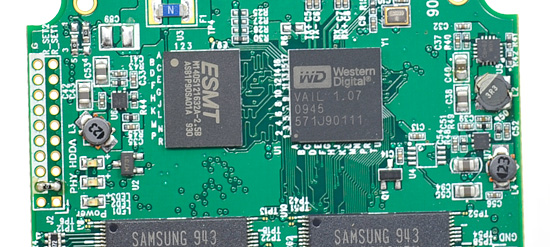 Sitting next to the WD branded JMF618/612 controller is a 64MB DDR2-800 DRAM made by ESMT. That's not a ton of memory by any means, but it is ridiculously fast memory. By comparison Intel uses 32MB of PC133 SDRAM, offering 1/6 of the bandwidth. With that much memory off-chip, JMicron is most likely using the DDR2 DRAM as a cache for user data in addition to the mapping tables and block allocation algorithms. The more data you store off chip, the more bandwidth you need to service that data.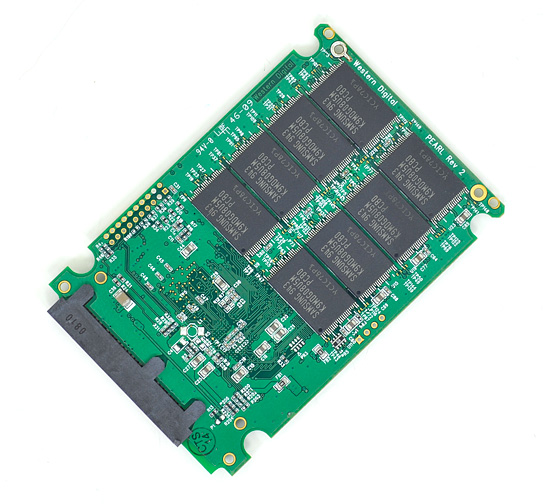 16 chips x 16GB Samsung MLC NAND Flash
Western Digital claims rights to an exclusive firmware with the SiliconEdge Blue. The initial firmware appears to be supplied by JMicron, but Western Digital has modified it to tune for compatibility. In theory that means that we won't get the same performance out of the SiliconEdge Blue that we do from Kingston's SSD that uses the same controller.
The JMF618/612 supports TRIM which is enabled on the SiliconEdge Blue. Western Digital won't be offering a manual TRIM tool for non-Windows 7 OSes, stating that the performance of the drive never drops to a point where you'd need to manually TRIM it. I can't say that I agree with that since I managed to make the drive perform quite poorly after hammering on it for a while: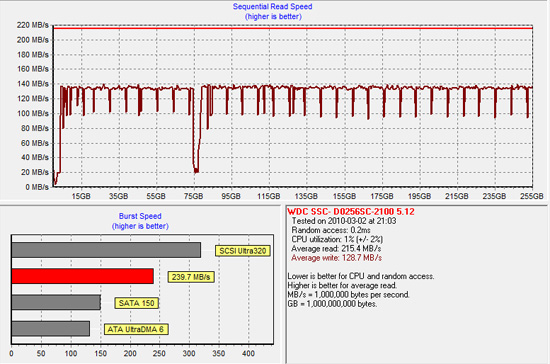 But it does attempt to be fairly resilient and after being TRIMed it manages to stay very close to peak performance: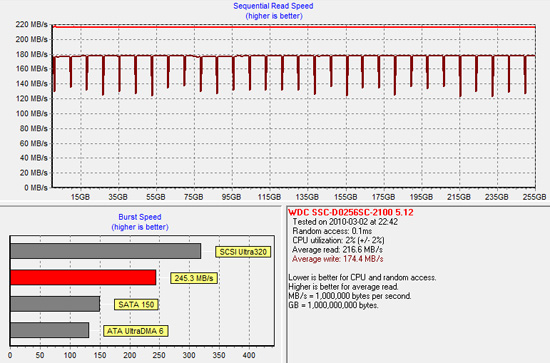 You can use the SiliconEdge Blue in a non-TRIM aware OS, but I'd recommend sticking with Windows 7 if possible.