Optimus: Recognizing Applications
Beyond addressing the problems with switching between IGP and dGPU, the Optimus driver has also been re-architected to provide an extensible framework that allows NVIDIA to support new applications with minimal effort. We've seen application profiling in graphics drivers for a while now, but Optimus adds a new type of profiling. Whereas gaming profiles are generally designed to get optimal performance out of the graphics hardware, Optimus is intended to provide an ideal platform for a variety of tasks. If an application can benefit from running on a discrete GPU, the Optimus driver will route the necessary calls to the dGPU. Likewise, if an application doesn't need any extra performance/features, the calls get routed to the IGP for rendering. The idea is that Optimus will use the GPU if there's a performance, quality, and/or power saving benefit.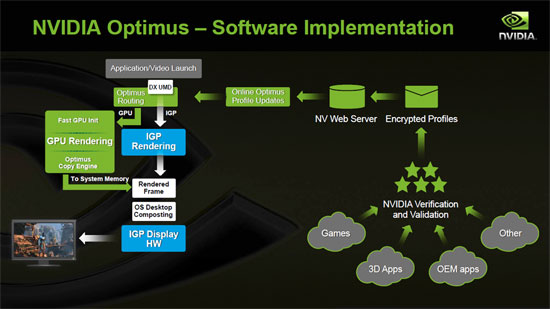 At present, Optimus recognizes applications based on the executable file name. In some cases, the recognition goes a little deeper. For example, surfing the Internet generally won't benefit from the dGPU; however, if you happen to be viewing a Flash video (and you have the Flash 10.1 beta installed for your browser), Optimus will power up the GPU and begin routing calls through the video processing engine. Close the Flash video website and the GPU can turn off again. Similarly, if you load up a media player application, the GPU won't be necessary if you're dealing SD content but it would be enabled for HD content (and this can be changed depending on the hardware if necessary). Optimus should activate the dGPU any time a user requires DXVA, DirectX (OpenGL), or CUDA features.
The big change in application profiling is that the profiles are now separate from the main graphics driver. NVIDIA has created a robust infrastructure to deal with automatically downloading and updating the profiles, with user customizable options directing how frequently this should occur. This means that unlike SLI support, where a fully functional profile might require one or two releases before it's integrated into the standard NVIDIA drivers, NVIDIA can add applications that can benefit from a GPU to the Optimus profile list within days or perhaps even hours.
What's more, it's possible to add an application yourself if necessary. As an example, our Steam version of Batman: Arkham Asylum wasn't enabling the dGPU initially; we added a profile pointing at the Steam Batman EXE and the problem was solved. Ideally, we shouldn't have had to do that, and if "only 1%" of users ever manually switch between IGP and dGPU before, we suspect far less than 1% would be willing to manually add an application to the Optimus profile list. Hopefully NVIDIA will be able to push out regular profile updates for such omissions quickly.
The automatic updating of Optimus profiles also raises the possibility of using automatic updates for other areas. The big one is going to be SLI profile support, and while it isn't part of the current program it sounds as though NVIDIA intends to add that feature down the road. Once the infrastructure is in place and the drivers support a separate profile download, it should be relatively easy to get SLI profiles in a similar manner. It would also be interesting to see NVIDIA allow users to "suggest" applications for Optimus support through the drivers—i.e., anything that a user has manually added could be uploaded to the server, and if an application name gets enough hits NVIDIA would be more likely to enable support. Naturally, there would be some privacy concerns with such a scheme and some users wouldn't want to participate in such a program, but it might be useful.
As an aside, we've wanted AMD/ATI to enable manual user profiling of games for CrossFire for some time. They still haven't done that, and now NVIDIA has taken things a step further and separated the profiles from the main drivers. This is definitely an improvement over previous profiling schemes and it's something we hope to see more of in the future—from both AMD as well as NVIDIA.