Dell Inspiron 11z
Dell's CULV offering that we're reviewing today is the Inspiron 11z. One of the nice features of any Dell laptop is that you can customize the parts to a higher degree than most other laptops. The system we received includes an SU4100 CPU with a single 2GB DDR2-667 SO-DIMM. What's that, a single SO-DIMM? Yes, that's correct: Dell limit's the 11z to a single memory chip, with support for up to 4GB. The bigger issue isn't the single-channel interface so much as the pricing. With a single SO-DIMM the 11z is going to be slightly slower than the Acer AS1810T, and it's also going to be more expensive if you choose to go with a 4GB SO-DIMM.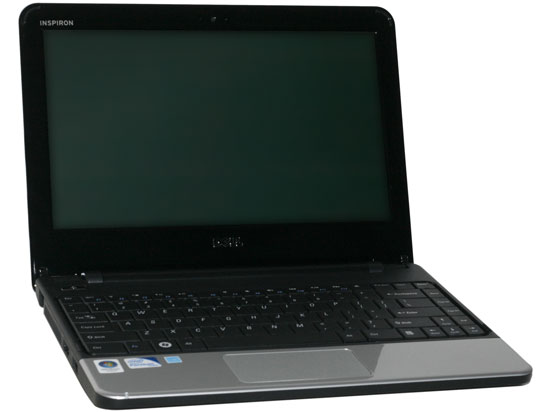 Dell Inspiron 11z Specifications
Processor
Intel Pentium SU4100
(2x1.3GHz, 45nm, 2MB L2, 800FSB, 10W)
Celeron 743
(1.3GHz, 45nm, 1MB L2, 800FSB, 10W)
Chipset
Intel GS45 + ICH9M
Memory
1x2GB or 1x4GB DDR2-667
Graphics
Intel GMA 4500MHD IGP
Display
11.6" LED Glossy 16:9 768p (1366x768)
Hard Drive(s)
250GB 5400RPM
Optical Drive
N/A (USB External optional)
Networking
Fast Ethernet (Atheros AR8132 PCI-E)
Dell Wireless or 1397 802.11ABG
Dell Wireless 1520 802.11ABGN
Bluetooth v2.1 + EDR
Audio
2-Channel Realtek ALC272 HD Audio
(2.0 speakers with headphone/microphone jacks)
Battery
3-cell 28Wh
6-Cell, 11.1V, 4840mAh, 56Wh
Front Side
None
Left Side
1 x USB 2.0
HDMI
VGA
Heat Exhaust
Ethernet
Right Side
Flash Reader (MMC, MS, SD)
Headphone/Microphone
2 x USB 2.0
Power Adapter
Kensington Lock
Back Side
None
Operating System
Windows Vista Home Basic 32-bit
Windows 7 Home Premium 64-bit
Windows 7 Professional 64-bit
Dimensions
11.5" x 8.43" x 0.92-1.75" (WxDxH with 6-cell)
Weight
3.2 lbs (with 6-cell battery)
Extras
Webcam
86-Key Keyboard
Warranty
1-year standard warranty
2-year and 3-year extended warranties available
Pricing
Available Online starting at $400
Test System: $564 (with current $173 savings)
Most of the other features of the 11z we received are the same as other CULV laptops: GS45 chipset with GMA 4500MHD graphics, 250GB 5400RPM HDD, and an 11.6" 1366x768 LCD. The 11z includes the standard three USB ports, flash memory reader, headphone/microphone jacks, Ethernet, WiFi, and an HDMI output. Unlike some of the other options, there's no VGA port. Like so many laptops we've looked at recently, the Inspiron 11z comes with glossy plastic surfaces and a glossy LCD. The keyboard and the plastic surrounding the keyboard are matte plastic, and we wish Dell would have simply extended that to the rest of the chassis. I have a friend with an Inspiron from a few years back, and frankly the matte plastic chassis and LCD still look better than most current laptops. Want an anti-glare laptop from Dell? You'll need to go with their business Vostro or Latitude lines. On the bright side, the light blue chassis Dell shipped us masks fingerprints and smudges a lot better than darker laptops.
We talked with one manufacturer (not Dell), and their take was that when the first glossy laptops came out, they were different from the matte options and everyone raved about them. Like so many things in life, it wasn't enough for other companies to start offering a few glossy laptops; they had to go all the way and start shipping everything glossy. While glossy laptops look nice in pictures (when staged properly), they just don't weather regular use well. Fingerprints and scratches are very visible, and it's time for a shift back towards matte designs in our opinion. We don't need to get rid of all glossy laptops, mind you; we just want more variety.
As far as build quality goes, the Inspiron 11z is reasonable. You can twist the LCD/cover a bit, but the design as a whole feels plenty durable. The keyboard is definitely one of the better aspects, though here personal preference will play a role. Dell uses flat keys that are nearly full size (with a few exceptions), and the layout works well. It's a little odd that Dell defaults to having the function keys act as special keys (e.g. adjust brightness, volume control, etc.) but you can change the default setting in the BIOS. The difference in keyboard layout and design seems very small compared to the Acer 1810, but the keys don't feel mushy and the spacing and contour of the keys felt better.
While there's plenty to like with the 11z, there is one area that I absolutely can't come to grips with: the touchpad... specifically the integration of the left and right mouse buttons in the corners. I tend to use two hands on touchpads, my left for the buttons and my right for pointing, and with multi-touch I end up with an epic fail on the 11z. Any time I want to click and drag, I usually get "zoom" behavior instead. The large touchpad seems nice but in practice either the drivers or hardware don't work well, so we recommend Dell ditch the button integration. I did try disabling multi-touch to see if that would help, and things were better but ultimately separate buttons would be superior - even without multi-touch, if one finger is on a button there are still plenty of times when using the another finger doesn't work properly. We talked to Dell about this and they are aware of the problems with the current design; it sounds as though the next Inspiron models will go back to a traditional touchpad.
Another complaint for the 11z is that the larger 6-cell battery juts out the bottom (the 3-cell doesn't do this, but you lose roughly half of your potential battery life). It's not the end of the world, but it would be nicer to have a laptop that will lie flat. Finally, the single SO-DIMM slot for memory was a poor choice; you can get 4GB RAM, sure, but it will cost more than 2x2GB on the competition, and we would have preferred DDR3 memory - lower power and better battery life relative to DDR2. Both the use of DDR2 and the single SO-DIMM slot appear to be more of a manufacturing cost consideration as opposed to features that would make a laptop better.
Ultimately, it's going to come down to pricing for most people. Well, pricing and the touchpad. The base configuration of the 11z starts at just $400, but it includes a single core Celeron 743, 2GB RAM, and Vista Home Basic, along with a 3-cell battery. In short, it's not at all impressive. With a moderate configuration (SU4100 CPU, Win7 Home Premium, 2GB RAM, 6-cell battery, and 250GB HDD) the Inspiron 11z will sell for $549 - or $589 with a non-black finish. You can customize other areas as well, and the Design Studio is a nice extra as well for another $45, assuming you want to personalize your laptop a bit. However, if you add in 4GB RAM (an extra $120 charge) the price becomes too high relative to the competition. We put together an Inspiron 11z that roughly matches the Acer 1810TZ with 4GB DDR2, 320GB HDD, and 802.11n WiFi for a total price of $694. For $580, the 1810TZ is the easy choice, and even if price were the same we'd take the Acer design if only because the touchpad was such an issue. Ideally, we'd like the Dell 11z keyboard and palm rest with the 1810T chassis, but while the 1810 keyboard wasn't quite as good it was at least "good enough" - something we can't say of the 11z touchpad.