It's about time we got an interesting value processor to review from Intel. I simulated one in our Clarkdale review, but today I'm bringing you a full review of the most interesting dual-core Westmere for the desktop - the Core i3 530.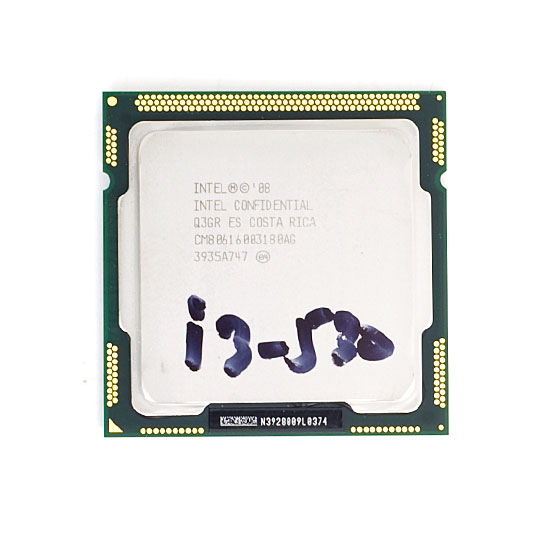 Priced at $113 (and selling for about $125 on the street) the 530 runs at 2.93GHz and features no turbo modes. It'll run at 1.33GHz at its lowest frequency, and no faster than 2.93GHz at full load. The missing turbo boost is almost all you sacrifice as the 530 still has a hefty 4MB L3 cache shared between both cores. Each core gets a 256KB 10-cycle L2, just like the i5s and i7s.
The un-core is clocked at 2.13GHz, down from 2.40GHz in the i5. That should hurt performance a bit compared to our simulated i3 in the launch article. Aside from Turbo the other thing you give up with the i3 is AES acceleration. Westmere's AES New Instructions (AES-NI) are disabled on all of the i3s in typical Intel fashion. There has to be some reason for users to opt for a Core i5 instead.
| | | | | | | | | |
| --- | --- | --- | --- | --- | --- | --- | --- | --- |
| Processor | Core | Un-core | GPU | Cores / Threads | L3 Cache | Max Turbo | TDP | Price |
| Intel Core i5-670 | 3.46GHz | 2.40GHz | 733MHz | 2 / 4 | 4MB | 3.76GHz | 73W | $284 |
| Intel Core i5-661 | 3.33GHz | 2.40GHz | 900MHz | 2 / 4 | 4MB | 3.60GHz | 87W | $196 |
| Intel Core i5-660 | 3.33GHz | 2.40GHz | 733MHz | 2 / 4 | 4MB | 3.60GHz | 73W | $196 |
| Intel Core i5-650 | 3.20GHz | 2.40GHz | 733MHz | 2 / 4 | 4MB | 3.46GHz | 73W | $176 |
| Intel Core i3-540 | 3.06GHz | 2.13GHz | 733MHz | 2 / 4 | 4MB | N/A | 73W | $133 |
| Intel Core i3-530 | 2.93GHz | 2.13GHz | 733MHz | 2 / 4 | 4MB | N/A | 73W | $113 |
| Intel Pentium G9650 | 2.80GHz | 2.00GHz | 533MHz | 2 / 2 | 3MB | N/A | 73W | $87 |
Sitting next to the 32nm CPU die is a 45nm GPU/memory controller: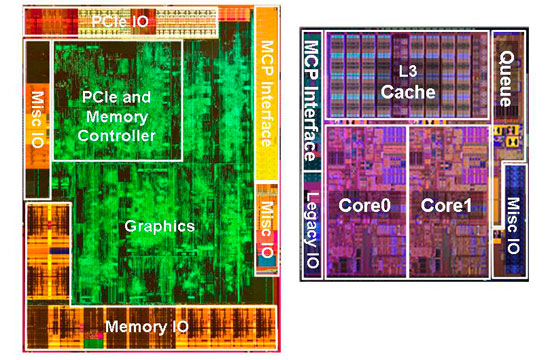 Like the majority of the Core i5 processors, the GPU here runs at 733MHz. The exception being our recently reviewed 661 which runs the GPU at 900MHz for those who want that extra bit of mediocre gaming performance.
From Intel the closest competitor is the Core 2 Duo E7600, which runs at 3.06GHz but with a 3MB L2 cache. AMD provides the biggest threat with its Athlon II X4 630 and Phenom II X2 550 BE. The latter isn't on AMD's official price list but you can still find it online today for $99.
In a market full of good alternatives, whether it's an ultra-cheap quad-core or a solid dual-core, it's time to find out if there's any value in the Core i3 530.
Fixes Since Last Time
There were two outstanding issues in our Clarkdale review that needed fixing after CES. First and foremost was power consumption. We incorrectly assumed that Clarkdale's idle power consumption was worse than Lynnfield due to the 45nm on-package chipset. As many of you pointed out, it was an issue with our ASUS H57 motherboard. After CES we switched over to Gigabyte's GA-HS57M-USB3 and the idle power consumption improved considerably. Since then ASUS appears to have fixed the problem but our data for this review was still run with Gigabyte's board.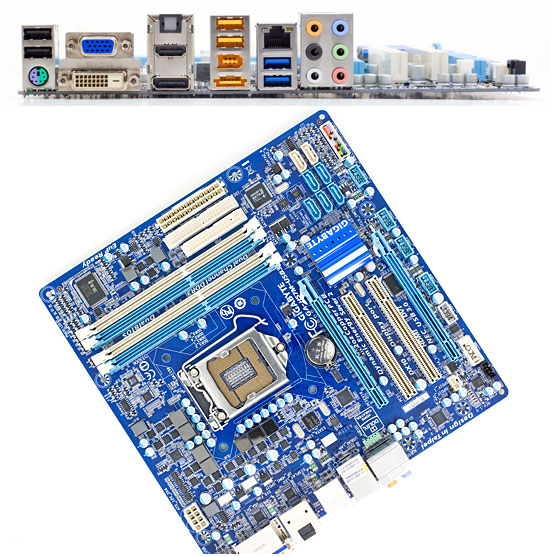 Unfortunately these sorts of issues aren't rare with any new motherboard/chipset release. Our ASUS H57 board had idle power issues, while our Gigabyte H57 board had overclocking issues. No one seems to get it right on the first try.
The second issue that needs correcting is the system power consumption while playing back an x264 video using integrated graphics. Our AMD numbers were unusually high in our initial review, which we've since corrected: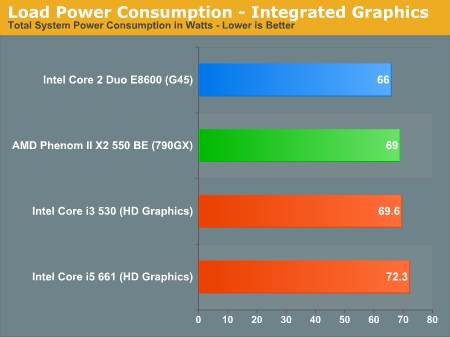 While playing H.264 encoded video the GPU does all of the heavy lifting and there's no power advantage for Clarkdale to rest on. When watching a movie the AMD system is indistinguishable from our Clarkdale test bed.
We are still running into an issue with MPC-HC and video corruption with DXVA enabled on the 790GX, but haven't been able to fix it yet. Have any of you had issues with video corruption with AMD graphics and the latest stable build of MPC-HC for 64-bit Windows? Or should we chalk it up to being just another day in the AnandTech labs.