5500 Series and 5450 Pre-Announcement
Along with today's launch, AMD is also pre-announcing the 5500 series and the 5450. We say pre-announcing as they're not launching the cards today, nor are they showing off the complete specifications of the cards. Today is an announcement of what they'll be launching in February, the 6th and final month in their 6 month 4 chip launch window for the Evergreen family.
We'll start with the 5500 series. There is one card pre-announced thus far, which we expect will get a real name (e.g. 5570) at launch. The 5500 series is specified for less than 50W load power, and will be a low-profile actively cooled card. In a full-height computer, a 3rd display output port can be attached, giving the card the ability to drive 3 monitors in an Eyefinity configuration.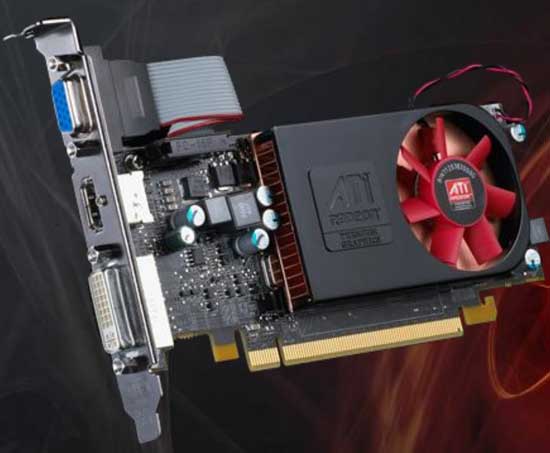 The other card is the 5450, which is another low-profile card, but this time passively cooled. It too can drive 3 monitors in Eyefinity mode when put in a full-sized case to allow a 3rd display output. We don't know what the power usage is, beyond the fact that AMD is calling it an "ultra low power" card.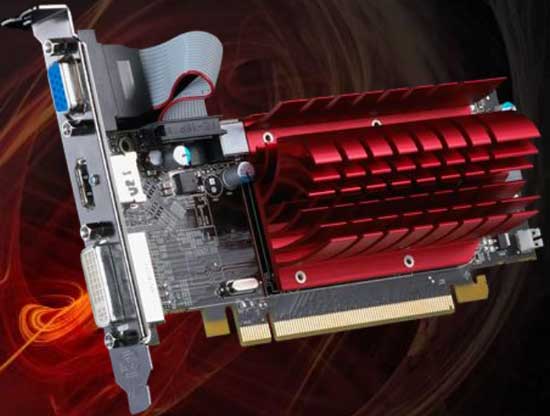 Both of these cards will have the full 5000 series feature set, most importantly including audio bitstreaming. This should make either of these cards the great HTPC card we've been expecting to come out of the 5000 series, depending on how much rendering power you need.
As we stated before, both of these cards will be launching sometime in February. We do know more about these cards, but at this point we're not allowed to talk about them. What we can suggest is that you look at our Mobility Radeon 5000 article, where AMD announced Redwood and Cedar in mobile form ahead of the desktop cards, and then take a very close look at this slide of AMD's chip stack. The astute among you should be able to infer some additional information about these forthcoming cards.