LCD Quality
We didn't have enough time to run our full suite of LCD tests, but we did check the contrast ratios on these laptops. Sadly, none of them are great, though the ASUS 1005PE is still better than most other inexpensive options.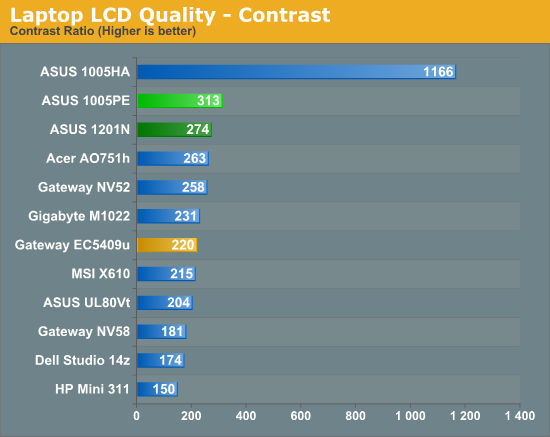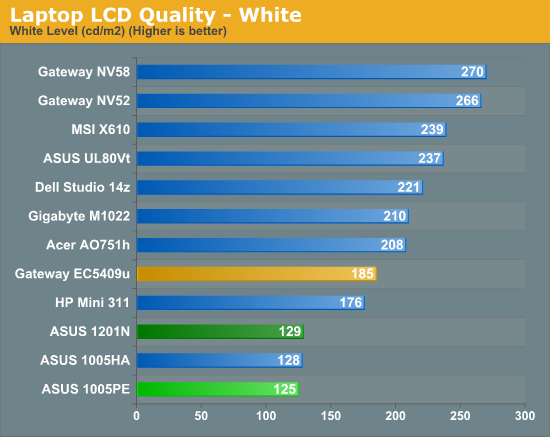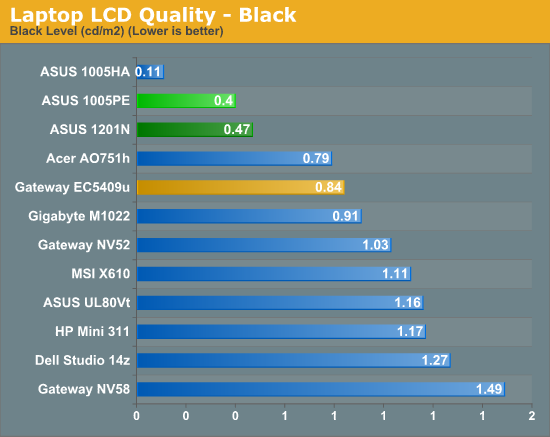 First, contrast ratio has taken a dive relative to the 1005HA. What we don't know is whether there's a panel lottery on all the 10.1" ASUS netbooks; that would seem very likely, since they're all 1024x600 LCDs, which means you might get 1005HA with lesser LCDs or 1005PE with better LCDs. If you can look at a unit in person, the difference between the two panels is very obvious. Blacks look very much like real black on the 1005HA we tested, whereas blacks on most other panels show a lot of backlight bleed.
Maximum brightness on both the 1201N and the 1005PE is relatively limited, and unlike the 1005HA we were unable to boost brightness via EeeCTL. It's likely an updated version of EeeCTL could help, but we're not sure if the utility is still in active development as the old website is down at this time.
So in short, the panels on both the 1201N and 1005PE are a letdown. We'd also like to see ASUS push the maximum brightness up to 200+ nits; we think they limit it in order to improve battery life results, since few sites actually take the time to calibrate LCDs to 100 nits. If you just run at 50%, you might have the LCD set at anywhere from 70 nits to 170 nits, depending on the laptop. For the record, you get ~100 nits on the 1201N at 66% brightness, or 80% brightness on the 100%PE.