Intel announced the Atom processor in 2008. That same year we were introduced to the first two members of the family: Diamondville and Silverthorne. The chips were both called Atom, but they differed in their application. Diamondville was used in desktops, nettops and netbooks, while Silverthorne was almost exclusively for MIDs (Mobile Internet Devices).
Atom continues its split personality. Silverthorne begets Moorestown, the next-generation Atom for MIDs and smartphones. Diamondville, on the other hand, leads us to Pine Trail - the next-generation Atom for desktops, nettops and netbooks.
Pine Trail is the platform codename. Pineview is the codename for the new Atom CPU.
Pineview takes the same 45nm Atom architecture introduced in 2008 and integrates a memory controller, DMI link and GMA 3150 graphics core.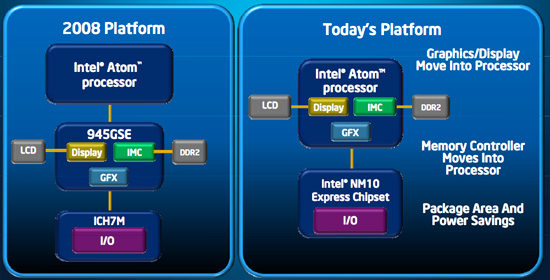 Integrating the memory controller is extremely important for Atom as it continues to be an in-order architecture. With minimal options for reordering instructions on the fly, if Atom encounters a load the pipeline stalls while the memory request completes. Despite Atom's sensitivity to memory latency, most synthetic tests showed a minimal improvement in memory latency from Pineview. The real world performance benefit is also less than expected but tangible, but for whatever reason that's not manifested in any synthetic memory latency tests. More on this shortly.
Two Versions of the New Atom
The chips being announced today are the Intel Atom N450, Atom D410 and D510. The N450 is the lower power netbook version of the new Atom and is a single core processor. Intel claims that only single core Atom processors will be offered in netbooks, a limitation that may be lifted at some point in the future but no time soon. Intel seems intent on keeping netbooks from being too high performance, or even just less miserable than they would be with a single core Atom.
The D410 and D510 are for desktops and nettops. They are single and dual core versions of the new processor, respectively.
All three chips run at 1.66GHz. They only differ in core counts, TDPs, memory speed and supported capacity. The table below lists the details:
| | | | | | |
| --- | --- | --- | --- | --- | --- |
| Processor | Clock Speed | Cores / Threads | L2 Cache | Memory | TDP |
| Intel Atom D510 | 1.66GHz | 2 / 4 | 1MB | DDR2-800 (4GB max) | 13W |
| Intel Atom D410 | 1.66GHz | 1 / 2 | 512KB | DDR2-800 (4GB max) | 10W |
| Intel Atom N450 | 1.66GHz | 1 / 2 | 512KB | DDR2-667 (2GB max) | 5.5W |
The netbook version of Pineview only supports a maximum of DDR2-667 and according to Intel's datasheet can only support at most 2GB of memory. Its TDP is nearly half that of the desktop/nettop version.
The first dual core Atom processors were just two single core Atoms on a single package. Pineview dual-core is monolithic because both cores have to share the same memory controller.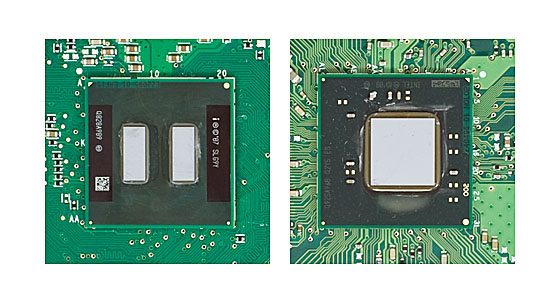 Dual-core Atom "Diamondville" (left) vs. Dual-core Atom "Pineview" (right)