The Notebook Roadmap
For mainstream notebooks today AMD doesn't really offer anything sexy. We have the Tigris platform based on the Caspian CPU (45nm Athlon II X2 derivative) and RS880M chipset with integrated Radeon HD 4300 series graphics (DX10.1).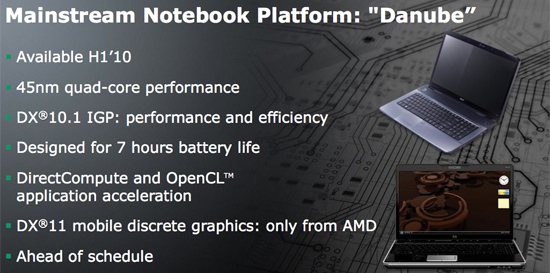 Next year we get the Danube platform, complete with Champlain CPU (Athlon II X2 or X4 derivative) and relatively similar graphics to what we have now.
Like the desktop roadmap, things don't get interesting until 2011; that's when we meet Sabine.
Sabine comes with a Llano APU, just like the desktop, and four 32nm Phenom II-like cores. There isn't a dual-core mainstream offering for mobile on the roadmap. Llano of course comes with a DX11 GPU on die, which AMD is calling GigaFLOPS-class. I guess we won't have 4870 level performance on die at 32nm.
AMD doesn't have a high performance CPU for ultrathin notebooks today. The only options are Consesus and Huron, both first generation K8 derivatives. They're also fabbed at 65nm so they're not exactly as small or power efficient as they could be.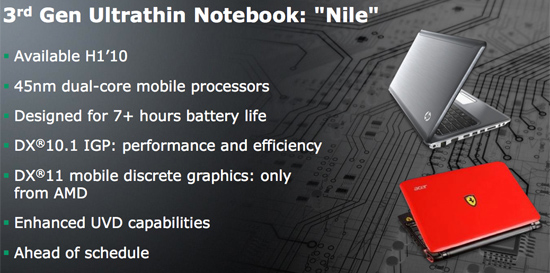 Next year this starts to change with the Nile platform. It comes with a Geneva CPU, a lower power Athlon II derivative. That should help fix the performance issues. At 45nm we'll hopefully see good battery life from the platform.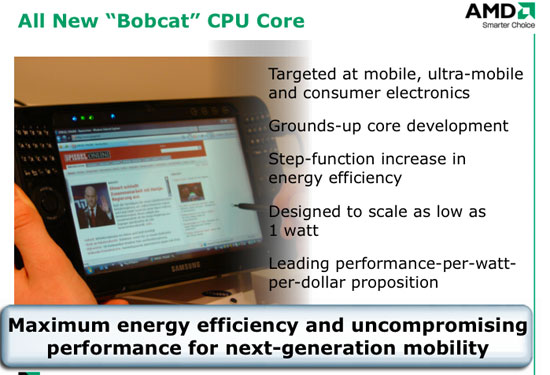 Come 2011, AMD has another CPU core for us; it's called Bobcat. I first talked about Bobcat over two years ago, and we won't see it for nearly another two years, incredible. It's an ultra low power microprocessor architecture specifically designed for mobile. Assuming AMD didn't exaggerate its claims, this should be the first real mobile competitor Intel has seen.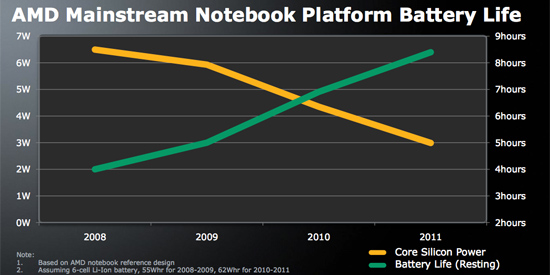 Bobcat will appear in the Ontario APU as a part of the Brazos platform. Hooray for more codenames.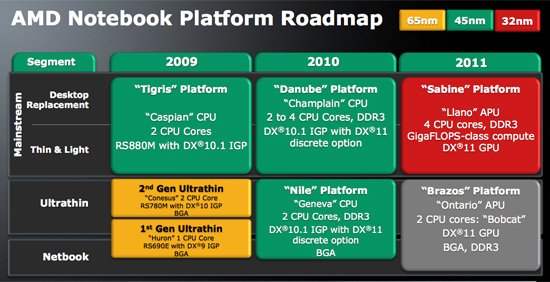 If you look at AMD's roadmap there are a couple of subtle hints to pay attention to. Note that Brazos extends top to bottom from Ultrathin down to Netbook, whereas no other AMD platform has ever completely gone down to the bottom of the Netbook segment. Could this be an indication of AMD's ability to hit ultra low, Atom-like, pricepoints with Bobcat?
Secondly - the Brazos platform isn't colored yellow, green or red for 65nm, 45nm or 32nm. I'm guessing that means Ontario will be built on a bulk 28nm process to save cost.
When I spoke to Globalfoundries earlier this year they indicated that fabbing on half nodes could be one option exploited by CPU companies looking to compete with Intel.