ASUS UL80Vt Benchmarked - Battery and LCD
Finally, we have perhaps the most interesting aspect of the UL80Vt. Decent performance and a reasonable size are nice, but there are plenty of laptops to offer those amenities. What truly sets the UL80Vt apart from most other Windows-based laptops is the battery life. ASUS claims "up to 12 hours", and we decided to check their claim.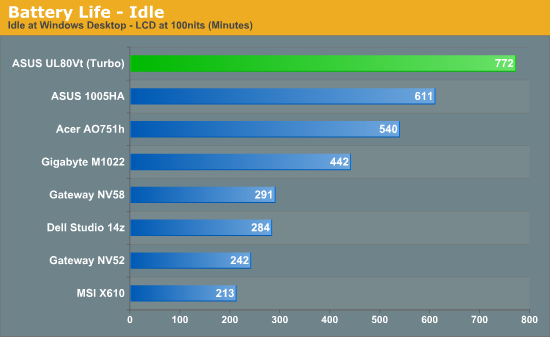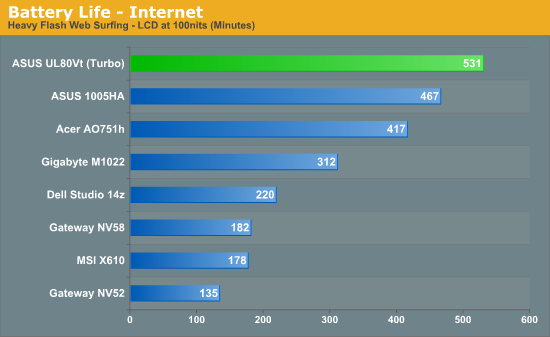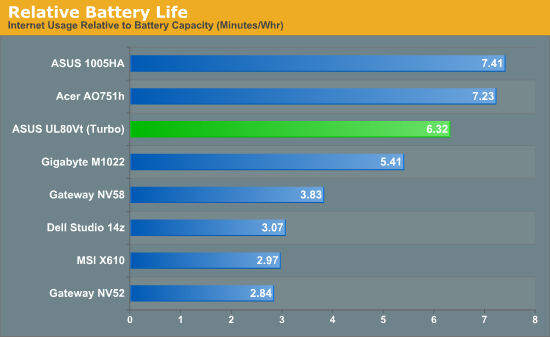 Idle battery life reached nearly 13 hours… and that's what Turbo mode (overclocking) enabled. Granted, the system was sitting idle -- hardly a realistic usage scenario for most users. However, light office use isn't going to be much more taxing than our idle battery life test, and if you decide to disable Turbo mode battery life can only improve. In the far more pertinent Internet battery life, ASUS still achieves record-setting performance. Our initial test (we haven't had time for multiple test runs) came just shy of nine hours of continuous Web surfing. That's with several flash ads on be active website page, which again should be a bit more taxing than what many users view.
Looking at battery capacity and relative battery life, we finally have a true laptop that can actually trade blows with Apple's MacBook line. We never have been able to determine exactly what Apple does in order to achieve their high battery life, but clearly part of it has to be using lower voltage CPUs. ASUS follow suit by using the Core 2 Duo SU7300, which actually surpasses Apple by going with a 10W TDP CPU. Apple currently uses the 25W TDP SP9300, while some previous models used the 17W Core 2 Duo SL9000 series.
Even overclocked the SU7300 practically sips power in comparison to many other CPUs. We measured average power use of 9.5W for the UL80Vt in our internet test compared to 21.1W for the Gateway NV52 and 15.6W for the Gateway NV58. 10.1" and 11.6" netbooks only get down to 8.0-8.5W in the same test, and performance is obviously substantially higher with Core 2 Duo. What's truly impressive is that laptops like the UL80Vt previously sold for nearly $2000 -- sometimes more. With the boom in netbooks sales, manufacturers have apparently realized there's a real market for smaller laptops that get extremely good battery life.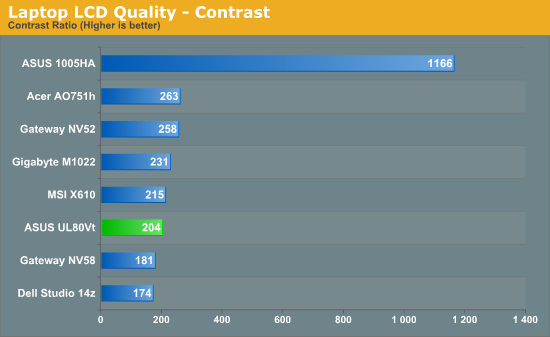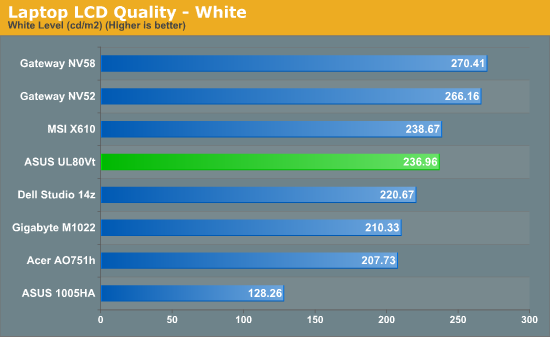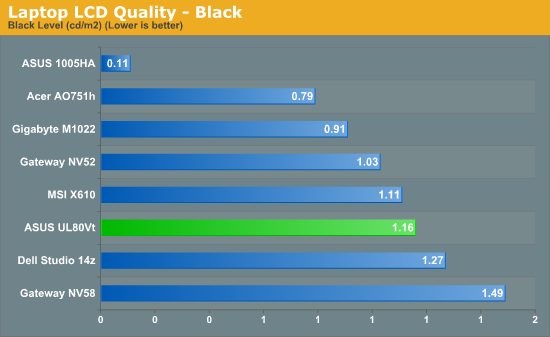 About the only fly in the ointment with the UL80Vt is the LCD panel. Here you can see our contrast ratio test results, and the results are down in the dumps with many other laptops. Sometimes I feel like a lone voice crying in the wilderness telling manufacturers that laptop LCD quality is a serious concern. I know from responses to previous articles that many of you agree, but unfortunately it's something that's difficult to quantify because many reviews don't ever look at LCD quality with quantitative results. ASUS has used very nice LCD panels on lesser offerings (i.e. the Eee 1005HA has an excellent LCD), and we have seen decent displays on other laptops and notebooks as well. If the system cost $25-$50 more but it had a 1000:1 contrast ratio (with an LCD that could still run at 250 nits), I wouldn't hesitate to give the UL80Vt an unequivocal recommendation. As it stands, it's a great laptop but it isn't quite perfect.