NVIDIA and P55
Yesterday NVIDIA held its Power of 3 platform briefing. The intention was to align NVIDIA's GPUs, SLI and PhysX with the Intel Lynnfield/P55 launch. NVIDIA has no Lynnfield chipsets out (but is expected to sometime next year), instead it is providing SLI licenses to those motherboard makers that are interested in supporting multi-GPU on their boards.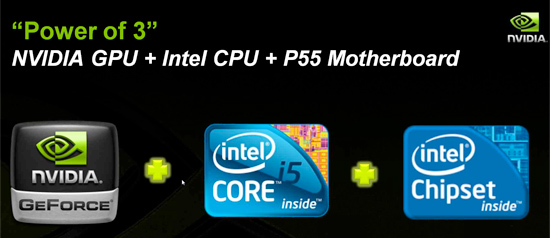 The license terms are thankfully a lot more palatable than they were with the initial X58 launch. To support SLI a motherboard manufacturer simply has to pay NVIDIA $30,000 up front plus $3 per SLI enabled motherboard sold. In turn NVIDIA gives the motherboard manufacturer a key to put in its BIOS that tells the NVIDIA display drivers that it's ok to enable SLI on that platform.
As I've mentioned in the past, Lynnfield includes an on-die PCIe controller provided 16 PCIe 2.0 lanes. Using an external switch those 16 lanes can be split off into two x8 slots, enabling CF and SLI (CF is enabled free of charge, SLI requires participation in the licensing program).
Although unnecessary, if you want the bandwidth of two x16 PCIe 2.0 slots the motherboard manufacturer will need to use an nForce 200 chip. This chip houses 32 PCIe 2.0 lanes but connects to the Lynnfield chip via 16 lanes, so you get better bandwidth between cards but no increase in bandwidth between the GPUs and the CPU. Expect boards that use an nForce 200 chip to be limited at best.
Without the PCIe switch logic to split the x16 connection off of Lynnfield into two x8 connections, SLI can't be enabled; NVIDIA won't allow it over mismatched PCIe slots (e.g. x16 + x4).
In an unexpected alignment, NVIDIA is actually calling out AMD's Dragon platform by name (Phenom II + AMD 700 Series Chipset + AMD 4800 Series GPU). NVIDIA calls its "platform" the Power of 3, of course referring to Intel's P55, Intel's Lynnfield and a NVIDIA GPU. Intel gets it for free here; NVIDIA does all of the branding and promotion for Power of 3, yet Intel makes the vast majority of the silicon. Perhaps someone is bitter over not being included in AMD's platform launch plans anymore?
All kidding aside, at least this means we will see mature driver and SLI support for Lynnfield at launch. While NVIDIA was in good shape when X58 debuted last year, AMD's driver support left much to be desired. It's clear that even NVIDIA with its anti-Intel blood sees the importance of Lynnfield; it's nice to see egos checked at the door.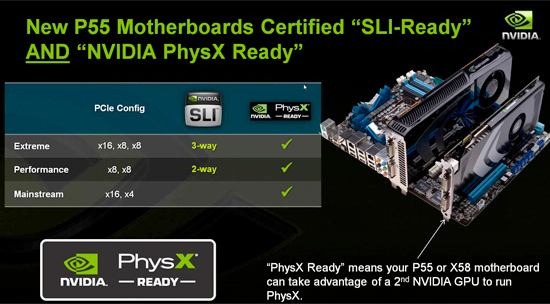 There's one more logo program that's being introduced with Lynnfield SLI certification: PhysX Ready. Yep, you read that right. NVIDIA is now allowing motherboard makers who are SLI partners to put a PhysX Ready logo on their boxes if they have enough PCIe slots to support a second GPU as a PhysX card.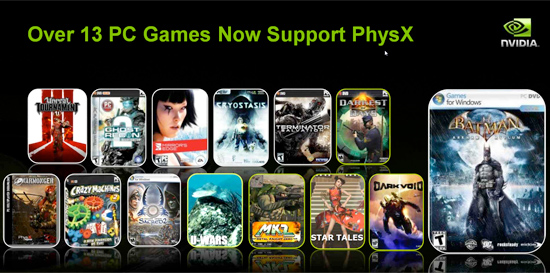 You may remember that we weren't overly impressed with PhysX the last time we looked at it, but NVIDIA promises that the use of PhysX in Batman: Arkham Asylum is beyond anything we've ever seen. We'll find out next month when Batman ships.