If you haven't heard, AMD released a new flagship CPU today: the Phenom II X4 965 Black Edition. It's a fast chip, more than competitive with Intel's Core 2 Quad Q9550 and Q9650; and generally faster than both. It's also an easy overclock. I hit 3.8GHz on mine without giving it any additional voltage and with a bit of work Gary broke 4GHz.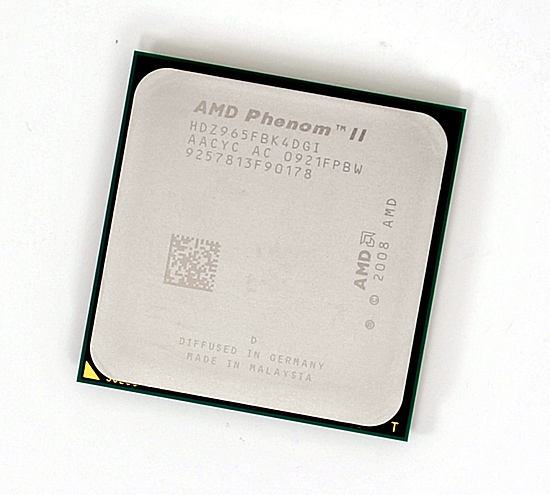 There is a hint of nervousness in the air though. Due out very soon are Intel's Lynnfield processors. With prices starting at $199 and motherboards priced in the low $100s, they should prove to be more competitive than the aging Core 2 Quad line. In anticipation of Intel's Lynnfield release AMD told us the following in advantage of today's announcement:
"We will be introducing 965 at a suggested retail price of $245(US), holding the line our flagship's official price while offering more performance. However, there will be some exciting bundle deals on or shortly after August 13th. The main bundle you'll see is AMD's Phenom II X4 965 combined with a range of motherboards to choose from where the bundle is discounted ~$40 or more (depending on the motherboard chosen). "
AMD partnered with five North American vendors for these bundles, but only two of them currently stock the Phenom II X4 965 BE. Granted it's the first day of the launch and these things can take a little while to filter into everyone's inventory. Below is a quick listing of the available bundles for the Phenom II X4 965 BE:
Vendor
CPU Price
Motherboard
Motherboard Price
Combo Price
Combo Savings
Newegg
$249.00
ASUS M4A79T Deluxe (790FX)
$188.99
$412.99
$25
Newegg
$249.00
Gigabyte GA-MA785GM-US2H (785G)
$79.99
$308.99
$20
Newegg
$249.00
MSI 790GX-G65 (790GX)
$124.99
$353.99
$20
ZipZoomFly
No Listings
TigerDirect
$259.99
Gigabyte GA-MA785GM-US2H (785G)
$79.99
$319.99
$19.99
NCIX
No Listings
MWAVE
No Listings
Newegg offered the most bundles out of any of the surveyed vendors. Instead of publishing all of them I picked a high end bundle (with a high end motherboard) as well as the cheapest bundle possible. Generally it looks like you can save $20 - $25 on one of these Phenom II X4 965 bundles. That's shy of the "~$40 or more" AMD suggested we'd see; perhaps bigger discounts will come later?
Today, the cheapest you can get into a 965 with a new board is just under $310, while a higher end board will set you back a bit over $400. There's a slight issue with the Gigabyte 785G in that it's not technically on AMD's recommended motherboard list for the 965 BE. I also included an MSI 790GX board, but it too is not technically on AMD's recommended motherboard list. I suspect that it's just a matter of validation but it's worth pointing out regardless.
I also looked at what was available if you wanted to buy a Core i7 920 instead. Again I picked the cheapest motherboard Newegg offered, the MSI X58M, as well as a higher end option (ASUS P6T).
| | | | | |
| --- | --- | --- | --- | --- |
| CPU | CPU Price | Motherboard | Motherboard Price | Combo Price |
| Core i7 920 | $279.99 | ASUS P6T | $249.99 | $504.98 |
| Core i7 920 | $279.99 | MSI X58M | $169.99 | $449.98 |
There's simply no way the i7 920 can compete with the cheapest Phenom II X4 965 BE configuration, but if you are fine with a Micro-ATX motherboard then the cheapest i7 920 setup is $37 away from the more expensive 965 BE combo from Newegg. You actually don't give up the ability to do multi-GPU with the X58M (it supports both CF and SLI), it even has six DIMM slots and software SATA RAID support. However, unless you had to buy today, I wouldn't worry too much about trying to build a cheap 920. It won't be long before P55 and Lynnfield are upon us, and then we'll have a real race.