Understanding Nehalem's Turbo Mode
Modern day CPUs and GPUs are more power constrained than anything else. They could run faster, if they could get around pesky problems like power density. Intel and AMD have both figured out that the maximum power consumption for a single processor falls into one of the following ranges depending on the platform:
| | | |
| --- | --- | --- |
| System | Processor TDP | Number of Cores |
| High End Desktop | 80 - 130W | 4 |
| Mainstream Desktop | 65W | 2 - 4 |
| Notebook | 20 - 45W | 2 |
| Ultra Portable Notebook | 10 - 20W | 1 - 2 |
| Netbook | 2 - 5W | 1 |
If we look at the bottom of the table we see that our limits to performance aren't technology, but rather power; netbooks could be as fast as desktops if we could stick 130W processors in them.
Pay attention to the third column however. A high end desktop processor is designed to dissipate up to 130W of heat; you reach that value by running all four cores at full load. But what happens if you only have two active cores? The total power consumption and thermal dissipation of your processor is no longer 130W, it's noticeably less.
I just finished saying that power was our fundamental limit to faster microprocessors, but if half of a 130W chip is idle - shouldn't the working half be able to run faster? The answer is yes, but only with some clever technology.
The Nehalem CPU includes a fairly complex hardware monitoring microprocessor on-die. This processor is called the Power Control Unit (engineers r awesome). It monitors the temperature, current and power consumption of each core independently. The PCU also the part of the chip that handles OS requests to drop the cores down to lower power states. Now get this; if there's room in the power envelope, and the OS requests a high performance state, the PCU will actually increase the clock speed of the active cores beyond their shipping frequency.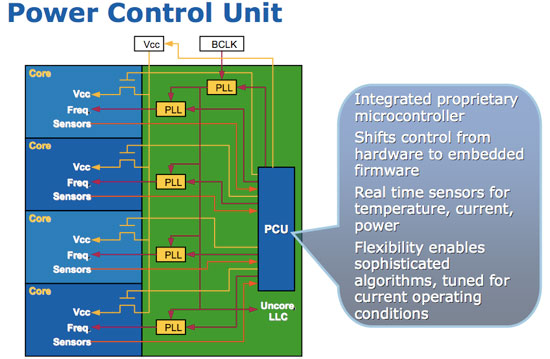 It all boils down to the TDP of the chip, or its Thermal Design Point. The more TDP constrained a platform is, the more you stand to gain from Intel's Turbo mode. Let me put it another way; in order to fit four cores into a 130W TDP, each core has to run at a lower clock speed than if we only had one core at that same TDP.
At higher TDPs, there's usually enough thermal headroom to run the individual cores pretty high. At lower TDPs, CPU manufacturers have to make a tradeoff between the number of cores and their clock speeds - that's where we can have some fun.
The Other Difference Between the Quad and Eight Core Models
Apple sells two versions of the new Mac Pro, a quad-core and an eight-core system. The motherboard is the same in both machines, but the processor board is different. The quad-core processor board has a single LGA-1366 socket and four DIMM slots, while the eight-core processor board has two sockets and eight DIMM slots. They also use significantly different CPUs, although Apple doesn't tell you this.
Below you'll find the standard and upgraded options for each system:
Apple Mac Pro (2009)
Quad Core Model
Eight Core Model
Default CPU
Xeon W3520 (2.66GHz)
Xeon E5520 (2.26GHz)
CPU Upgrade Options
Xeon W3540 (2.93GHz)
Xeon X5550 (2.66GHz)
Xeon X5570 (2.93GHz)
Although Apple offers a 2.93GHz CPU in both systems, it's actually a different chip that's used in each model. The clock speeds, core counts and cache sizes are the same, the difference is in the TDP.
The quad-core Mac Pro uses 130W TDP Xeon uniprocessor workstation processors, the eight core Mac Pro however uses an 80W (2.26GHz) or 95W chip (2.66/2.93GHz). There are more CPUs in the eight-core model, so Intel offers chips with lower TDPs to keep total platform power under control. While the eight-core Mac Pro uses more power than the quad-core Mac Pro, each chip individually should use less power. And remember what we discussed earlier: lower TDPs mean higher turbo frequencies.
The table below shows the maximum turbo frequency available for each chip depending on the number of cores currently in use:
| | | | | | |
| --- | --- | --- | --- | --- | --- |
| System (Processor) | Default Clock | Max Turbo w/ 4-cores active | Max Turbo w/ 3-cores active | Max Turbo w/ 2-cores active | Max Turbo w/ 1-core active |
| 8-core Mac Pro (Xeon X5570) | 2.93GHz | 3.20GHz | 3.20GHz | 3.33GHz | 3.33GHz |
| 8-core Mac Pro (Xeon X5550) | 2.66GHz | 2.93GHz | 2.93GHz | 3.06GHz | 3.06GHz |
| 8-core Mac Pro (Xeon E5520) | 2.26GHz | 2.40GHz | 2.40GHz | 2.53GHz | 2.53GHz |
| 4-core Mac Pro (Xeon W3540) | 2.93GHz | 3.06GHz | 3.06GHz | 3.06GHz | 3.20GHz |
| 4-core Mac Pro (Xeon W3520) | 2.66GHz | 2.80GHz | 2.80GHz | 2.80GHz | 2.93GHz |
What the table above tells us is that while the quad-core Mac Pro can turbo up by 133MHz if more than one core is active, and 266MHz if only one core is active, the processors in the eight-core Mac Pro can do better. The Xeons in the eight-core Mac Pro can turbo up by 266MHz or 333MHz, depending on the number of cores active. The 333MHz turbo mode is available even if two cores are active.
Apple isn't big on specs like these so we don't see any mention of them in Apple's Mac Pro sales literature, the only clue you get is in the form of the model numbers Apple lists on its spec sheets:
Although it's a pricey upgrade, you do get better processors with the eight-core Mac Pro than you do with the quad-core version. If you don't need more than four cores however, you'll still be better off with a 2.66GHz quad-core Mac Pro than a 2.26GHz eight-core model.