The First Lynnfield Sample
Let me preface this with the usual disclaimer. Intel did *not* supply me with this chip and it is most definitely pre-production silicon, not necessarily indicative of final, shipping performance.
With that out of the way, here is Lynnfield: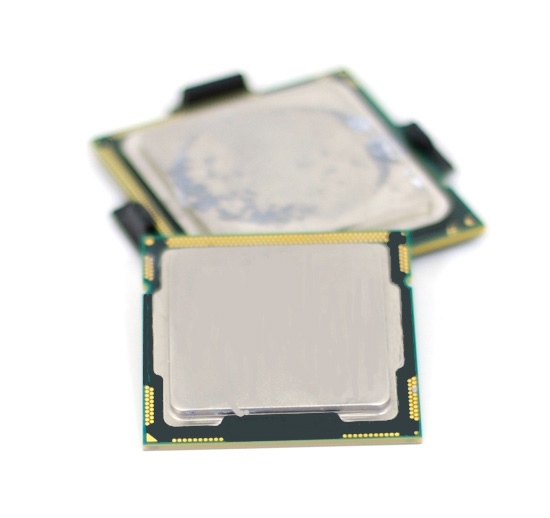 Lynnfield (front) vs. Bloomfield (back)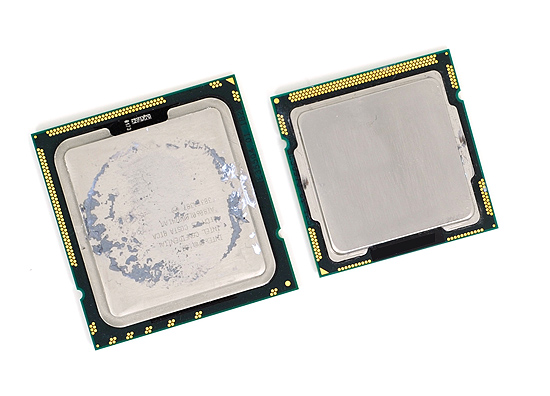 Core i7-Bloomfield (left) vs. Lynnfield (right)
It's a lot smaller than the LGA-1366 Core i7, but compared to current Core 2 Quads it's actually similar in size: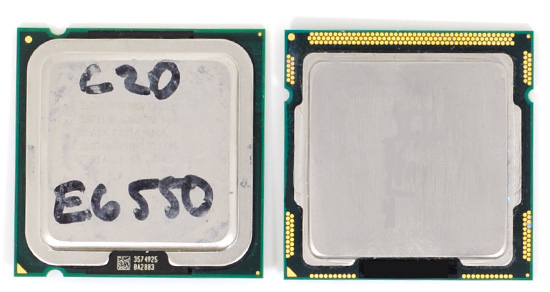 LGA-775 Core 2 Duo (left) vs. LGA-1156 Lynnfield (right)
Flipping the chips over you see that Lynnfield has a much higher pad density, enabling Intel to fit 1156 pads in about the same space as it fit 775 pads just a few years prior.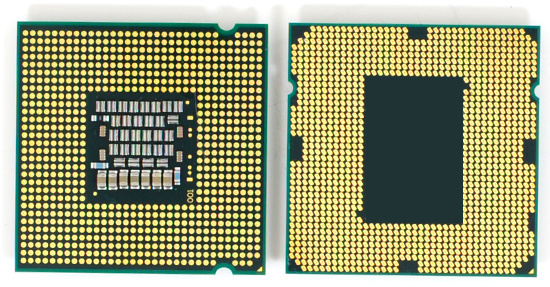 Core 2 (left) vs. Lynnfield (right)
Once more, I've blanked out all of the caps and other markings on the chip to protect the innocent.
The initial Lynnfield samples were all clocked at 2.13GHz with HT enabled. Turbo mode was also enabled but it too was a meager 2.26GHz regardless of how many cores were active. All of this was to enable motherboard manufacturers to test compatibility and performance of their P55 without giving away Lynnfield's true performance.
Unfortunately this is the sample I tested with. Thankfully it was healthy enough for me to overclock the BLCK to 166MHz, resulting in a 2.66GHz frequency. Turbo mode was still stuck at a 1x increase over the stock frequency, so final Lynnfield performance should be much better in single and dual threaded apps than what you'll see here today.
The results on the coming pages show three configurations. Lynnfield running at 2.13GHz with HT enabled, 2.66GHz with HT enabled and 2.66GHz with HT disabled. The latter is going to be the closest to actual Lynnfield performance (albeit still far away thanks the sample's crippled turbo mode), the 2.66GHz with HT enabled just shows how much we gain from HT and the 2.13GHz chip is an experiment in seeing how low Intel could drop these things and still have a competitive part.
If you thought Nehalem needed Hyper Threading to be a strong performer, you were dead wrong.
Comments About Lynnfield's Readiness
The current rumors in the press are that Lynnfield is being held back in order to clear out excess Core 2 Quad inventory before it ships, because once this thing ships no one is going to want a Penryn anymore. Based on what I've seen, Lynnfield isn't ready just yet - it's not an artificial delay.
The motherboards are in rough shape, CF/SLI isn't working and we're still at very early revs of the CPU's silicon. While I think that the chip will be ready far in advance of its rumored September shipdate, the CPU and motherboards aren't yet.
The Test
Once more: the CPU we've tested here is pre-production silicon without all of its turbo modes enabled. I expect final, shipping performance to be higher in some cases.
Motherboard:
Pre-release P55 Motherboard (Intel P55)
Intel DX58SO (Intel X58)
Gigabyte GA-MA790FX-UD5P (AMD 790FX)
Chipset:

Intel P55
Intel X58
AMD 790FX

Chipset Drivers:
Intel 9.1.1.1012 (Intel)
AMD Catalyst 8.12
Hard Disk:
Intel X25-M SSD (80GB)
Memory:
Qimonda DDR3-1066 4 x 1GB (7-7-7-20)
Corsair DDR3-1333 2 x 2GB (7-7-7-20)

Video Card:
eVGA GeForce GTX 280
Video Drivers:
NVIDIA ForceWare 180.43 (Vista64)
NVIDIA ForceWare 178.24 (Vista32)
Desktop Resolution:
1920 x 1200
OS:
Windows Vista Ultimate 32-bit (for SYSMark)
Windows Vista Ultimate 64-bit